The Rising Tide Triumphs Through a Sense of Community
Local lawyer hosts first-ever TEDx event in Erie.
November 25, 2015 at 1:45 PM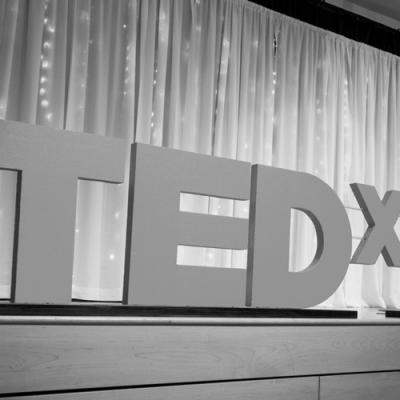 As his ship neared the end of its maiden voyage, Jonathan D'Silva took a moment to sit down. He'd been steadily steering, guiding, managing, coaching, and directing. He reclined, kicked his feet up, and watched as the coast drew nearer. This journey had begun nearly nine months earlier, when the partner at MacDonald Illig Attorneys submitted his application to host the first-ever TEDxErie.
Under the banner of "ideas worth spreading," TED (Technology, Entertainment, Design) began in 1984 as a one-off event featuring talks centered on those three topics. From its Silicon Valley roots, it grew to a perennial conference in 1990. As TED flourished, topics became more diverse, but the name stuck. And later, TED added the "x" – and a lot more conferences.
The "x" stands for an "independently organized TED event," meaning the TED flagship is available for franchise. As its website explains, "In the spirit of TED's mission, the TEDx program helps communities, organizations, and individuals produce TED-style events at the local level."
For better and for worse, TEDx is a branding and funding vehicle for TED. To date, more than 14,000 TEDx events have been held, with 1,000-plus conferences scheduled out to November 2017. On Saturday, Nov. 14, Erie was amongst more than 20 TEDx conferences spanning the globe, from Brooklyn, N.Y. to Damanhur, Egypt.
Although TED provides much freedom for planning a TEDx conference – organizers determine the theme, select the speakers, and determine the logistics – TED does impose restrictions, most notably how many people can attend an event. Only TEDx license holders who've attended a TED conference can host an event with more than 100 people in attendance.
Standard membership to TED 2016 runs $8,500 – and is sold out already – while a Donor level – which remains open – costs $17,000; both depend on one's application being accepted.
A TEDx license must feature official TED material. Events lasting less than half a day must show two videos; those running longer must incorporate official TED material into at least 25 percent of their programming.
The list goes on, from sponsorship details to social media specifications, but at the heart of TEDx is the TED mission – its connection of quality material (chosen at the hand of a TEDx license holder and her/his volunteer staff) with an audience yearning for knowledge and entertainment. Overall, despite encountering some choppy waters (a couple of presentation slide deck glitches, a speaker losing his place, and the event running longer than anticipated), D'Silva and his team succeeded admirably on their maiden voyage.
After reviewing applications to TEDxErie, D'Silva (who hasn't been to a TED conference but attended TEDxColumbus) and crew right-sized the event to 12 speakers, three performances, and a handful of videos accounting for a quarter of the afternoon's TED programming. "Community" and "triumph" emerged from D'Silva's "The Rising Tide" theme as the lasting impressions, with speakers discussing an eclectic mix of topics.
Two of the strongest talks came back-to-back at the conference's beginning.
Photographer Natalie Brasington is an Erie native who resides in New York City and works as a photographer for Rolling Stone, among others. She discussed her work with the Art Start Portrait Project, which provides "homeless and court-involved NYC teens access to the arts." A visually stirring presentation, Brasington's talk explored the impact of arts on personal identity in the presence of challenges all-too-often overlooked.
Brad McGarry, director of the Autism Initiative at Mercyhurst University, followed with another highlight of the conference: A talk that began with an introduction to his son Connor, who was diagnosed with Angelman Syndrome. Brad discussed how their family would not let that define Connor. Brad embarked on a quest to "crack the code" and ensure his son would have a meaningful and enriching life. In short, he's done that and more.
In the second half, Greenville, Pa.-native Nick Cianci talked about surfing the Great Lakes. In winter.
A simple yet oddly striking topic evolved into a clarion call for conquests and achieving greatness against perceived odds. Drawing on Joel Garreau's Nine Nations of North America, Cianci explored the difference between thinking of ourselves as Rust Belt material and of those borne of The Foundry – how Garreau refers to the area.
Perception and self-perception are key. In this region, we're makers and doers, some of whom are bold enough to be Great Lakes surfers. Such passion, energy, and spreading of ideas this first time around make it exciting to see what D'Silva and team come up with next year, as he's already put in his bid for a 2016 license with the new theme: Don't Give Up The Ship.
UPDATE: Since the time of publication, Jonathan D'Silva's standard membership application to the upcoming TED conference held in Vancouver, Canada from Feb. 15 to 19, 2016 has been accepted. The conference's theme is "Dream," which according to the TED website, "will be dedicated to the greatest dreams we are capable of dreaming. It will be a week to stare hard at humanity's toughest challenges, and to listen carefully to those who can show us a way forward. A week to celebrate the creative brilliance of our generation's best artists, designers and storytellers. A week of invention, innovation, imagination … and the dreamers who can bring us with them on their journey. A week to stir the blood."
More information – including updates on when the archived TEDxErie talks will be available to stream – can be found at TEDxErie.com.
Ben Speggen can be contacted at bSpeggen@ErieReader.com, and you can follow him on Twitter @BenSpeggen.