The Shape of Water
Sally Hawkins Falls in Love with a Fish Monster ... and it is Beautiful!
January 3, 2018 at 11:15 AM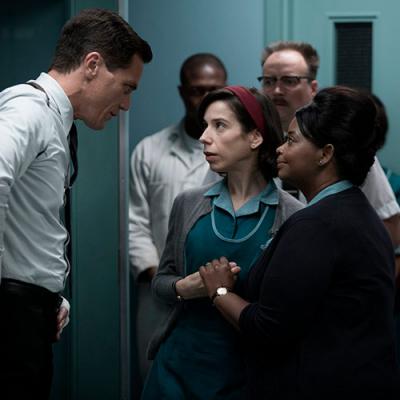 4/5 stars
I've always wondered about the story of the regular workers in some vast, secret facility in movies. What do the janitors on the Death Star think of the Empire? Does a Bond villain's evil lair have a front desk receptionist? Lucky for me, Guillermo del Toro (Pan's Labyrinth, Pacific Rim) has finally produced a spy film seen through the eyes of blue collar workers in The Shape of Water.
The film is about Elisa Esposito (Sally Hawkins), who works as a cleaning lady in a secret government building during the height of the Cold War. She soon discovers that this facility is housing a captured aquatic creature that the military is studying and performing cruel experiments on. Feeling pity for the creature, she takes it upon herself to rescue him and the two must flee from both American and Russian goons as their feelings for one another begin to grow.
The film takes place in 1963 and does an excellent job lampooning the big Hollywood movies of the era, taking elements from Cold War spy movies as well as monster flicks. There's even a big musical number thrown in there for good measure. But at its heart, the film is really a love story between two lost, lonely souls. Elisa and her friends are all people who (literally and figuratively) have no voice in this world and watching them stick it to the forces of institutional power makes for a story we can all take enjoyment from. — Forest Taylor
Directed by: Guillermo del Toro // Written by: del Toro and Vanessa Taylor // Starring: Sally Hawkins, Michael Shannon, Octavia Spencer, Richard Jenkins, Michael Stuhlbarg and Doug Jones // 123 minutes