The Smoke Be With You Always
How Federal Hill Smokehouse came to flavor a neighborhood
Good barbecue doesn't come without a little seasoning. Federal Hill Smokehouse proprietor Ryan Atzert has had plenty, especially these past couple months. The flames have been raging inside the firebox of his reverse flow smoker for seven straight weeks, a hot streak unrivaled in any game but lunch. Carnivore season is nearing its midsummer peak, and picnickers and gatherers all around are clamoring for their piece of meat. That's without mentioning the regular customers routinely forming lines out the door at 2609 Peach Street, an aromatic gateway to the burgeoning shopping area just beyond.
It's 5:30 a.m. on a Wednesday morning and Atzert is dutifully working to ensure that at least some of those carnal appetites go fulfilled, reaching deep into the cavity of the multi-tiered smoke chamber to pull briskets. After a year-and-a-half of syncing his Circadian rhythms to roughly coincide with the smoker, he has a heat map of the chamber committed to memory. He knows the sweet spots for every form of meat he serves (brisket, pulled pork, ribs, turkey, and sausage) in every size and quantity. I observe him spritz each glorious hunk of beef with apple cider vinegar, wrap it in parchment, and return it to the far end of the smoker for its juices to settle.
Stacks of wood fuel Federal Hill Smoke House's smoker.
I casually inquire about the significance of these steps, to which Atzert replies, "I don't know why; it's just something I saw and started doing." (Though he reckons it enhances the bark, or flavorful outer crust of the cut that brisket connoisseurs have a cow over if deficient or absent).
This offhand remark more or less encapsulates how his operation came to be — he tried something and liked it, his family and friends started liking it (although he concedes "family is supposed to tell you you're good at stuff"), and now a whole lot of strangers have come to try it and like it, and many have become friends along the way. His journey from pit-novice to pit-master was mainly one of trial-and-error.
"I washed dishes at the Avalon Hotel and dropped chicken cordon bleu in the fryer," says Atzert of his previous experience in a professional kitchen. "But I've always felt I've been able to adapt to cooking; it started as a hobby and blossomed into a business."
Despite naysayers who said he would be a fool to open a restaurant in Federal Hill's locale, he pushed forward with the knowledge that the infrastructure was already there (the former J & S Restaurant operated in the same building from 1963-94), the fact it would complement neighboring Ink Assassins well (satisfying hunger before or after lengthy tattoo sessions), and the confidence that "if it's a good product, it will be successful," no matter where it is.
Atzert's connection to the Independence Hill neighborhood goes back nearly two decades. He first worked at Surprise Attack Records, a hardcore music label founded by Eric Michael Schauffele. Schauffele opened Ink Assassins at the corner of W. 26th and Peach in 2000 (with co-founder David Steele), and Atzert bought into it a few years later. Together the two also ran the Forward Hall concert venue from 2007-11, a premier destination for the hardcore and underground music scene. The alternative youth movement sweeping through the neighborhood at the time was not received warmly by the older shop owners, which always baffled Atzert somewhat.
"What's the big deal with outsiders coming into your area and being seen? For example, the giant Martian grasshopper [painted on the Grasshopper clothing and gift shop] catches your eye."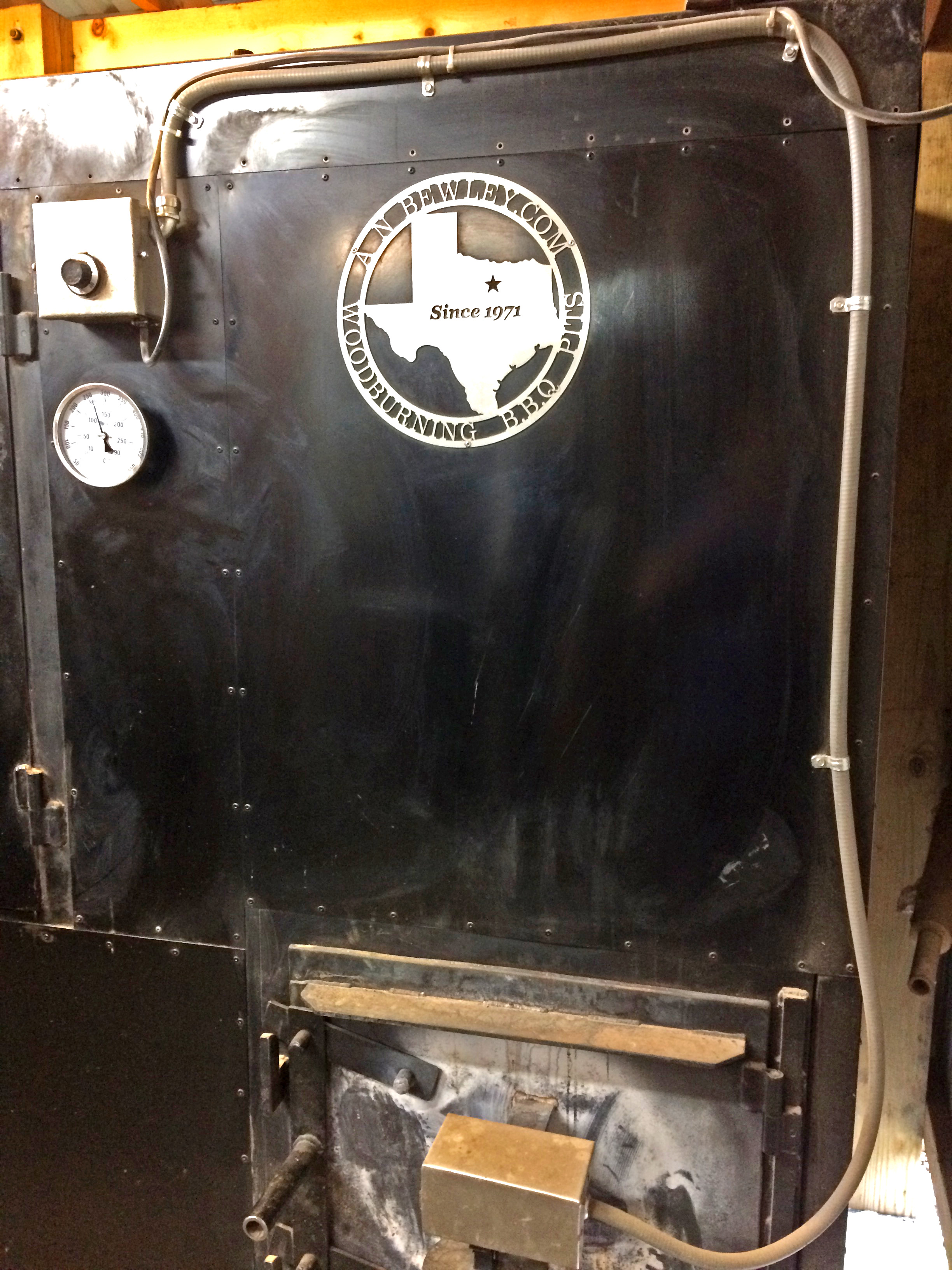 The key to good barbecue is a good smoker and Federal Hill understands that.
Customers have to be aware you exist, and to that end the Federal Hill Smokehouse has established itself nicely in just a short period. After initially suffering from the delusion that he could run a proper barbecue joint with a fleet of Big Green Egg patio smokers, Atzert embarked on a tour of the meaty meccas of the Midwest, including Austin, Dallas, Kansas City, and St. Louis for inspiration. The smoker he eventually ended up purchasing shipped from Texas in one piece, seemingly overnight.
"I was in the movie theater watching The Force Awakens and I saw I had a missed call from a Texas area code. I'm like 'It can't already be here, can it?!'"
The Force was not with him in the early goings, as he broke his leg shortly before the restaurant's debut in December 2016. Atzert's wife Autumn was instrumental in saving the business from falling to the dark side during those first three months, after which she implored her husband: "Don't get sick, don't take a day off, and I'll just do sides."
Since then, he has faithfully abided those instructions, harnessing the Force that is, in reality, the Smoke and it's all around us. The reverse flow smoker works via an offset design — oak logs are loaded into the firebox (something of a chimney) and smoke is forced into an inlet under the meat and back around over top. A dampener traps or releases heat in accordance with an internal thermostat that reads the ambient temperature. This feature has been indispensable during the harsh winter months when keeping things consistent can be difficult.
Beyond that, Atzert doesn't overcomplicate things. He does not enlist any sort of top-secret proprietary spice blend or magic powder in his cooking — in fact, the brisket and turkey are seasoned with nothing more than salt and pepper (the ribs and pulled pork add paprika, garlic, and onion powder to the mix). It's the care and attention he takes that make all the difference, and have ironically transformed this champion of the underground into something of a sellout (he routinely prepares over 100 lbs. of meat a day, and it's usually gone by 3 p.m., when business hours end).
Despite this, he remains incredibly humble. "I just work, man. I'm tired a lot of the time but it's never tedious."
He leaves would be Padawan pit-masters with the following advice:
Have patience —"Let the smoke do what it's supposed to do."

Have fun — "Don't make it stressful. Give yourself more time than you think you need."

Do your homework — "There is plenty of material online."

Stick to your strengths and listen to your spouse — "Sometimes I get excited [about something that comes to mind] and say: 'We're doing this!' And my wife is just like, 'No, you're not.'" (See the Blueberry Cobbler Riot of 2017; the couple quickly reverted back to the beloved peach variety)
Federal Hill Smoke House is located at 2609 Peach St. and is open Monday-Saturday for lunch, from 11 a.m. to 3 p.m. (or until the food sells out). View menu and prices at federalhillsmokehouse.com
Matt Swanseger, meanwhile, is still figuring out how to work his microwave. To get a conversation spinning, key mswanseger@eriereader.com into your favorite e-mail application.