The Socially Distanced Show Must Go On
Erie's Rebecca Mae discusses the pandemic's impact on her career
 Rebecca Mae (aka Tom Widdowson) has been performing professionally for three years. From hosting drag brunches at Bourbon Barrel to performing at the Zone Dance Club, there was no shortage of entertainment provided by her and other Erie queens to Erie's LGBTQIA+ community. The story hasn't been the same since Rebecca's last event in early 2020 at Resolution Night Club.  
As Miss Erie 2019, a title Rebecca still holds two years later, not being able to crown her successor is one item on a long list of pandemic-induced frustrations she's experienced.
"It's a huge deal to be Miss Erie, but it would have been nice to pass the crown to somebody else and perform in front of a crowd. Nobody's going to have that excitement," said Rebecca. 
"This town deserves me [as Miss Erie]," Rebecca laughed while reflecting back on the year and the many performances and hosting events she lost out on. Cancellations of college events and her second performance at Celebrate Erie were big disappointments in 2020 for Rebecca. "That [Celebrate Erie] was a hard one because they really enjoyed what I brought last year and they wanted to take it to a bigger scale this year. I was really sad about that," said Rebecca. 
Thinking about all of the time, effort, and money she's put into her career, Rebecca isn't sure things will ever be the same for her again. 
"My year was on fire, it's nostalgic that you just worked so hard for a year -- at least I did -- doing all these events and performing, and I don't think that it's ever going to be the same to have an event here (the Zone) for Miss Erie," said Rebecca. "The bar used to be packed wall-to-wall, it won't be again for a while. I don't think I'm going to get the same opportunity to have that feeling."
With the pandemic mitigations closing and reopening bars, clubs, and other entertainment venues, Rebecca has had to pick up random side jobs and seasonal positions while trying to navigate the world of Zoom and Facebook Live events. Improvisation became a staple in choosing social media content material.
"My content was just kind of "What do I have? What can I make? How can I do this?' It was kind of nice with just doing pictures from the chest up because I could do a Cruella de Vil look and get a simple wrap and a wig and I made it work," said Rebecca.
Lamenting on the lack of online viewership, Rebecca said she feels like pulling together full versions of her looks together for a live-streamed show is "not even worth it … all that work to get into drag and then have nobody watch."
Performing is not a cheap career by any means -- it's a full-blown investment. The pandemic has only made it more difficult for Rebecca to be able to utilize her creativity with her looks to its fullest extent. "Wigs sometimes are anywhere between $250-375, if not more. A costume is anywhere between $150-300 for something that's basic and it only goes up from there," she explained. "The more extravagant you want or a more sought-out designer, you're going to pay $500 upwards per costume."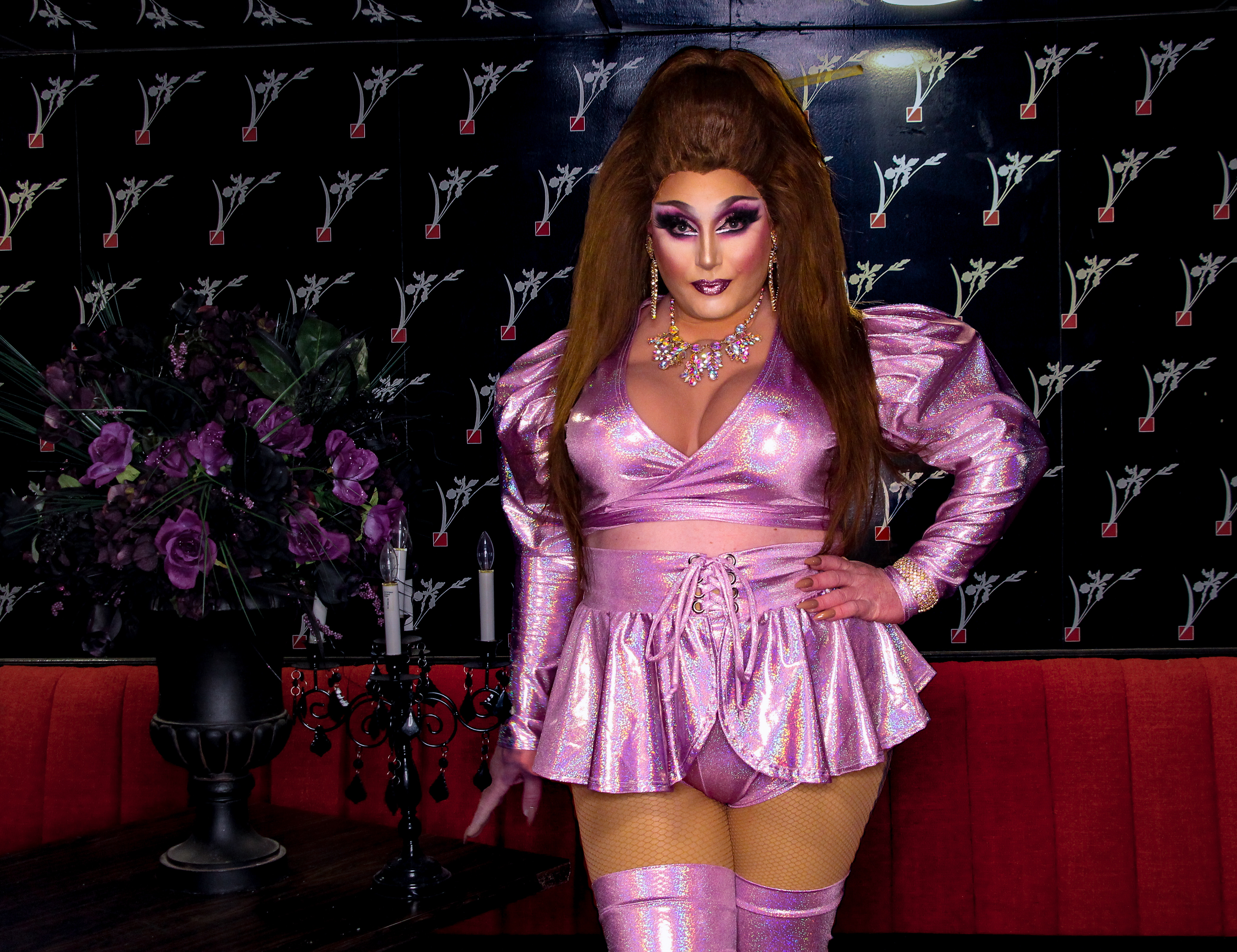 For now, Rebecca is hosting socially-distanced, COVID-19 mitigated viewing parties of the current season of RuPaul's Drag Race at the Zone every Friday night until the end of the series' season. 
"We're extremely cautious and following COVID restrictions to a T. They change frequently, especially in this industry, so we have to go over it every week," explained Rebecca. She also said she's looking into doing Drag Brunch again but is currently questioning the logistics. "We have to figure out how to handle the food and who does all that, and what is the safest and healthiest way to do that."
For those who can't make it out to a Drag Race viewing party or don't feel a night out is the safest, Rebecca said it's important to keep in mind other ways to support local restaurants, bars, and Erie's drag community. 
"Wash your hands, wear your masks and take care of yourself and if you don't feel like you can't come out, then don't," she said. "There's Venmo, Cash App, and PayPal for the queens and the bar. If you feel like you would normally have spent $100 at a bar in a month and you really want to support them, Venmo them and say 'I would have been there and we don't want you to close' or some message of support. It goes the same for the Queens."