The Third Annual Erie Polar Bear Plunge
Grin and "bear" it in support of Pennsylvania's Special Olympics
November 17, 2017 at 1:36 PM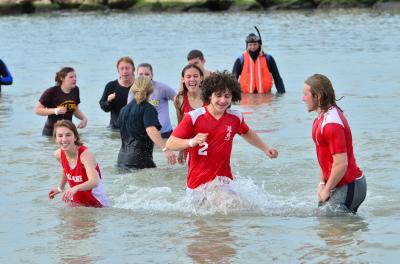 The Special Olympics organization of Pennsylvania will be hosting their third annual Erie Polar Bear Plunge on Saturday, November 18 at Presque Isle State Park. The Plunge will be held at Beach 7 where the official "first dip" will begin at noon. Mike Ruzzi from WICU-TV 12 and Joe Lang, disc jockey for BOB FM 94.7, will be the celebrity emcees for the event.
Spectators are welcome to attend free of charge, and for those onlookers, there is great opportunity to unite in support of the fellow plungers from 9 a.m. to 1 p.m. Supporters will be able to hang team banners, pitch a tent, or tailgate with friends in order to cheer participants on. Free coffee and hot chocolate will provided by Sheetz, and hot dogs donated by Smith's Provisions will be available as well.
First to Eleven and Matt Boland will be there to rock out the crowd in order to keep morale high. Ice carving demonstrations will also be facilitated by Erie Ice Works. The major sponsors for this year's event include: Law Enforcement Torch Run for Special Olympics PA, Superior Toyota, Stirling Bridge, Aerotek, GEICO, Sheetz, Harmelin Media and New Pace Productions.
All ages are welcome to participate, it should be noted, however, that any participants under the age of 18 will need to have a parent or guardian's signature in order to participate. Participants are encouraged to take the plunge with a minimum fundraising goal in mind, and this can be done in a group or individually. For "general plungers", a $50 minimum is suggested where Cool School (local school) groups are asked to raise $35 in donations in order to receive the official 2017 Polar Plunge t-shirt. All who come out and participate will be eligible to win additional prizes as their pledges increase.
If you still haven't registered, or you want to join in on the fun, you can register online at PlungePA.org or specialolympicspa.org. 
9 a.m. to 1 p.m. //  301 Peninsula Drive // free // for more information, contact Special Events Manager of Western PA, Jessica Kury, at 724-375-7515, ext. 244 // www.specialolympicspa.org