The Top 5 Films in a Very Bizarre Movie Year
How we consumed film may have changed forever
December 16, 2020 at 11:15 AM
The year 2020 has fundamentally changed the world in ways that we can't fully comprehend yet, and the movie industry was no different. With the ongoing pandemic keeping movie theaters closed for much of the year, almost all major releases were canceled for the entirety of 2020. With theaters closed, streaming channels quickly filled in the gap, but even there, big studio films were having difficulty finding an audience. Now as streaming becomes more prominent and multi-billion dollar corporations tighten their stranglehold on when and how we can experience media, some have serious fears that movie theaters as a whole may not survive this pandemic. Like it was for almost everything else, 2020 was brutal on the world of film.
However, there is a bright side in all of this. Being the first year in a long time with no Star Wars, Marvel, or live-action remakes of Disney cartoons monopolizing most of the discussion, things are now more open for smaller, mid-budget films. Some of them are still too hard to find, but 2020 has given us a few unexpected gems from unlikely places. Films that might otherwise get lost in the shuffle are being championed by critics and audiences in this "year without movies." At the very least, maybe producers will start to think twice before spending $300 million on a film.
Most refreshingly, this has been an exemplary year for female filmmakers, as a sizable chunk of the most acclaimed films of the year have been directed by women.
With that said, here are the Top 5 films to be released in a year when movies were mostly floating in limbo. No one really knows what the future of movie-going will look like, but great films will always be here.
1. First Cow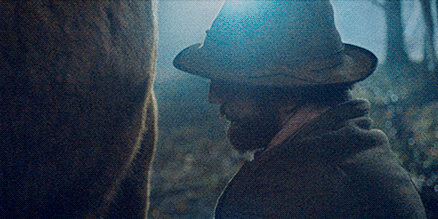 Kelly Reichardt once again sets a film in the untamed American frontier to tell a tale about the simple people that history often forgets, and continues to cement herself as one of the best American filmmakers working today. The story about two men who start their own business with a little help from a wealthy landowner's milk cow is simple enough, but Reichardt uses that to showcase the capitalist exploitation of the Wild West as well as the opportunities that it can offer to people who might otherwise be denied them. At its heart though, it is a tale of friendship. John Magaro and Orion Lee have a chemistry that carries the entire movie, and Reichardt's simple but effective direction makes this the easy pick for the best film of the year.
121 minutes // Rated PG-13 // A24
Stream now on: Hulu (with subscription) | Amazon Prime (with subscription) | YouTube (from $4.99) | Google Play (from $4.99) | Vudu (from $4.99)*
2. She Dies Tomorrow
Amy Seimetz attempted to make a modern horror film based on her own nightmares but inadvertently made something far more relevant. In her own way, she made possibly the most accurate snapshot of the fear and anxiety of life in the year 2020. The story of a woman's knowledge of her own death becoming contagious until it spreads to her entire neighborhood is ripe for interpretation, but the images of people slowly overwhelmed with dread as they await the inevitable will always be tied to this moment in time. Seimetz's take on the fear of death is equal parts scary, surreal, and strangely funny — and the result is a modern horror masterpiece.
84 minutes // Rated R // Neon
Stream now on: Hulu (with subscription) | Amazon Prime (from $1.99) | YouTube (from $1.99) | Google Play (from $1.99) | Vudu (from $3.99)*
3. I'm Thinking of Ending Things
Now for another story about the inevitability of death. Charlie Kaufman adapts Iain Reed's novel into a story of loneliness and regret that is uniquely Kaufman's style. As the film progresses, the story of a man taking his girlfriend to meet his parents slowly gives way to a dreamlike and occasionally horrifying descent into the mind, and a look at a life filled with pain, grief, and unimaginable longing. With the possible exception of Synecdoche, New York, this film may be Kaufman's most existentially terrifying. The film itself is difficult to explain without giving much away, so if this style of filmmaking is for you, just see it for yourself.
134 minutes // Rated R // Netflix
Stream now on: Netflix (with subscription)*
4. Never Rarely Sometimes Always
Yet another film that ended up being far more relevant to the times in which we are living than probably initially thought. Eliza Hittman's story of a pregnant teenager's journey to New York City to have an abortion is a drama that plays out thousands of times every day in the real world. As a result, Hittman shoots her film in a stark, realist style that presents this girl's plight as just one in a series of situations that arise whenever the issue of abortion becomes such a political hot-button. These issues have come to the forefront again for obvious reasons and because of that, films like this are a vitally important reminder that the greatest (and most endangered) freedom of all is the right to bodily autonomy.
101 minutes // Rated PG-13 // Focus Features
Stream now on: HBO Max (with subscription) | Hulu (with subscription) | Amazon Prime (with subscription) | YouTube (from $14.99) | Google Play (from $1.99) | Vudu (from $3.99)*
5. Bacurau
Finally, Kleber Mendonca Filho and Juliano Dornelles' brilliant little genre exercise takes what starts as a social issues drama and injects it with a shot of action movie energy that makes it a rival to the best of John Carpenter. Following the townspeople in a small, off-the-map Brazilian town who soon have to defend themselves against outside invaders, this little film was the most pleasant surpris e of the year. Mixing social satire with exploitation movie energy, you never really expect which direction the film is going to go until it's already taken you there. The perfect response to anyone who claims that all foreign language films are boring.
113 minutes // Vitrine Filmes/SBS Distribution
 Stream now on: Amazon Prime (from $3.99) | YouTube (from $14.99) | Google Play (from $1.99) | Vudu (from $3.99)*
Honorable Mentions
The Assistant
Mank
The Vast of Night
Zombi Child
Save Yourselves!
*pricing and availability as per 12/16/20 and subject to change