The Wright Stuff
Frank Lloyd Wright's San Francisco office just one highlight of Hagen History Center's $11 million expansion
August 13, 2021 at 12:00 PM
 Who designed the roof over your head? Chances are, you have no idea — unless, of course, it was Frank Lloyd Wright.
Despite the integral role architecture plays in our day-to-day lives, Wright is the only architect most of us can recognize by name. But if you only know one, it might as well be the American Institute of Architects' "Greatest American Architect of All Time." Wright conceived some of the world's most iconic structures over a prolific and highly influential career that spanned seven decades, and his philosophies helped shape a distinctly American style of modern architecture emphasizing harmony and connectedness — both human to human and human to nature.
In his lifetime, Wright drafted 1,114 architectural works for the civic, commercial, and residential spheres — 532 of them were ever constructed. Several lie to the north near Buffalo — the Darwin D. Martin House (1905) and Graycliff (1926) being the two most famous. Several others can be found to the south near Pittsburgh — most notably the masterpiece Fallingwater (1939) and the later Kentuck Knob (1956). Erie, however, had long remained disconnected from Wright's legacy — until now.
Traveling from one bay area to another via Pittsburgh and Buffalo, Wright's San Francisco Field Office has been faithfully curated and reassembled by Jeff Kidder (Kidder Architects) and Mike Jefferys (Kidder Jefferys Construction LLC) within a specially designed and newly constructed installation at Erie's Hagen History Center (HHC). Donated through HHC eponym and chief benefactor Thomas B. Hagen, the installation is just one part of an $11 million expansion that debuted in tandem with HHC's grand reopening last month.
The office originally sat on the second floor of a four-story building at 319 Grant St. in San Francisco, just outside the city's Chinatown. Wright worked out of this office with associate and protégé Aaron Green from 1951 until his passing in 1959, principally using it as a base of operations for nearby projects in Northern California — for most others, Wright worked out of his two home studios, Taliesin (on his maternal family's property in Wisconsin) and Taliesin West (his Scottsdale, Ariz. winter home). Green acted as Wright's West Coast liaison while also utilizing the office for his own independent practice.
The Grant Street office carried on as a working architectural firm and the headquarters of the Frank Lloyd Wright Foundation all the way up until 1988, at which time it was dismantled and sold off to a collector. For a short while, the office was on display behind glass in the Heinz Architectural Center at the Carnegie Museum Art in Pittsburgh, but it spent the better part of 30 years packed into 27 separate crates. Of course, being boxed in is not very Wright-like, so Hagen purchased the 27 crates from Jim Sandoro, owner of the Buffalo Transportation Pierce Arrow Museum with the intent of having the office put back together.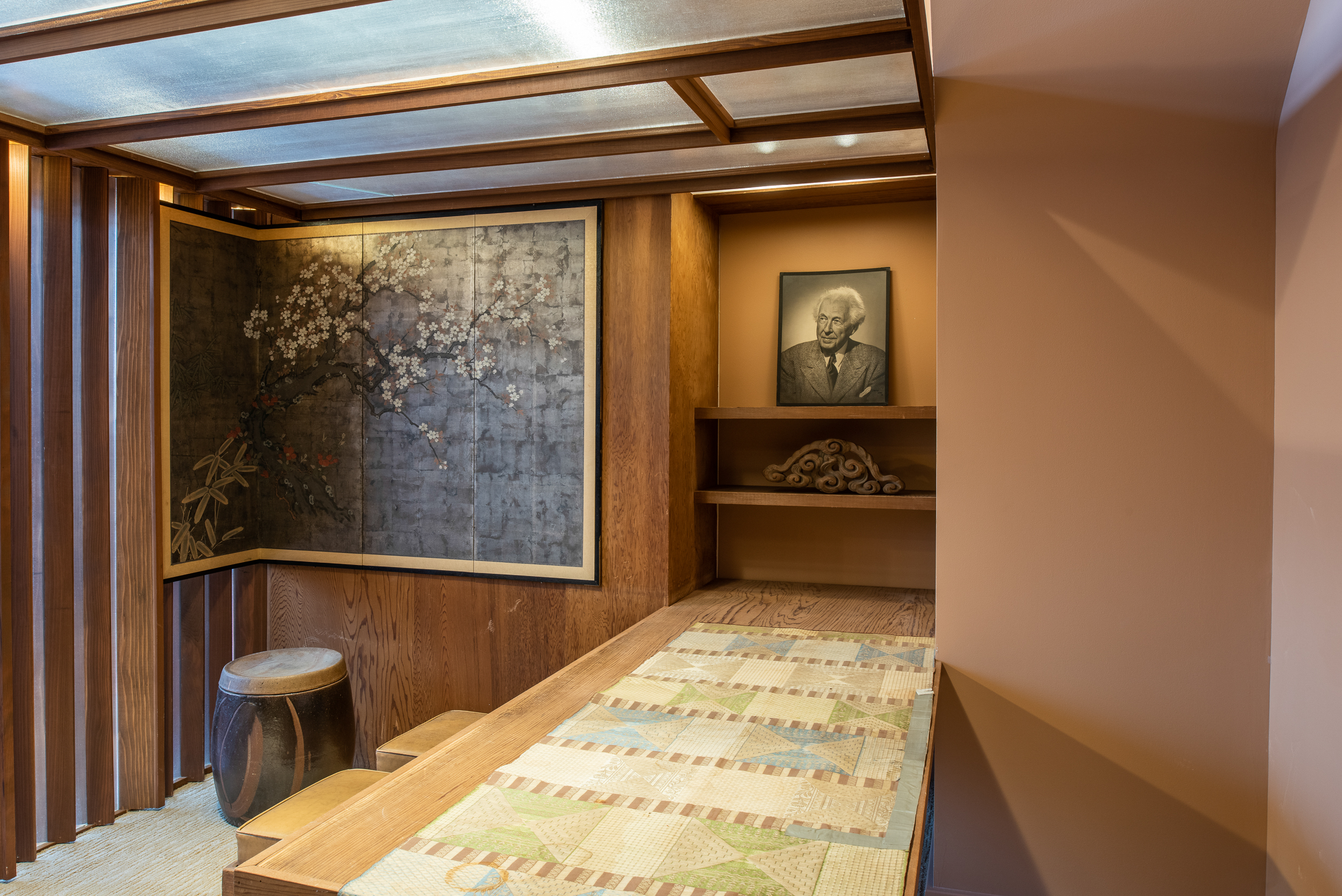 In recreating Frank Lloyd Wright's private office space, Erie architect and exhibit curator Jeff Kidder consulted closely with Jan Novie, who worked under Wright associate Aaron Green at the San Francisco location until it was closed and dismantled in 1988. Of note is the wraparound Japanese screen, illustrative of Wright's love of Asian art. 
And put back together it was, in stunningly accurate detail, the culmination of five years' work from acquisition to completion. While there are a few elements to remind you that you're in an exhibit (for instance, Wright did not have a bust of himself in the entryway of his own office), visitors will otherwise experience the space as it was during its heyday — bookshelves stocked with period-appropriate references and drafting tables spread with project blueprints in the drafting room, furniture and decor that were either originally part of the office or true to Wright's tastes (especially his love of Japanese art), and even the view outside the windows. Use of angled geometries, internotched redwood plywood (a native Californian building material), partial walls and ceilings (in particular cantilevered, or projecting, features), the incorporation of natural light, and varying ceiling heights to distinguish public and private spaces (they're higher in the reception and drafting areas and lower in Wright's cozy personal office) all speak to Wright's ideals.
Basically, nothing here was done without purpose and intention, and walking through it will leave visitors more conscientious of their relationship with the environment around them. Kidder tried to hold himself true to the same standards when recreating the space, consulting often with architect Jan Novie, president and principal of Aaron Green Associates, who spent plenty of time in the original office. Kidder hopes the reconstruction can reignite our drive to think critically and outwardly in this often solipsistic digital age. An ardent preservationist, Kidder is adamant about not losing the soul of architecture.
George Deutsch, executive director of HHC, elaborates that at the core of all this — not just the Wright exhibit or architecture, but the museum and its mission as a whole — is the urge to connect. Whether it's a tourist that wouldn't have stopped by otherwise, the inner city student of modest means finding their life's passion, or the longtime resident that knows little of their area's fascinating history, it's about making connections. Before even setting foot in the Wright office, visitors will have the opportunity to:
Spot ships in the Battle of Lake Erie using an interactive touchscreen
Dote upon the beautifully restored antique vehicles sitting in the middle of the new  two-story, 600 square-foot Exhibit Building — Wright's 1930 Cord L-29 Cabriolet (on loan from the Cord Duesenberg Automobile Museum in Auburn, Ind.) and a Crosley Hotshot identical to one he would've driven.
Appreciate history through pop culture — on display is the same 17-foot model of Wright's Butterfly Bridge seen in the movie Die Hard.
And that's without even mentioning the other buildings on the HHC Campus — the Watson-Curtze Mansion continues to provide a compelling snapshot of Victorian era life in Erie, and the Wood-Morrison House promises to fascinate with stories of the forgotten Erie Extension Canal and Mad Anthony Wayne's curious double burial (among so much more). And if you do get hooked — Deutsch hopes you do — the Kings-Martens Archive Building is an excellent resource for researchers looking to delve deeper into the connections between past and present found in Erie County history.
Perhaps it's not necessarily important to know who built the roof over your head, but there is merit in being curious enough to ask.
Visit the Hagen History Center Tuesday through Thursday or Saturday through Sunday 10 a.m. to 5 p.m., or Friday 10 a.m. to 8 p.m. Tours are $10 for individuals, with discounts available for groups, students, and senior citizens. Find them on the web at eriehistory.org, and consider supporting them on Erie Gives Day on Tuesday, Aug. 10 //  For more information, visit eriehistory.org 
Matt Swanseger's home office is depressingly bereft of cantilevers. He can be reached by gently streaming moonbeams or by email at mswanseger@eriereader.com