Opinion: Think you have it hard?
Walk serves as reminder about sacrifices, hardships of others
March 26, 2020 at 5:14 PM
Think about the port-a-potties.
Take a look at the memorial plaques.
Those are my two suggestions after another walking tour to document how the coronavirus epidemic is impacting Erie.
Wednesday's sunny skies and mild temperatures brought out lots of walkers, runners, and bikers. I got a little nervous because as the weather warms, more people will be tempted to toss off the social-distancing rules. I am trying to follow them religiously. This is no surprise because I am the product of Catholic schooling in which we were required to walk in single file, in silence.
This time, I refrained from playing coronavirus cop. A week earlier, I had scolded four 20-somethings playing smash ball at Frontier Park. I'm no health expert, but It didn't seem smart for a group of players to hurl the same ball over and over again. I've also wondered about the wisdom of playing tennis at Frontier. Pro tennis is on hold, and in case you were curious, the USA Pickleball Association has canceled all sanctioned tournaments.
Heading east on West Sixth Street, toward downtown, I felt calmer. I noted that Make It Fabulous Catering and take-out now occupies the former Calzone's pizza place at West Sixth and Cranberry streets. A guy working on his side garden said that the strawberry plants are poking through. At West Sixth and Cascade, I read the Pennsylvania Historical Marker about how Perry's ships were built at the foot of the street in 1813.
I was unnerved when two boys ran toward me in the next block. One wore a hospital mask. "I have coronavirus. Do you?" he taunted. After I asked a few questions, I knew he had made up the story, but I didn't know whether to laugh or cry.
At Gridley Park, yellow and purple crocuses presented a pretty picture.
On Millionaires Row, all was quiet – no hammering, no heavy equipment operating to restore the historic homes there.
I passed by the two "Take a book, share a book" stands outside of United Way of Erie County. I didn't open the boxes because I didn't have any hand sanitizer but the boxes are somewhat depleted. To find out about best practices for freestanding libraries during the pandemic, visit the blog at littlefreelibrary.org.
At the Erie County Courthouse, I thought about the various government functions that have been suspended. Then, I scanned the low-slung walls of memorial plaques honoring veterans. I've walked past those plaques many times since they were installed in 2006. I had never let the inscriptions sink in until now.
Each plaque outside the Erie County Courthouse tells a story about service and sacrifice.

The plaques pay tribute to members from all branches of the service, including the U.S. Coast Guard. They had served in World War I, World War II, Korea, Vietnam, the first Gulf War and the war known as Operation Iraqi Freedom. They fought in the Battle of the Bulge and on D-Day. They served in Italy, Africa, and Okinawa; at Iwo Jima and during the Japanese occupation. One soldier was missing in action in the Philippines. They had been deployed during the Cuban missile crisis and the invasion of Grenada and had served during peacetime.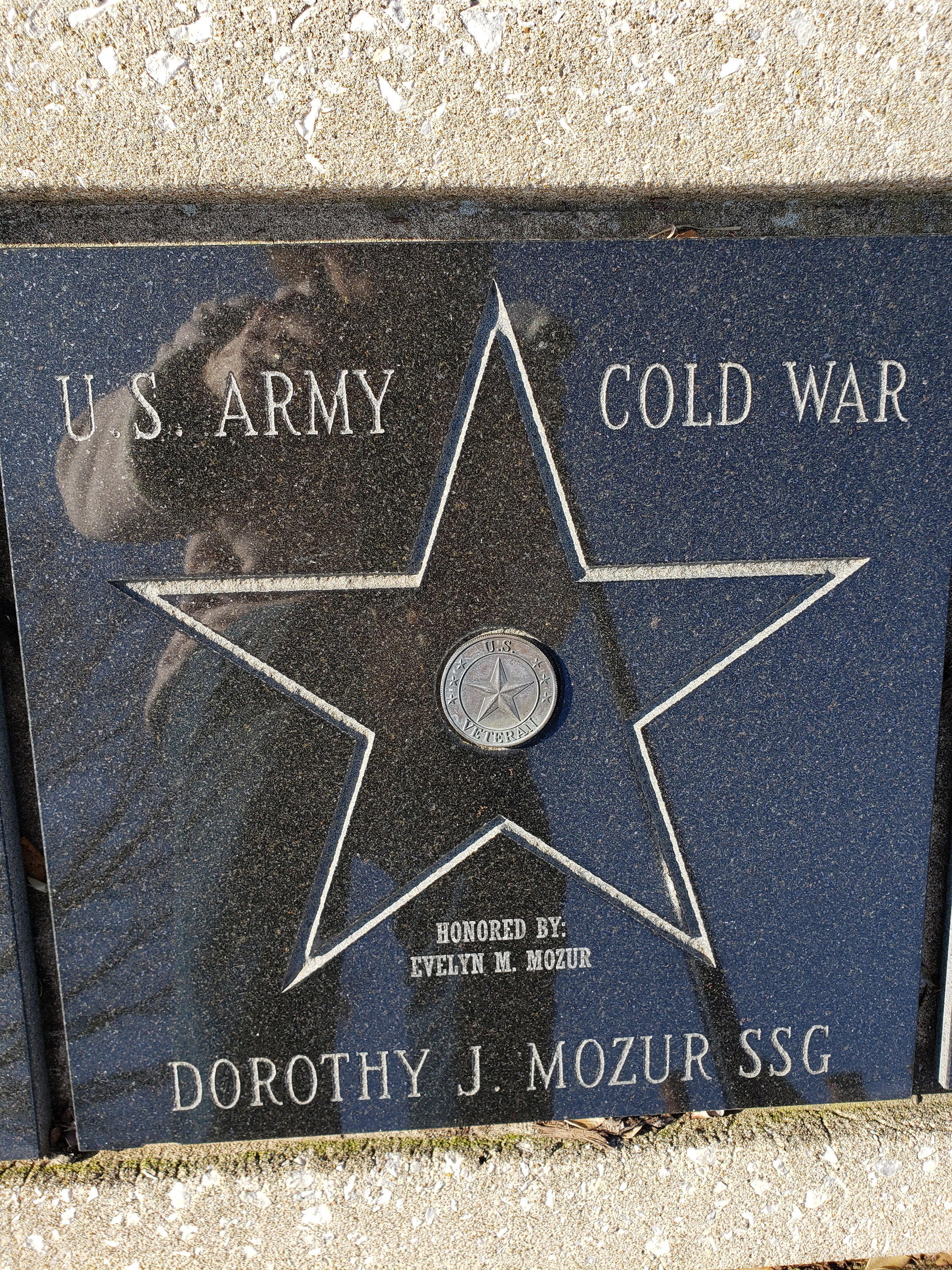 Dorothy Mozur is one of many veterans honored with memorial plaques outside the Erie County Courthouse.
I wanted to know more about Staff Sgt. Dorothy Mozur, who served in the U.S. Army during the Cold War, but truly, I felt like had been introduced to all of these brave people who had sacrificed to serve our country. I want to remember them when I get antsy about Erie County's stay-at-home order to stop the spread of COVID-19.
On the way home, I had another sobering moment when I went to find the port-a-potties outside of First Presbyterian Church of the Covenant. The church's address is 250 West Seventh Street, but the portable bathrooms are in the far east part of the parking lot. It's one of three sites where the First United Methodist Alliance has installed port-a-potties to serve Erie's homeless. The others are outside Community Health Net, 1202 State St., and the old Holy Rosary School, 1012 E. 28th Street.
There's also a Little Free Pantry near the Church of the Covenant port-a-potties, but this cupboard is nearly bare, stocked only with some beans, rice and canned tomatoes.
Our lives have been changed temporarily changed. My walk was a reminder that too many people live on the margins every day.
LIZ ALLEN is trying to add more distance to her social-distance walks. Send suggestions for future walks to lizallenerie@gmail.com