Three Shops in Erie Set to Participate in Free Comic Book Day
Get your comic fix with some of Erie's premier local outlets. 
April 29, 2015 at 7:15 AM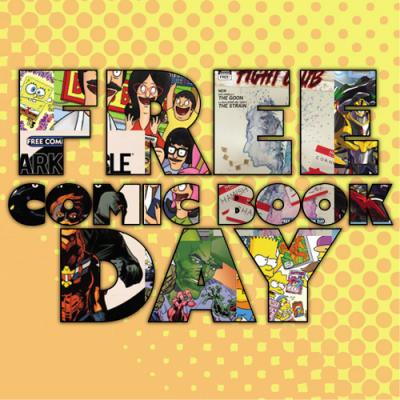 Rejoice! Free Comic Book Day, an annual event where comic book aficionados and first-timers convene to check out what's in store for their favorite heroes in the coming year. Whether you are fan of Marvel, DC, or small publishers, like Image, our local brick and mortar stores want to service the community here in Erie.
Free Comic Book Day is a national event where local comic book stores get heaps of free comics that are meant to feature what has happened or what is going to happen with popular running series. I asked ActionToyMan owner Patrick Short what we can expect for this year's event, and he said, "This comic book day is showing off the end of the current Marvel universe and setting up the next." For Marvel, this takes the form of "The Secret Wars" and major crossovers are expected in the aftermath of this universe-ending event.
If you are a DC fan don't worry! DC is also having a major universe event in the form of "Convergence," where all forms of each of the heroes of the past 50 years are converging in a single storyline to ultimately decide what forms of each will take the focus in the coming years.
But what if you are like me and only dabble in comics and aren't completely up to date on current running stories? Again, Free Comic Book Day is designed to bring in first timers or the comic curious by offering stories where there will be something for everyone. Also don't get the impression that this day is only for the die-hard adult comic crowd. At most shops there will be stuff for all ages, so bring your kids!
Patrick Short told me that the main purpose of Free Comic Book Day is to "bring awareness to small comic book shops everywhere around America." There are three locations in Erie that will be participating in Free Comic Book Day: Books Galore, ActionToyMan, and Above & Beyond Comics.
Patrick mentioned that while the comics are free for the fans, it does cost each store to participate, but they do it to support and help foster our local community. According to the Free Comic Book Day website, all customers are guaranteed at least one free comic, but Patrick told me if you show up in a costume or bring a can of food for their Second Harvest food drive, each will net you an additional free comic at his shop. - John Lindvay
Be sure to contact your preferred store of choice on Saturday May 2nd, whether it be Books Galore on 5546 Peach St., Action Toy Man at 1215 W. 26 St., or Above & Beyond Comics at 1126 W. 26 St. Maybe go for the trifecta and hit up all three.