Tonight: Arena Football!
Sports!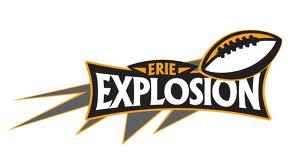 Erie loves its sports. And with a city this size, we're fortunately to have as many options as we do. We have baseball with the SeaWolves, hockey with the Otters, basketball with the BayHawks, and football with the Explosion. Arena football to be specific.

Tonight the Explosion ignites its season against the Western PA Sting. Whether you're new to indoor football, Jay Stevens captures an essence of the sport here:
The wall is an ineluctable feature of indoor football, no doubt as certain and inevitable to wide receivers as death and taxes are to the rest of us. The wall is a promise of possible brutality, of bodies flung into the laps of rooters, of hard runs ended abruptly. The wall adds a dark edge to a sport defined by its 50-yard field, eight players to a side, and the wide-open offense that its dimensions spawn. Arena football is all about passing and fleet-footed receivers running elaborate patterns that begin as far back as twenty yards behind the line of scrimmage. Until, of course, they run into a wall.
And if you think that's exciting, you can read the rest of his article here.