Two Ohioans Trying to Sell Van
1994 El Camino for sale! Special offers, videos, and more!
December 5, 2011 at 11:17 AM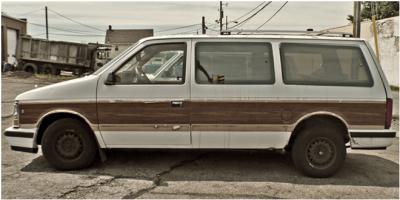 Pat and Dan are just two regular guys from Akron, Ohio just trying to sell a van, er, 1994 El Camino, so I figured I'd try to help them out. With only 273,000 miles on its V6 engine, it's a steal of a deal for 200 cubic-in. 3.3L 95hp beast that's built to handle the road to fame and glory!
The guys placed an ad October 9 in the Akron Beacon Journal but it looks like they're still entertaining prospective buyers. Check out the sales video on YouTube video they created to attrack more attention--you might even recognize the awesome salesman they got from the used-car lot!
As these guys said, this beauty is priced to sell, so I don't think they're messing around since they've always struck me as serious guys. So Grab the Keys and go!
Contact Pat or Dan at (330) 510-1206 for details on the special they're offering Tuesday, Dec. 6.