Upfront: Downtown Business
Cory Vaillancourt is lying on his bed watching a business grow. Literally. And it's downtown-- an area we took a look at a few weeks ago. Take a read and see what Cory sees.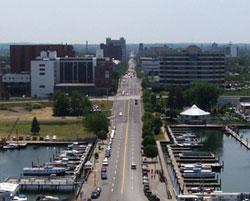 Two weeks ago, Mark Toriski's Erie Reader cover story, "Erie's Downtown: Still a great place to do business?" explored the complex issues facing downtown business owners and the various economic development agencies tasked with fostering a stable, hospitable business environment for those business owners. On one side of the story, you have a business owner who seems to think that it is the job of economic development agencies to put butts in her seats (yeah, I know; I'm shaking my head too). On the other side, you have these economic development agencies that seem to think vague buzzwords such as "partnering," "mentoring," and "consulting" actually do that (now I'm banging my head on a brick wall.) It seems like I've seen this same situation played out in a number of cities, and it is rarely efficient, productive, or satisfying for anyone.
The only thing that business owners care about, at the end of the day, is getting dollars in the door; this is especially important with start-ups. Faced with the oft-daunting permitting process during build-out, new business owners spend weeks, if not months, outfitting their establishments while not a single coin enters the till. Granted, this is an inherent part of the risk/reward situation any capitalist engages in, and I'm not suggesting that the role of these agencies is to help finance someone's ill-conceived caprice. What is unacceptable, however, is that during these critical times that assistance would be most welcome, these agencies can be indifferent or downright obstructionist while business owners sit and wait, paying another month's rent on their space, their life's dream and their life's savings on the line.
Meanwhile, the agencies charged with developing that stable, hospitable business environment do little, if anything, to give people a reason to come downtown. It almost seems like these agencies would do more good by collectively going down to State Street and buying a slice of pizza and a beer than by continuing to engage in the buzzword bootserism that is clearly not working. Established businesses and startups probably don't need "mentoring" or "consulting," as much as they need a steady stream of customers. And while streetscaping projects and block parties do help somewhat, consistent business is always better than sporadic business predicated on someone coming downtown to admire the new street signs.
As these two sides continue spinning their wheels in a yin yang of perpetually futile chase, I've been lying in my bed, looking out the window at a construction project across the street in the southwest corner of the Modern Tool building since January. No, not lying in my bed since January. Well, OK, lying in my bed since January, watching the never-ending array of construction vehicles collect bright orange springtime flowers on their windshield, courtesy of the Erie Parking Authority.
Russ Stachewicz, proprietor of the U Pick 6 Beer Store on upper Peach Street, is bringing another incarnation of his wildly popular establishment to the downtown scene. The new U Pick 6 Tap House will focus more on "craft and draft," as Russ puts it, and is scheduled for a July opening. I thought I'd ask him for his opinion on the downtown business environment, and I quickly discovered Russ' approach to opening a new business downtown was enlightening—to say the least. Over the course of the interview, he repeated one statement several times, a statement any businessperson ignores at their own peril:
"In this business, you make your own luck."
In other words, you can't depend on anyone else to bring you customers. Some business owners, he said, don't do their homework, and sadly, many businesses fail before they even open their doors. "They think these economic development agencies are supposed to come to them and fix their problems."
While Russ admitted that these agencies could be helpful at times, he had not availed himself of their services for his new location. What he obviously did do was his homework. He detailed for me the planning involved in the new endeavor, the meetings with city officials, and the plans he made with the contractors, all of which ensured the process would go as smoothly as possible. He cited code inspectors as being "more than fair" and going "above and beyond" in assisting and advising him during construction, and, as anyone who's ever opened a business knows, delays are inevitable and must be accounted for; although Russ did encounter a few minor delays (he originally wanted to open in June), he was more than prepared for such contingencies, like when he found a floor under the floor in his new location.
What I walked away from this interview with, aside from a six pack of Sierra Nevada Pale Ale, is that Downtown Erie is still a great place to do business, if business owners are not solely reliant on the assistance of outsiders. This obviously raises the question, what exactly does this alphabet soup of economic development agencies do to make Erie a better place to for businesses? Please don't think I'm ripping on these agencies; no one wants to see people fail in their business endeavors, especially before they even get the chance to serve their first customer, and I dare say we'd all be pleased to see new businesses sprouting up monthly in a revitalized downtown business district. New business creates new jobs, new streams of tax revenue, and generally improves the quality of life in our fair burg; what I'm suggesting here is that perhaps the money spent by these various economic development organizations might be better spent in giving people a reason to come downtown, as opposed to providing meaningless but well-intentioned "support" to people who obviously don't need it. What we do need are new ideas. I'll have one for you next week, so be sure to check back with me.
What's your take on this situation? Are you interested in opening a new business but having trouble doing that? Have you ever found a floor under your floor? Can you tell me what the world's fastest land mammal is? Would you like to buy me a beer at Russ' place and talk about it? You know where to find me.
Cory Vaillancourt is a brilliant writer/complete hack and can be complimented/heckled at cVaillancourt@ErieReader.com.