Upfront: The 2012 Year in Review
Leading off our annual "Year in Review" issue, it's "Upfront Looks Back at the Year!"
December 27, 2012 at 3:57 PM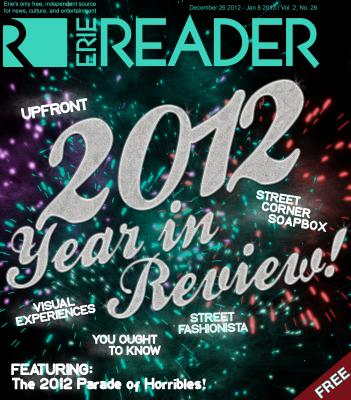 A wise old writer once said, "Call on God, but row away from the rocks." He later proved his own adage by doing neither, and ended up a boring old man who could no longer bear the burden of being…but he was right about the rocks – they're always going to be there, and life's not about learning to avoid the rocks, it's about learning that when life gives you rocks…ummmm…rock out!
However, the need for both penitence and pertinence should not be lost on any of us – indeed, dear Reader readers, 2012 was another weird year full of gods, rocks, crap rock, and even gods of rock. So, in the ancient (read: two years) Upfront tradition of looking back at the year, here's…ummmm…Upfront Looks Back at the Year!
January
In accordance with my stature as a lowly freelance journalist in this forgotten backwater of the first world, I hereby proclaim 2012 as "the year of the gay." Okay, I know that sounds offensive – let's call it "the gayest year ever." Wait, is that offensive too? I don't know – I'm not gay, so I don't know what they prefer to be called; I've just always called them "people." Regardless, gay marriage – or some permutation thereof – is now legal in more states than ever, and that's great news for breeders like me, because A) it's not mandatory, and B) the more attractive, intelligent, well-dressed men that remove themselves from my dating pool, the better.
Speaking of well-dressed, Erie Reader resident fashionista Leslie McAllister – our longest-running columnist – continues to provide us with myriad ways to look good, like "scholarly belle" Sue Martin. Now, about those damn porkpie hats…
February
A man in Florida interprets the "stand-your-ground" law to mean "relentlessly pursue an unarmed black teenager who is not an imminent threat because he looks suspicious and then murder him." Amazingly, Florida police agree with this wholly-unqualified interpretation of the law and release George Zimmerman from custody without charging him for the shooting of Trayvon Martin, who currently is standing his ground beneath 6-odd feet of sandy Florida soil.
And, in an unusual turn of events, February will be remembered as the month Erie Reader noob writer Alex Bieler got beat by meat; Bieler attempts to complete the "Bethcha Can't" Challenge at the Three B Saloon, which involves eating a bacon-burger taller than most of your children. He fails, but we keep him on anyway, because he gives great hugs.
March
Jay Stevens authors the definitive piece on the once-in-a-lifetime redevelopment of the lakefront GAF site and in the process starts a discussion that we're still driving. Jay's good like that; his well-written, deeply-researched stories always generate scads of conversation and help us fulfill our role as Erie's only alternative news source, bringing you the issues that matter like no one else can.
Also in March, the U.S. Supreme Court hears oral arguments on the constitutionality of "Obamacare." A few months later John Roberts – handpicked to serve as chief justice by the worst "president" in the history of the United States (George W. Bush) – stuns the nation and his conservative masters by acting like a decent human being and penning the majority opinion, upholding the sweeping and progressive healthcare legislation based on Mitt "the White Horse" Romney's Massachusetts model. Touché, Dubya. Touché.
April
The Erie Reader levels up by hosting the first "Erie Reader Downtown Debate Series" at the Masonic Temple" in…ummm…downtown Erie. Jason Owen squares off against Regina Smith, and Sean Wiley takes on John Harkins, Brian Pitzer, and Terry Scutella. Owen and Wiley move on, despite admirable performances by all.
May
The area's finest music critic and Erie Reader Meat Correspondent – Alex Bieler – earns his Erie Reader Writer's Union Card and joins a very, very select group of people sentenced to write for the Erie Reader by penning his second cover story, just in time for summer music festival season. Not bad for a guy who's family was killed by a roving band of vegans.
And as long as we're on the topic of vegans – who happen to eat bacon from time to time – it isn't often that Managing Editor Ben Speggen emerges from the mists of the Erie Reader nerdery to actually author a cover story, but when he does, look out! Ben's treatment of the Perry 200 Commemoration re-awakens Erie's long-slumbering admiration of Perry, which happens but once every 50 years. A spate of events follow, becoming the highlight of many an Erieite's summer.
June
B. Toy's strip, "Just Toyin' Witcha" debuts in the Erie Reader. Acquiring our very own local political cartoonist is a tremendous asset to our publication, as we now have the ability to mock local public figures in caricature form!
The Presque Isle Partnership, in conjunction with the aforementioned Perry 200 Commemoration, put on the event of the year by bringing folk-rock gods Crosby, Stills, and Nash to Presque Isle's Beach 11 in an event appropriately titled, "Best Summer Night." Like a sandy Brigadoon rising from the, ummm, sand, a unique venue was constructed solely for the bayside event, which was by all accounts the pinnacle of another beautiful Erie summer festival season. While Executive Director Steve McDermott told me that they won't be doing this again in 2013 – so they can concentrate on renovations to the Perry monument and other park improvements – they'll resume the event in 2014. Carry on…
July
In this month's Tech Watch – or as Erma Gerd calls it, "Terk Werch" – Michael Haas tells us all about rampant user dissatisfaction with Facebook. But, just like crystal meth, those who are already hooked on it just can't seem to stop using it, no matter how bad it may be. Oh well, at least no one's breaking into your house to steal your TV to support their Facebook habit. Yet.
Hawt! July 2012 was the warmest month in the contiguous United States since recordkeeping began in 1936. Perhaps it's because of so many people cooking meth? Or perhaps global warming is not just, as some crazy conservatives would have you believe, a "conspiracy" designed to enrich the mighty eco-industrial complex. As Jay Stevens told us, if you're 27 or younger, you have not drawn one single breath during a month that has been colder than average.
August
"Here Comes Honey Boo Boo" premiers, and simultaneously reinforces every stereotype Americans have about the south, and every stereotype the world holds about Americans. This is why I haven't owned a TV in years; kill your television!
Did I say that PIP's "Best Summer Night" was the pinnacle of Erie's summer festival season? I did, didn't I. Well, John Vanco and the Erie Art Museum may beg to differ – the 20th Annual Erie Art Museum Blues and Jazz Festival was, once again, an unbelievable weekend filled with magic, music, bubbles, and a free-range tortoise named "Bean."  The highlight of the festival was a smoldering performance by Brooklyn-based Bhangra Brass band Red Baraat, who rocked the capacity crowd so thoroughly that you could almost hear and see minds being blown.
Celebrate Erie happens. Again. Just go away already, Celebrate Erie, and take your crap rock with you. I'm embarrassed for you, Celebrate Erie. Just one year after Kansas comes to town, Mayoral Assistant Laura Schaaf continues to fail at procuring quality entertainment for this festival by paying washed-up washout Ace Freehley $40,000 to "perform." This sideshow might be the only blot on Mayor Joe Sinnott's otherwise-respectable tenure; keep in mind that 2013 is an election year for him.
NASA's "Curiosity" rover landed on the big red rock known as Mars in August, ostensibly to answer the David Bowie-posed question, "Is there life on Mars?" In other Bowie-related developments, no word yet on whether Ziggy Stardust or any spiders from Mars have been located, but we're all holding out hope that the star man – who would like to make our acquaintance despite his apprehension that he might indeed blow our minds – could freak out to a moonage daydream, oh yeah.
September
The Weight of War – quite possibly the most important work ever to grace the pages of the Erie Reader – hits the stands. Weighing in at a hefty 7,400 words, this tragic piece brings Erie native and United States Navy Petty Officer 2nd Class Phillip Azevedo's untimely PTSD-related death to light. Phillip's story was difficult to write – it took over four months – and was difficult to read because of its graphic, no-holds-barred nature, but it was also difficult to ignore; however, the thought that it may help even one veteran suffering from PTSD brings us hope – which is exactly what a giving, nurturing healer like Phillip would have wanted.
The Erie County Gaming Revenue Authority announces that it has just granted it's 20 millionth dollar, investing in 86 local nonprofits throughout nine municipalities, which has helped make real change, from pocket change – you can bet on that.
The NFL's replacement referees become a national laughingstock among everyone except Seahawks fans and this columnist when a blown call gives them an undeserved win over the reprehensible and despicable Green Bay. Karma, Packers, karma. The regular referees – also a laughingstock – return shortly thereafter.
October
Reader writer Rebecca Styn had an eventful year – in addition to penning an important story on crime in our community and teaching Jim "Hot Pockets" Gaffigan further lessons about "profoundly white trash brilliant food products," she scores an exclusive interview with Glenn Beck in October regarding his visit to Erie and his work with the Kanzius Cancer Research Foundation.  During that interview, she reveals the softer side of the outspoken political pundit, who apparently hates cancer as much as he hates liberals.
Almost 300 people pack the Jefferson Educational Society for round two of the "Erie Reader 2012 Downtown Debate Series." Jason Owen and Ryan Bizzarro square off for John Hornaman's old seat, and Sean Wiley faces Janet Anderson for Jane Earll's old seat. The debates were televised on WICU, giving the voters of northwestern Pennsylvania a chance to evaluate the candidates, their positions, and their poise. Despite an impressive performance, Owen goes on to lose to Bizzarro in November; Anderson, who talked mostly of kiddie tables and robo-bots, restores faith in the electoral process by losing to Wiley handily.
November
Mitt Romney…yeah. His name is "Mitt." He owns a dancing horse, wears magical underwear, has binders full of women, and is puzzled by the existence of one-dollar bills. Luckily for America, he loses the presidential election to a coke-dealing Kenyan-born Muslim socialist. Wait, Barack Obama is none of those things! But if you thought the idiotic mouth-sounds made by conservative radio and television commentators was bad this year, just wait until 2015 – that race will be wide open, and will make the last one look like an episode of Mr. Rogers' Neighborhood.
December
Another year, another "Parade of Horribles." Last December, I covered Erie's oldest tradition for the first time, and this year, I said to myself, "Self, I'll be damned if I'm going to get up at the asscrack of dawn to do that again on the day after Christmas!" But I did anyway. Sort of. Read Alex Bieler's story in this issue to learn more about an Erie institution that you probably didn't even know about.
And who is this "Fiscal Cliff" guy everyone keeps talking about? Is he related to Erie James? I don't know, but he seems to be all over the news during December. Hopefully, both of them will be at "Readerama," the Erie Reader's New Years Eve…oh, wait, that name was rejected. It's actually called "The E.R. N.Y.E.@E.A.M. w/ Z.O. & E.B. & F. & S.T & I.S. & E.V & T.G & S.T. & J.P. & R.H. & F.S. & T.G (again)" and it is…oh wait, that title was rejected too. I guess it's called NYE at EAM, which stands for New York…wait, that's not it either.
Oh yes, here it is – New Year's Eve at Erie Art Museum. Yes, that's it. You may have heard about it on radio, or the Internet, or the posters, or the TV commercials, or the print ads. From 8 p.m. to 1 a.m. on…ummm... New Year's Eve, we're hosting the party to end all parties, so I must ask you: Do you like Zack Orr? Do you like Joey Jablonski and Pat Daugherty? Do you like Eric Brewer? Do you like his friends, too? What about Steve Trohoske, Elly Vahey, Tony Grey, Stix Thompson, Joel Polacci, and Rickie Hopkins? Frank Singer? Tony Grey again? Four beers? Champagne? Do you have $30? If you answered yes to those 15 questions, have I got a deal for you. Go to www.NewYearsErie.com and buy your tickets, because if you do indeed like all 15 of those things, you will want to join us as we reflect upon a rockin' 2012, and look forward to a rockin' 2013. And, this brilliant writer/complete hack will be there, so this might be your only chance to personally compliment/heckle me, in person.
Cory Vaillancourt is a brilliant writer/complete hack and can be complimented/heckled at cVaillancourt@ErieReader.com. Find him on Twitter @VLNCRT.