Vaillancourt on Bar Etiquette
Everyone hates the guy at the bar causing trouble. Cory Vaillancourt has a few choice words for Ralph at the Oasis Pub.
October 19, 2011 at 9:00 AM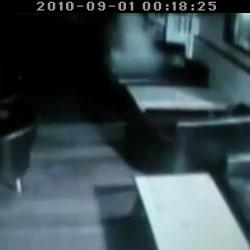 Out on West Lake Road just west of Presque Isle Boulevard is a sprawling, relatively nondescript 10,000 square-foot building sitting on almost 3 acres of wind-swept, mostly-paved parking lot. Ralph is a local old-timer who remembers when the building was built in 1955. He was there when it was called Barnacle Bill's. He was there when it was called the Dry Dock. He was there when it was called P.I. Nights, and Dickey Doo's, and Compadre's. Now it's called the Oasis, and Ralph's still a regular there, just like me.

"Ralph" might not even be his real name because I haven't met anyone who knows his real name; he does, however, answer to "Ralph," so that's what I'll call him. Now, I must tell you that I attempted to reach Ralph directly to interview him for this story, but he never responded. I must also tell you that Ralph is a real jerk. You see, Ralph's a repeat violator of a little something I like to call "bar etiquette," and I just can't stand hearing about people in the service industry being mistreated. How does he offend me? Let me count the ways.
Ralph can occasionally be found at the Oasis during the day, but he really likes to show up late at night, when the bar is less crowded. Chris Gray, a manager at the Oasis, remembers the first time he met Ralph. "First time I encountered him, I was closing by myself, probably 2:30 in the morning, getting ready to throw the last garbage can out," he says. I've always thought that it is a violation of bar etiquette to show up to a bar right at closing time; the poor servers and closing managers just want to get the hell out of there and go home, and the last thing they want is someone showing up, demanding attention at the last minute. And, if you haven't had enough to drink by 2:30 in the morning, it's your own damn fault; there's no reason to stay up that late if you can get the job done by seven or eight o'clock in the evening. Apparently, no one's ever told Ralph this little tidbit of bar etiquette.  
Another thing no one's ever told Ralph is that it is no longer 1955, and you can't go around harassing the help like you work at Sterling Cooper Advertising Agency. Bar manager Leah Menosky tells me about a time when Ralph really crossed the line. "Right after we opened the bar in 2007, it was after hours, 3 o'clock? He came up behind me to kiss my ear, and I turned around to slap him." Considering that Leah is usually behind the bar slinging drinks, she's not someone you want to piss off; she has a direct impact on how much booze you will consume when sitting at her bar, and the nicer you are, and the more polite you are, the better service you'll get. Harassing her - or any bartender, for that matter - by calling out "honey," "baby," or "sexy," will usually result in slower service. Snapping your fingers, whistling, waving, or commenting on a bartender's sweet ass also will leave you much time to reflect upon your deficiencies in bar etiquette while you also reflect upon your empty beer glass.
Bar etiquette also demands a certain respect for the premises, and Ralph has a long history of violating this rule. He likes to open and close the bathroom doors repeatedly. He likes to mess with the motion-activated paper towel dispensers. He likes to play with the lights on the dance floor. "A lot of times, in our back hallway that runs near the basement steps, all of a sudden the motion-activated paper towel dispenser will go off. Straws have fallen. Plates have fallen," says Ryan Newara, owner of the Oasis. Ryan also tells me that Ralph's been acting like this for years. "When it was Dickey Doo's, Dick the owner told me about experiences, as well as some of the bartenders that had worked there." Really, Ralph? Really? You show up late at night, harass the staff, and trash the place? What are you, a rock star?
Respecting the premises also means knowing which areas of the bar are off limits to patrons. Leah tells me about another incident with Ralph in which he went wandering around behind the bar near the offices in back. "One bouncer was closing late night with me, and he thought someone was walking through the hallway in a white T-shirt. He walked all the way around to check it out." I'd like to think that shortly thereafter, Ralph was on his hands and knees in the alley behind the bar trying to find all of the teeth this bouncer just knocked out of his head, but I don't think that's what went down, because it continues to occur; Chef Dan told me that he thought he saw Ralph go into the beer cooler once. While I completely understand his desire to be surrounded by thousands of bottles of ice-cold delicious beer, I'm pretty sure it's frowned upon for customers to enter the beer cooler. Again, ass-beating ensued? Nope. Bartender Jake Schnell told me more. "We were sitting here talking one night, after work, kinda late, I think it was about 3:30 in the morning," says Jake. "We were just talking about Ralph, and Leah started talking about a prior experience. It was funny because, we were like, 'Oh we shouldn't talk about Ralph, he might get upset,' [but] we started talking about the story again, and then all of a sudden you hear a sound that sounds like a couple bottles in a bag, and someone picks it up and shakes it." Messing with the trash can Ralph? Truly, there is no end to your shenanigans.

So how does this "Ralph" get away these egregious violations of bar etiquette for decades, with dozens upon dozens of witnesses to his bad behavior? No one's been able to get rid of him, or tell him to move on and find a new place to hang out, and I think I know why: Ralph's been dead for some time now. Ralph's a ghost.