Visual Experiences: 89th Annual Spring Show
The Erie Art Museum Spring Show has long been the premier regional art exhibition in Northwest Pennsylvania. It is satisfying, then, to be able to give it new kudos.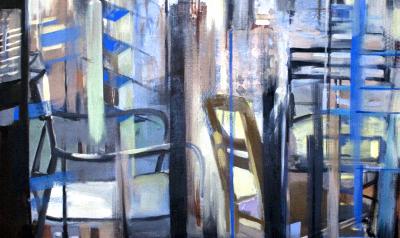 The 89th Annual Spring Show
The Erie Art Museum Spring Show has long been the premier regional art exhibition in Northwest Pennsylvania. It is satisfying, then, to be able to give it new kudos. More often than not, Western Christian Easter falls one week before Eastern Christian Pascha, as it did this year, and in scheduling the opening, the Museum usually avoids Roman Catholic/Protestant Easter and the Jewish Passover, often landing it on the holiest night of the year to Orthodox Christians. But not this year. Here's to hoping that this cultural sensitivity is now policy rather than a fortuitous fluke.
Museums in general deal with the work of dead artists, however this show is an annual commitment to living artists and new art, supporting both with awards and guaranteed purchase awards. The Spring Show is also one of the few remaining annuals judged by the actual work, rather than by slide or digital image. A bit old fashioned perhaps and more labor intensive definitely, but the juror gets to experience the actual work in all aspects, and there is an obvious virtue in this, which I think often shows in the end product.
It is juried, meaning someone comes in to decide the look of the show. Generally a juror is unwilling to judge a show in their own community, in part because locals are less likely to submit to a show judged by a peer and they probably do not want the locals to know whose work they like and whose they don't. Nor do they want a mob of angry rejected artists—who know where they live—to come after them with pitch forks and torches.
This process has the gambler's excitement of seeing if one has what it takes to pass a particular juror. It is a totally subjective process; take, for example, that a painting for which I received an award in the Hoyt Mid Atlantic Juried Exhibition was rejected by this juror, while a friend of mine submitted work rejected from last year's Spring Show and got in. There are competent Erie natives who have never gotten in. However, and as something of a rarity, Jesse Wolfgang was accepted on his first try with his pristine and obsessively detailed drawing "Smiles on Piles of Rubble."
The juror was Emily Hubley, a noted animator and filmmaker, specializing in hand-drawn, rather than digital animation. There was a bit of a tremor in the art community, wondering how she would relate to a show that historically draws mostly on painting, photography, and 3D works rather than installations, film—though there are two in this show—and experimental media.
And now we know… sort of… that the show is eclectic, running in many different directions with little cohesion. Though encyclopedic shows can be interesting and vital, in some ways I find this a confusing show. Ms. Hubley was not anti-landscape or seascape, including such as Joanne Loew's "The Solace of a Few Faithful Friends"—and I can't remember the last time a landscape or seascape that wasn't a photo got into a Spring Show. This is refreshing.
Refreshing also is that Ms. Hubley is clearly not anti-figure. From the 1950s to the mid-'90s, art critics, historians, and art instructors—and therefore jurors—parroted: "The figure is dead and doesn't belong in modern art." One of the figures included, refuting that claim, is Brad Lethaby's classic "Emily in Pink." Many say that the most graceful view of the female figure is the back, and here is that femininity, complete with a salmon pink swag being removed. The background is turquoise mottled with rose, and the flesh tones are the reverse—rose tones mottled with turquoise—unifying the whole. Brad has the impressive and hard-won skill of painting from photos—which he himself has taken—while making it look as though he painted from life, and not a photo. Excepting his commissioned portraits, each painting also has a personal experience attached to it, and when I asked him if he would like to "share this one with the press," he said: "Emily's derriere was a delight to paint!" But perhaps this is too much information.
Ms. Hubley was also not anti-"decorative arts," being that there is the inclusion of furniture pieces, the most clear example being "Elegance: Dining Chair," a graceful piece in mahogany, ebony, and holy nubuck leather by Cosmo Barbaro. Grace, elegance, and functionality in one piece.
Nor was she anti-Conceptualism, as attested to by the whimsical "Candle Table" by Yong Jun Shin, a modern table shimmering in warm African mahogany, and a space for candle wax to collect and drip through…down the leg…and on to the floor.
This is an unusually strong year for sculpture. Among them is Gary Spinosa's "Clairvoyant Bird," which seemingly harkens back to the fact that the ibis, the bird sacred to the ancient Egyptian god Thoth, was often mummified. But then with Gary, it is often hard to say where exactly one influence stops and another begins. It is, however, a rather arresting image in earth-toned wrappings and a turquoise, with orange highlights bird.
Nor is Ms. Hubley anti-found object, as clearly illustrated by Brian Pardini's award winning "Untitled" driftwood sculpture. Brian explained that this piece began with finding the "head" piece, which so fascinated him that he went to his bins of arm pieces and leg pieces, and found what he thought would be the perfect match in legs and arms, then attaching them so seamlessly that you could be convinced that the sculpture grew that way—if I hadn't told you differently, that is. The end result is a carefree, frolicking dancing tree.
Ms. Hubley is neither anti-art history as can be seen with the inclusion of John Bavaro's "Fayum Portraits Triptych" from a series that springs from Greco-Egyptian mummy portraits, nor is she anti-new technology seen in that these images originate as iPhone photos before being manipulated.
Though Ms. Hubley works chiefly in hand-drawn animation, she is neither anti-photography nor anti-digital photography, as can be seen in an inkjet print from Joseph Allen Popp's Bicycles of Toronto Series, "Daphne Blue Bike on Dundas," a deceptively simple, yet richly complex street still life, a complex study in color and contrasting values.
Nor is Hubley anti-traditional media. One of the award winners is Rachael Burke's aptly named "Hide and Seek." Rachael demands that the viewer bring something to her pieces, requiring the viewer to complete the work by their own mental and visual perceptions. This is Rachael Burke not only as artist, but as the consummate instructor as well, as can be seen in this piece. Though her most recent showings have been primarily in black and white, this is her color as we have customarily seen. Using elements of an interior that reoccur in her work, such as chairs, these dart in and out between seemingly random, though carefully placed color strokes, playing hide and seek with the viewer, while being essentially locked into the picture plane by those same strokes of color.
What puzzles me in all of this is what Ms. Hubley was actually aiming for, which her juror's statement does little to clarify. This is because this collection is haphazard and interspersed with some frankly amateurish pieces.
Irrespective of my confusion about this juror, the annual Spring Show is always a major event. So go, enjoy, and make up your own mind.
This exhibition continues through July 8 at the Main Gallery of the Erie Art Museum, the new entrance is Fifth Street between State and French. Hours: Tuesday through Thursday, 11 a.m. to 5 p.m.; Friday 11 a.m. to 9 p.m.; Saturday 11 a.m. to 5 p.m.; and Sunday 1 to 5 p.m.