Visual Experiences: Cancelled - The Stamp Art of Michael Thompson
No, Visual Experiences hasn't been cancelled; Luke Gehring tells us about an innovative artist who's trolling the postal service.
October 17, 2012 at 12:45 PM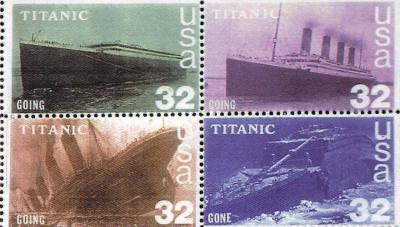 Subversive, sardonic, and satirical are but a few adjectives that could be used – and that's just with the letter "s" – to describe the art of Michael Thompson.
His artistic career began as a construction worker hanging drywall in a new community center in western Massachusetts, when the director asked him if he wanted to teach a class in college. Not knowing what a collage was, he did some quick research, tried it at home, and was hooked. An artist was born. Collage is still a very important part of his work, as it is in this exhibition.
He took print making courses at the Art Institute of Chicago, even buying his own press. He has made a number of "faux" objects through the years, like realistic Styrofoam fish. He even printed money while in college – there is no indication that he was counterfeiting – and has made sexually explicit sculptures with Erector Set materials (Meccano Ltd. and Schylling Toys were not amused). Now he earns his living making kites, which he sells to interior decorators.
Then there was the cartoon he made as four stamps. To see what would happen, each person apparently sent him or herself an envelope with one of the cartoon stamps on it.
This project, now on display at the Erie Art Museum, began in 1991 when there was an article in the New York Times about a group of people who took a Garry Trudeau cartoon drawn as a block of four stamps, put the cartoon stamp on envelopes, and sent the envelope with the cartoon stamps to themselves through the mail. They found that the post office cancelled these "stamps," meaning that they were accepted as legitimate. Mr. Thompson was tickled by the idea, so when he saw a Bugs Bunny cartoon, drawn as a stamp with his ears coming out the top edge, he tried it himself, and it worked.
Mr. Thompson began to design his own stamps. By his own admission, the early stages were pretty crude, with glued bits and pieces and Electro Set press type. At that time, it was difficult to find the correct verbiage and denomination of some country's stamps, so he just made it up as he went along, and still found he had some success. With the advent of the Internet, doing such research has become a lot easier, and his process has become much more sophisticated.
This could be called conceptual art, because the end product isn't a stamp design, not being complete unless the envelope has made it through the mail. So taking the stamps with him as he travels through various countries, he drops them in the mail. The results are not exactly unexpected, given that he is flouting the law. Take for example that he is persona non-grata in China. To add insult to injury, Mr. Thompson was required to buy his own deportation flight ticket.
The collage aspect becomes apparent in the envelopes. He prints his own, or finds old and interesting envelopes in flea markets, and uses stickers to cover return addresses, but will keep old cancellation marks on the envelope to make it more apparent that the stamp is not standard issue.
Legitimate stamps are treated chemically to facilitate going through the postal machines. These are not, necessitating hand cancellation and forcing the postal worker to look at the stamp to decide to accept and cancel the stamp, thereby making the postal worker a collaborator or co-conspirator in the process.
"It defies the imagination that they don't really know that they aren't real," Mr. Thompson comments. "Authenticity – well it's… maybe faux-authenticity is what I'm after… These are made to masquerade as postage; they don't replicate stamps precisely. I don't counterfeit stamps…but I do take the elements of postage."
That being said, there is something here to offend everyone, beginning with the host countries represented. China was a little miffed to have Dalai Lama stamps going through their mail. Nor would one expect that in 1999 Iranian authorities would have been happy with "Kurdish Jihad" stamps, India with "Peace Through Power" (the nuclear bomb), nor the African National Congress with "the Necklace," the form of execution by wedging a person in a car tire and setting it on fire. For that matter, Great Brittan could hardly have been happy with the 1997 "Mad Cow" stamp nor Japan with the "Eat Whale" stamp of 1998. It is amazing that "Danish Cartoons," copies of the Jyllands-Posten lampoons of Mohammad, which caused world-wide protests, over 100 reported deaths, and the bombing of the Danish Embassy in Pakistan, got through at all.
There was a time when sending "pornography" through the mails was a crime, making such stamps as "Korean Erotica," "Woman in 5 Parts" (guess which part was cancelled the most), and "Ready, Set, Go," which concerns the proper way to put on a condom, particularly poignant. These are images that simply would not be used for legitimate stamps. "Erotica seems to always be a safe, obvious choice when other ideas are lacking," he explains.
Clearly this venue allows for political statements of every kind, and the U.S. is not exempt. There are about 50 rules governing U.S. stamp selection. One recently changed is that any person depicted must be dead, allowing for deceased presidents, humanitarians and figures of pop culture. You would not, however expect to find among them a stamp suggesting that J. Edger Hoover was a closeted homosexual, or Lenny Bruce (the satirist convicted on obscenity charges and posthumously pardoned), or Elvis as Siva. You might expect Uncle Sam to say "I Want You…" but not with a gun saying, "Give Me All Your Money."
This may have started as a playful joke, but has become so much more, causing the viewer to stop and think, often with a wry smile.
This exhibition continues through November 4 at the Erie Art Museum, Bacon Gallery, 411 State St., new entrance for the Erie Art Museum is Fifth Street between State and French streets. Hours: Tuesday through Thursday, 11 a.m. to 5 p.m.; Friday 11 a.m. to 9 p.m.; Saturday 11 a.m. to 5 p.m. and Sunday 1 to 5 p.m.
Luke Gehring can be contacted at lGehring@ErieReader.com