Visual Experiences: G.C. Myers - Inward Bound
Experience what Luke Gehring calls "that nagging subconscious mysterious something" in his review of this Kada Gallery show.
November 1, 2012 at 12:25 PM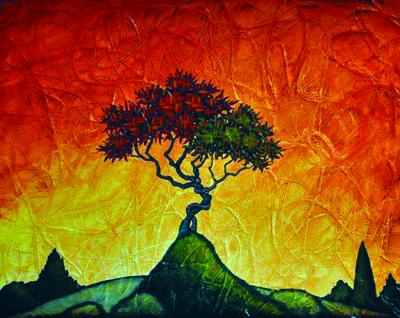 "There are more pieces in this show than I usually hang," Kathleen DeAngelo explained to me. "But Gary Myers has worked toward this show for two years, and unpacking them was like Christmas. I am extraordinarily proud of this exhibition. I think there is something in it for everyone."
When I last saw and wrote about G. C. Myers, about five years ago, he was represented by bright fairytale acrylics on gessoed paper. In 2002 a shift in his work occurred. He began to work on canvas, and simultaneously, his color pallet became darker, which was not as well received in some sectors of the art community—though they were not lacking in richness nor were they less fairytale-like.
Elements of both bodies of work are in this exhibition, which is what I think that Kathy means when speaking of the variety in this exhibition. Thematically there is less diversity than in "Along the Way," his Kada Gallery exhibition of 2006. The range exists within the color values, texture and dimensions of the pieces, the repeated themes give it cohesion.
What struck me this time around were the isolated red objects so prevalent in this collection. Here, there is a secluded house with a red roof in a field, then a painting with a tree in autumn-red foliage perched atop a remote hill, and over there, an empty and lonely red chair.
There is something about them that nagged at my subconscious, a mystery that I was content to leave unresolved. I was happy letting these subliminal symbols play in my psyche; however Mr. Myers has made some observations for those who might find it helpful. Regarding "Pharos," he relates that the title is the Greek word for 'lighthouse.' "I see the 'Red Tree' here acting as a sort of light house, a beacon by which we, as travelers through life, are guided." Concerning "Darkness Breaking," he states that the tree is like an all-seeing sentinel, and for "The Hidden Heart," he comments that "I often refer to the 'Red Tree' as the heart in my paintings…Or maybe I'm thinking of life blood. Maybe both. I'm not completely sure." Of the red chair, he states that for him it represents memory, as in one of the smallest, and for me the most arresting piece in the show, "Memory Catch."
As Kathy related to me, Mr. Myers is a self-taught artist, and he essentially began when he fell off the roof of a building he was working on and broke nearly every bone in his body except a hand. He had to leave his business operations to others who mismanaged it into the ground, reducing him to earning a living as a waiter at his local Perkins's Restaurant when he was sufficiently recovered. Painting must have been a kind of therapy and escape for him. At that time, he became acquainted with an artist who insisted that he contact Kathy DeAngelo, and the Kada Gallery has remained his sole representation in this area. He is not only well collected here, but is famous in such places as Washington, D.C. and Alexandria, Va., and has a gallery representing him in California as well. G.C. Myers has become that rarest of creatures: an artist who is actually able to make a good living from his artwork. He is so popular here locally that it isn't unusual for a show to be sold out before the Opening Reception. On the first day of this exhibition, when I attended, there were already several red dots indicating sales. Because of the large commissions taken by prominent metropolitan galleries, it isn't unheard of for major Myers collectors from out of town to fly in to Erie and stay in a hotel to attend a show, believing that even so, they are getting a great deal in buying from Kada.
So what causes these serious collectors to fall all over themselves to get to a Myers' show before it all sells out? Well, in his landscapes, there is the hint of the grace of Art Nouveau and the patchwork farmland of Grant Wood. Some have the curvilinear decorative feel of Japanese lacquer boxes, and in some, the attitude the solitariness and solitude of Zen paintings, though far more colorful. Children's book illustrators, such as Kay Nielsen, come to mind while looking at some of them. In the hills and trees, there is even something of Dr. Seuss about them. There is a whimsy peacefulness and quietude in bold outlines and interesting color combinations that appeal to many. And it would be pedestrian, though true, to observe that these works would also fit nicely in a doctor's office, over the living room couch, or even as an imaginary exit to another world from your children's nursery.
But there is so much more to them—that nagging subconscious mysterious something stirring deep within my psyche—something that you may also experience by attending this exhibition.
Inward Bound continues through December 6. Hours: Monday through Friday, 10 a.m. until 5:30 p.m. and Saturdays, 10 a.m. until 4 p.m., at the Kada Gallery, 2632 W. Eighth St.
 
Luke Gehring can be contacted at lGehring@ErieReader.com.