Visual Experiences: "Home for the Holidays"
Her works have come home for the holidays. And art critic Luke Gehring stopped by the Geary's Studio 7 Gallery to review the exhibit.
December 29, 2011 at 10:00 AM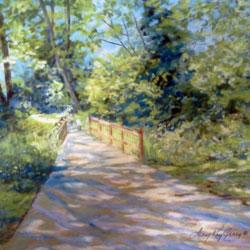 "I host the works of other artists year around; Christmas time is for me," Mary Kay Geary, owner of  Geary's Studio 7 Gallery, told me with a warm smile. "My works have come home for the holidays."
Upon entering the section of the gallery reserved for this exhibition, I was immediately struck by the bright impressionistic quality of her pastels. Being dry sticks of pigment, Pastels cannot be muddied by mixing on the palette with other colors the way paint can, and therefore, naturally have the vivid brightness favored by the impressionists—though of the impressionists, only Degas used them with any regularity.
Mary Kay did not always devote herself to pastels. At one time she used watercolor almost exclusively—though judging by what I've seen of them, her color sense did not come through them as naturally as they seem to here. She worked with oils for a time and enjoyed the color and texture, but found the long drying time to be a disadvantage with children running around.
Pastels, however, allowed her not to have to worry about family-based artistic disasters, while she found that she could also achieve some of the color and richness of oil paint. This can be seen clearly in "Sunset Avonia," where the reflected sun in the water at "the spot where all the guys go fishing" has the thick texture resembling paint applied with a palette knife while the blending in the sky and water share the subtlety of oils.
With a well-developed eye, she records the color of nature much as the impressionists did. Finding, for example, that cast shadows in nature are generally blue, she uses the most vivid blues on her palette, as in her "Beach Path," just as the impressionists would advise.
It would be wrong to overstate resemblance to impressionism however. Taken to it's end extreme, objects represented on French impressionist canvases become dissolved in light, because optically, all one sees is light reflected off objects. Their images, painted with "broken brush strokes," are unintelligible up close but become the image only when one steps back to let the eye blend the colors. intuitively, Mary Kay, much like the successors to impressionism, Cezanne and van Gogh, has accepted impressionist light and color theory while seeing the need for structure that impressionism lacked. In "Moored," she has rendered dock and boats quite solidly, juxtaposing them with the more fluid strokes of water and lily pads.
Also, because light was the real subject matter of the impressionists, the objects portrayed were, at best, a secondary concern. While painting the familiar, they tended to do so with detachment. Not so with Mary Kay. There is that warmth that comes through as of someone who not only knows her subject matter, but cares deeply about it.
"I have often been asked to write down an account of what I was thinking or feeling or experiencing, to put on the back of my pieces. But I won't do it," she told me. "What you have before you is a page of my diary with everything I was thinking, feeling, and experiencing in it. If I could write it all down, I wouldn't have to paint it. And I'm not going to put my heart out for anyone to see any more than this. If the painting speaks to you, let it."
They do.
They speak of sparkling mornings and sun drenched afternoons, of walking alone among the trees, and watching sale boats gliding in the approaching twilight. Of green and growing things, solitude and tranquility, the dappled light of favorite places and taking time to just be.
At least that's what they say to me. To find out what they say to you, go to Geary's Studio 7 Gallery, 2807 W. Eighth St., where they can be seen until January 6, Tuesday through Saturday, 10 a.m. through 5:30 p.m.