Voodoo Makes Space for Summer Events
The Brewery's downtown Erie location will give guests multiple reasons to stop by
June 18, 2021 at 12:00 PM
Located in the Boston Store Place of Downtown Erie is the artistic and industrial-styled Voodoo Brewery. If you drive past the brewery on a Friday night, you'll be mesmerized by its bright murals painted by local artists, its spacious and open atmosphere, and the live music coming from their outdoor patio. The ambiance and events at Voodoo Brewery Erie are sure to put you in the summer mood.
"As people start to get comfortable, we want to just provide an opportunity for them to come out and enjoy themselves in such a huge space," said Site Manager Jesse Cammarata.
The pub's industrial style is spacious with lofted ceilings, complete with long tables with high chairs that are easily spaced out to provide comfort for guests to enjoy themselves. If you look at the walls, you'll find Street art showcasing the brewery's signature logo as well as a back wall showcasing guest's names who have left their mark on the space.
"Folks who are still a bit wary can kind of distance themselves with the outdoor space as well," Cammarata explained.
In addition to space indoors, the pub also boasts a large patio area to soak up the best of Erie's summer weather. Using the brewery's space to their full advantage, Voodoo uses their outdoor patio to the fullest by having a small stage in which local artists can perform outside. Friday on the Patio provides tourists and locals with live music from 5 to 7:30 p.m. starting June 4 through July 30.
"All local, all original music. It's just a great opportunity for people to come discover what Erie has to offer," Cammarata said.
In addition to live music, Voodoo is also holding other events to encourage people to get out during the summer. Events include Wednesday Trivia, Taco Thursdays, Sunday Fun-Day with patio games and brunch, and more. Voodoo Brewery also continues to hold socially distanced Comedy shows every first of the month. 
"We're trying to create opportunities for people to come meet people and see old friends in a comfortable space," Cammarata said. 
Known for its fantastic food and beer, Voodoo Brewery continues to be a fun atmosphere for tourists and locals alike. With their extensive list of upcoming events, it's exciting to see Erie summer return to its vibrancy.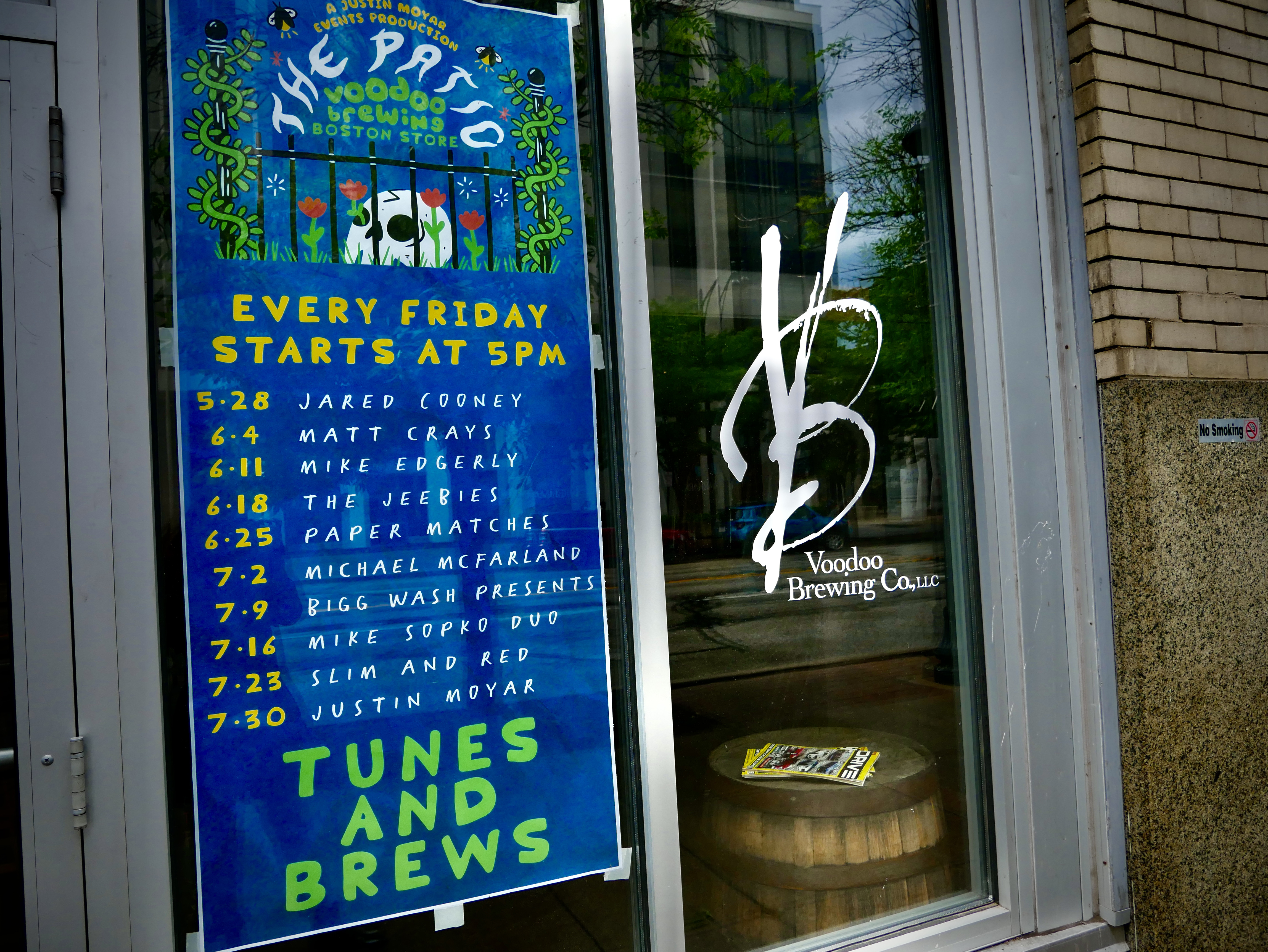 Here's a guide to artists playing at Fridays on the Patio through the summer:
June 18 - The Jeebies
June 25 - Paper Matches
July 2 - Michael McFarland
July 9 - Bigg Wash Presents
July 16 - Mike Sopko Duo
July 23 - Slim and Red
July 30 - Justin Moyar
Interested in other events at Voodoo Brewery Erie? Follow them on social media:
Facebook @voodooerie
Instagram @voodooerie