When the Giving Gets Tough
Erie Gives Day gets the giving going.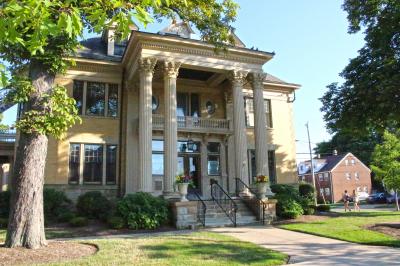 The opening act of the 2020s has tested us in several ways, but most of all in our ability to hang on. Amid sociopolitical upheaval and a global pandemic, there are many who may find their grip slipping — maybe even feeling as if their fingers are being stepped on — due to difficult circumstances.
There are few of us who couldn't use a helping hand right now, someone or something to pull us up from that cliff's edge so that we can dust ourselves off and carry on. That's why this year's Erie Gives Day — the 10th overall — means more than any other. Since the Erie Community Foundation established the annual event in 2011, over $26 million in donations have been made to hundreds of area nonprofits. Its impact is one of many reasons that ECF President Mike Batchelor was recently awarded The Nonprofit Partnership's Lifetime Achievement Award; he has served in the position for 30 years.
So from 8 a.m. to 8 p.m. on Tuesday, Aug. 11, you'll be able to donate to any one or more of nearly 400 local nonprofits by logging onto eriegives.org. If you'd prefer to write a check, you can do that too. Just submit it to the Erie Community Foundation, 459 W. Sixth St., Erie, PA 16507 by Monday, Aug. 10. Either way, your generosity will be greatly appreciated — and matched with a percentage of the total proceeds by the ECF and its sponsors, which include Erie Insurance and Wabtec in the "Gold" tier and E.E. Austin & Son, ERIEBANK, and Knox Law in the "Bronze" tier.
The noble and important causes you might support range from community development to wildlife conservation, from aging and seniors to educating our youth. Last year, healthcare ranked highly among our philanthropic priorities, with the Hamot Health Foundation receiving donations from 680 individuals. As COVID-19 stubbornly wears on, that trend is expected to continue.
One pattern that may be more challenging to repeat in 2020 is the steady rise in both the number of total donors and the combined dollar amount of all contributions. In 2019, 391 nonprofits received $5,569,161 from 8,958 unique donors — factoring in the prorated match from the ECF and sponsors. In 2018, those numbers were $4,471,123 and 7,945; and in 2017, they added up to $4,427,877 and 7,685. It's never been a question of whether Erie wants to give, but this year it may be a matter of who can?
The Erie Reader, like most of you, has not remained unscathed from the fallout of the novel coronavirus. Nonetheless, we will always strongly believe in using our platform to support others in whatever way can. Erie Gives Day is just one small way to give back. Without further ado, in what's become an annual tradition, Erie Reader staff and select contributors will now share who they are helping.
Who: Liz Allen, Contributor
Giving to: Sisters of St. Joseph Neighborhood Network // ErieGives.org link
Who they are: The Sisters of St. Joseph founded the SSJNN 20 years ago in partnership with Saint Vincent Hospital to improve the immediate neighborhood close to the hospital. The sisters began their ministry by walking door-to-door to listen to the needs and the aspirations of the residents of Little Italy. The network concentrates on services that are not duplicated by other agencies and, with staff and volunteers, provides tutoring, community gardens, an urban farm, help for renters and new homeowners and emergency assistance, including food and personal care items. In 2014, the SSJNN opened a second office, east of Parade Street on East 26th Street. Today, the SSJNN serves Erie neighborhoods bounded by West 26th and East 26th streets, between Cranberry Street to East Avenue.
Why I'm giving: I credit the Sisters of St. Joseph for teaching me about community service from the time I attended St. Andrew Catholic Grade School through my education at Villa Maria Academy. I see the selfless ways that religious women, including the Benedictines and the Sisters of Mercy, contribute to making Erie a better place for those who live on life's margins. I also admire the way the SSJNN honors the immigrants who settled Erie's central city neighborhoods and how they welcome newcomers, including Erie's New Americans, with open arms. Tireless helpers, they continue their good work well past normal retirement age.
Bonus: Start at either the westside location, 425 W. 18th St., or the eastside location, 436 E. 26th, and take a social distance walk. See what makes these neighborhoods special and learn how you can support the many small businesses that still thrive there.
Who: Jonathan Burdick, Contributor
Giving to: Burleigh Legacy Alliance // ErieGives.org link
Who they are: The Burleigh Legacy Alliance is dedicated to reviving and expanding the legacy of Erie born-and-raised composer, arranger, and singer Harry T. Burleigh by establishing Erie as a nationally-known center for Burleigh scholarship and performance. In its first year of existence, the alliance worked with the City of Erie to proclaim Dec. 2 as Harry T. Burleigh Day and held a week of events including the unveiling of a new historical marker, daily performances, and lectures.
Why I'm giving: When Burleigh died in 1949, he did so in relative obscurity. Growing up, I only knew his name from its attachment to a local school, but the more I learned about Burleigh, his remarkable life, and his influence on American music, the more fascinated that I have become with his story. In recent years, many have worked tirelessly to bring to light Burleigh's contributions and this organization is dedicated to reviving and preserving his legacy both locally and nationally, just as he revived and preserved the spirituals he learned from his once-enslaved grandfather.
Bonus: If you know the songs "Go Tell It on the Mountain," "Go Down, Moses (Let My People Go!)," "Nobody Knows the Trouble I've Seen," and "Swing Low, Sweet Chariot," then you're already familiar with some of the countless songs he arranged. Also, if you want a glimpse into Burleigh's connection to Erie's past, Jean E. Snyder published a must-read biography in 2016 titled Harry T. Burleigh: From the Spiritual to the Harlem Renaissance.


Who: Nick Warren, Managing Editor
Giving to: The Greater Erie Alliance for Equality // ErieGives.org link
Who they are: The goal of the Greater Erie Alliance for Equality (GEAE) is to support the local LGBTQIA+ community. Also reaching out to straight allies, they're one of the key players in increasing visibility, nurturing education, and amplifying the voice of one of Erie's most important groups. GEAE provides specialized training to improve business competency, hosts group meetings of the Erie Gender Sexuality Alliance (GSA), and puts on community events — which of course, saw a rapid drop after the onset of the COVID-19 pandemic.
Why I'm giving: Right now is a crucial time to do your part. Make sure that those with marginalized sexual orientations and gender identities are heard. With rights that are continually under fire, increasing partisan polarization finds the LGBTQIA+ community in very real danger. Don't let homophobia and transphobia overtake Pennsylvania, and don't let us lose the progress that we've made.
Bonus: Organizations like the NWPA Pride Alliance Inc, and the LGBT Community Endowment (made possible by the GEAE) are also a part of Erie Gives, and need your help now more than ever.
Who: Adam Welsh, Editor-in-Chief
Giving to: The Film Society of Northwest Pennsylvania // ErieGives.org link
Who they are: The mission of the Film Society of Northwestern Pennsylvania is to elevate Erie's film industry, empower regional filmmakers, and foster patronage for the art of film. They offer an active schedule of events for their members and the general public (like the popular downtown Film Grain Dinner and a Movie series), and are supported by donations, sponsorships, grants, and admissions to produce and present excellent year-round film programming to be enjoyed by the Erie community.
Why I'm giving: Along with concerts, bars, and sporting events, not being able to go to the movies is high on my personal list of things that depress me about 2020. This reality hits the Film Society of Northwestern Pennsylvania and the programming they provide right at home, and they could use our help. But it's not all doom and gloom, as director of programming John C. Lyons' long-awaited, locally shot eco-horror film Unearth will have its worldwide premiere as part of the Fantasia International Film Festival on August 25th. This is the largest genre film festival in North America, and Unearth is already receiving some high praise. Stay tuned as Erie's film scene takes center stage this summer!
Who: Brian Graham, Editor-in-Chief
Giving to: Meals on Wheels // ErieGives.org link
Who they are: Meals on Wheels has been active in the Erie area since 1971, and is staffed by over 70 volunteer delivery drivers with meals prepared by LECOM Senior Living Center.
Why I'm giving: In the time of COVID-19, simply leaving the house can be a daunting and dangerous task. Meals on Wheels helps by delivering wholesome meals or groceries to the poor, disabled, and elderly — the very segments of the population most vulnerable to the pandemic.
Bonus: In addition to providing life-sustaining meals, the volunteers also provide companionship, and are often the only regular visitors their clients have all day. Sometimes a friendly face is the most valuable gift you can give.
Who: Matt Swanseger, Copy Editor
Giving to: Erie Together // ErieGives.org link
Who they are: Erie Together is a cross-sectional movement involving over 100 local individuals, businesses, and organizations "working together to make the Erie region a community of opportunity where everyone can learn, work, and thrive."
By pooling the efforts and resources of local businesses, government, educational institutions, healthcare and social service providers, workforce development initiatives, and faith-based organizations, Erie Together has impacted the lives of over 10,000 Erie County residents since its formation a decade ago. Its three task forces help children become more successful adults (Learn), individuals secure and maintain employment (Work), and families attain self-sufficiency (Thrive).
Why I'm giving: Because an Erie that is together is stronger than an Erie that is fragmented. Also, I'm indecisive. Given the unprecedented challenges this year has brought for everyone, it made sense to give to a nonprofit with such an inclusive and multifaceted approach to elevating this place and its people.
Who: Jessica Hunter, Publishing and New Media Coordinator
Giving to: NAMI of Erie County // ErieGives.org
Who they are: NAMI is the National Alliance on Mental Illness of Erie County. NAMI is focused on fostering personal growth and family stability by supporting and educating family members and individuals facing the challenges of mental illness in Erie County. NAMI envisions a world where all people affected by mental illness live healthy, fulfilling lives supported by a community that cares while providing advocacy, education, support, and public awareness.
Why I'm giving: For many years NAMI has been a beacon of hope, fighting for individuals affected by mental illness. Established in 1984, NAMI of Erie County addresses the increasing need for families and individuals to have stronger voices in the mental health system. The mental health toll of the coronavirus pandemic is now becoming clear. The psychological effects of coronavirus will long outlast the pandemic itself. Nearly a third of Americans are feeling anxiety, according to Census Bureau data, and nearly a quarter show signs of depression. In addition to the pandemic, the continuing anguish of racial injustice, have many of us struggling with our mental health. Texts to emergency crisis lines increased to almost 1,000 percent in April. The need for services like NAMI are crucial for our nation's recovery. It's extremely important to combat the stigma surrounding mental health and connect with others sharing similar experiences.
Bonus: NAMI of Erie County is offering a free online support group every weekday at noon. If you or someone you know is struggling with mental illness please join NAMI at NAMIerie.org.
Who: Rebecca Styn, Contributor
Giving to: Erie Women's Fund // ErieGives.org link
Who they are: The Erie Women's Fund (EWF) is a philanthropic group that raises funds for organizations and activities that empower women and families. Since 2007, the EWF has provided over $600,000 to 30 charitable organizations; hosted several elevating educational forums and have worked to engage members and prospective members through informational meetings and social gatherings. Last year the organization provided its largest single-year grant to date, awarding $100,000 to Erie Center for Arts & Technology (ECAT). The funding provided a foundation for ECAT's adult job-training programs for medical assistants and phlebotomists. ECAT provides programs to participants at no cost.
This year alone, the EWF has donated $20,000 to the COVID Rapid Response Fund to help women and families in Erie during the pandemic; $12,000 to the YMCA of Greater Erie for their Meals for Kids Program; and $2,500 to United Way of Erie County to support meal kits for Erie students — and the year is only halfway over.
Why I'm giving: As a volunteer member of the EWF Steering Committee, I have had the opportunity to better understand the systemic and challenging issues affecting women and families. Although there are many worthy organizations to support, the grants that the EWF provides are made solely from members' contributions. This is a fund created by and made up of women from around the community — but serves a broader audience.
Notable writer and filmmaker Nora Ephron once noted: "Whatever you choose, however many roads you travel, I hope that you choose not to be a lady. I hope you will find some way to break the rules and make a little trouble out there. And I also hope that you will choose to make some of that trouble on behalf of women."
Strong women uplift, encourage and empower other women. And we need more of this.
Bonus: If you are looking to join the organization or renew your membership, Erie Gives is the perfect time to renew your EWF membership, as each renewal would be eligible for a portion of the prorated match.
Who: Erin Phillips, Contributor
Giving to: Our West Bayfront // ErieGives.org link
Who they are: Our West Bayfront was established in 2014 as a neighborhood revitalization program for the area of the city west of Sassafras Street, south to 12th Street, and bordered to the north and west by the Bayfront Parkway. The mission of Our West Bayfront is to enhance the quality of life in West Bayfront neighborhoods by promoting civic involvement, thoughtful development, historical preservation, and neighborhood pride. Their programs include neighborhood clean-ups, community events, park creation and maintenance, grant programs for home improvements, Awesome Foundation grants, and just generally helping make life more beautiful, safe, and fun for the residents of the West Bayfront.
Why I'm giving: My husband and I moved into the West Bayfront neighborhood 11 years ago. The history, friendliness, and diversity of the neighborhood captured our hearts and we were excited to start our family here. Since that time, it has only gotten better. Our family has experienced the influence of Our West Bayfront through Earth Day clean up projects in Gridley Park, fun family events at the beautifully improved Bayview Park, historic walking tours, community gardens, public art, and Little Free Libraries. Our West Bayfront has helped me achieve a major parenting goal, which is to instill a sense of community in my children: your neighbors are like your family and helping them helps everyone have a better quality of life.
Bonus: There are a number of neighborhood groups around the city making similar efforts, perhaps consider donating to the one that is closest to your home and heart like SSJ Neighborhood Network or Bayfront East Side Task Force.
Who: Ben Speggen, Contributing Editor
Giving to: WQLN Public Media // ErieGives.org
Who they are: In Erie, we get our NPR and PBS fix thanks to WQLN Public Media, which features both public radio and TV throughout the NPR and PBS family of programming, as well as local shows, covering a range of topics, from current events to classical music and jazz.
This all happens thanks to the support of members. But of course, you could listen and watch for free without shelling out a dime. But why would you want to do that and run the risk of losing that trusted, quality programming? I know I don't, which is why I make monthly contributions.
Why I'm giving: Odds are, you've been in a circle of friends, family, or even foes and once heard someone say "I heard on NPR…" Or, its counterpart: "I saw it on PBS." You may have even said it yourself.
It's because both are trusted sources of news. Need proof? Look to The Media Bias Chart from Ad Fontes Media. When it comes to sources that are most reliable, mostly neutral, and likely to feature original facts in their reporting, few top NPR, and PBS isn't far behind.
Bonus: In the wake of the COVID-19 pandemic, WQLN opened its studio to Erie County so that our County Executive Kathy Dahlkemper and Erie County Health Department officials could host routine briefings to keep the media informed and thereby keep the public informed. Now is your chance to return the favor and help support those who help us, by bringing us the news, the facts, and so much more with your support of WQLN Public Media.