WQLN's 'Tour de North Shore' Pedals Off with Kathy Dahlkemper's Annual County Bike Tour
Agriculture is this year's theme and North East is the destination.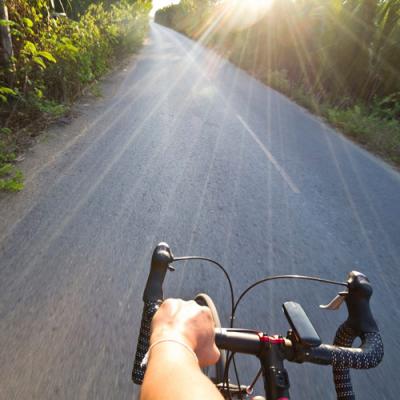 Ask County Executive Kathy Dahlkemper what one of her favorite aspects is of overseeing 38 municipalities with nearly 300,000 residents and 1,200 employees throughout 18 departments, and she will answer: Meeting the people of the county and experiencing all the wonderful things we have to do and see in this region. Her preferred method of transportation? The bicycle.
Every year since 2013, Dahlkemper has toured a portion of Erie County by bike. This year for the first time, her annual bike tour will take place in July as part of WQLN's Tour de North Shore cycling weekend – a three-day event designed to promote cycling Erie and the surrounding areas.
"When I first decided to run for office, I thought, 'This is a big county – how can I get out there and meet the people?'" Dahlkemper said. "I didn't just want to take a destination-focused trip. I really wanted to see and get a better feel for the county. So I thought, 'Why not just ride my bike?'"
That first year, Dahlkemper rode 110 miles over three days, traveling from Erie to North East to Corry to Edinboro (through pelting rain) to Albion (including the Albion parade), and back to Erie via Lake City and the Pleasant Ridge Manor, finally parking at the Erie Irish Festival. Since Dahlkemper took office in 2014, each bike tour has carried a theme, been completed within a single 8-hour day, and traveled at a rate of 9-10 mph. These adjustments, in addition to rider support from Dave Dennison at Lake Country Bikes, enable riders to join the touring fun for at least part of the route.
"As a dedicated cyclist and advocate of community health, I do this tour to promote cycling as an activity, cycling safety, and some of the great economic aspects of our region," Dahlkemper said. "This bike tour does all of that."
With a 2016 agriculture theme, this year's group of riders will make 11 stops, including Teker Park (in Lawrence Park, which received an Erie County Greenways Grant for restoration), lunch at South Shore Wine Company, and two places that Dahlkemper is particularly excited about this year: Trolley Line Vineyards (part of the Agriculture Preservation Program) and the Sisters of Saint Joseph Neighborhood Network (SSJNN) bicycle cooperative, called Pedal Mettle.
Together with Bike Erie, SSJNN provides five-week sessions for youth ages 11 to 17 on how to build and repair bicycles. After five weeks, anyone who completes the program receives a bicycle.
It's unbelievable how many kids don't have bicycles," Dahlkemper said. "[Pedal Mettle] is a great way for kids to learn a skill while also earning something that will keep them more active."
"It's unbelievable how many kids don't have bicycles," Dahlkemper said. "This program is a great way for kids to learn a skill while also earning something that will keep them more active."
Tour de North Shore events begin Friday, July 22 at 8 a.m. at the Erie County courthouse with Dahlkemper's annual county bicycle tour. They continue throughout the weekend with a 6 a.m. Good Morning Erie sunrise ride with Tracy Teudhope, a 9 a.m. bicycle tour of Presque Isle, and a noon SSJNN and Bike Erie bike repair session. On Sunday, New Belgium Brewing Company's Fat Tire Beer is sponsoring an 11 a.m. costume fun ride around Frontier Park. All are encouraged to dust off their bikes, pump those flat tires, and join one of the events promising to suit most any fitness level.
For more information about County Executive Dahlkemper's annual bike tour, contact Holly Waychoff at hwaychoff@eriecountypa.gov or 451.6333.
More information about Tour de North Shore can be found at wqln.org/Auctions-Events/Tour-de-North-Shore.