Yamato Drummers: A Preview
The group that kicked open the door to the current programming at the Mary D'Angelo Performing Arts Center returns to Mercyhurst College: Erie, Yamato is back.
November 3, 2011 at 11:00 AM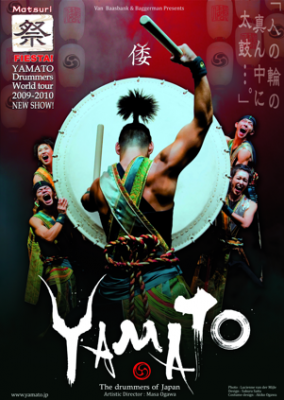 Michael Fuhrman steps out from behind his desk in his office at the Mary D'Angelo Performing Arts Center. "I'm going to sit over here on the couch," says the Center's director, as he settles in after turning down the warm jazz pumping out of his stereo on a cool Wednesday afternoon.
We start talking about Erie Reader, about Erie, about the weather, about D'Angelo— about how right now people are filing in to see a film being featured for the Guelcher Film Series.
But there's something else happening at the Performing Arts Center, and that's what brings me in: Yamato—Fuhrman tells me with a smile—is back.
Fuhrman credits the Taiko drummers of Japan with being the quintessential ensemble the Center brought in to give the programming staff the confidence to start bringing in other artists unknown to this area but well-respected and well-known in their own communities.
"That's the beauty about this particular group," Fuhrman says. "They were the signature group we brought in that I think allowed people to feel that what we're doing in terms of programming here at Mercyhurst is accessible to everybody. I think that was really important."

And that's been the Center's distinction—bringing in typically lesser known but talented artists to Erie, and in doing so, adding depth to the catalog of great shows in our city.
"If you think of who we are, we're a college—a liberal arts college—one of our goals is to try to enrich the campus life as well as the community life and we're not interested in doing commercial or standup comedians," says Fuhrman. "We're interested in the life of the mind and the life of the spirit, and when you bring in a group like Yamato, for example, you're immediately going to the spiritual side of the human condition."
Describing Yamato in print is comparable to watching a video of them on YouTube with the mute on. And to say they're merely drummers would be the equivalent of suggesting Yo-Yo Ma dabbles with a fiddle.
First, there's the energy. Then, there's acrobatics. And together, these add a level of showmanship to the performance. And people who've seen the drummers in past year can attest to this. But this year promises to be even better than past years.  
This year's program is the most elaborate production for Yamato. In the past the show's featured two tiers of performers on stage. This year, they've added a third tier, creating a three-dimensional effect.
"Our hall, it's a good-sized stage, but it's pushing the technical abilities," admits Fuhrman before pausing. Are you worried about that, I ask?
"Bring it on," says Fuhrman without hesitation. "Let's push it. We want to test it. That's something that's driven me, someone who's lived in Erie the majority of my life. I've lived in Europe, in New York, traveled around. And I have a real faith that our community is hungry for this. They may not know it, but you give them stuff like this, and they just drink it up. I think people in our region really appreciate having an alternative place to go to.
"When we build this venue 16 years ago, that was the very goal was to provide something unique that enriches and vitalizes the artistic milieu of our community and that's what makes Mercyhurst a very interesting place—it's not just handing out degrees. We want to be engaged in the community. We want to be a haven for truth and beauty and free expression and we should be a cultural mecca for pride and bringing people together." Fuhrman catches his breath. "I'm really fired up about having them here," he says, in case I hadn't caught that.
Fuhrman is so fired up and excited about the events he's bring that he's eager to talk about Fazil Say, a pianist that's coming in April.
"[Say's] goal in life is to bring the East and the West cultures together in art, and the reason why we got him here in Erie," says Fuhrman. When Fuhrman heard the Museum of Modern Art was bringing Say to the U.S., he called his agent and asked him to play D'Angelo. "He straddles classical music, but he also speaks to you and me. The music you will hear from him, you will resonate with him."
New York City and Erie. That's it.
And that speaks to Fuhrman's goal: bring art to Erie to enlighten and expand our culture. And growing that culture means more to him than simply booking great arts—he's promoting interaction with the community, and specifically with schools in the local area.
"[The outreach] exposes these young people to cultural experience that they otherwise would never even dream of doing, and it strengthens their interest that as they get older and they have means to actually be a patron of the arts, and it's good for the community—it brings people together under a common experience."
For this particular outreach, the Yamato drummers will head to Collegiate Academy. "Not only are you learning drumming technique, you're learning a part of their culture, you're interacting with these people that are from Japan; they talk about technique, but they also talk about the value of drumming in Japanese culture. And [the students] learn and it's great fun, and they bang away at a drum—that's education at its best."
And with Yamato, the Center is bring a splendid marriage of entertainment and education.
"When [they] hit drums, it resonates and washes over the audience, at that point Yamato and the audience become one, and that's when art really can be transformational," Fuhrman says. "And to me as a presenter as a curator of the arts, it doesn't get better than that. When people walk out after seeing Yamato, and they're resonating like the sound, that's it: you've achieved your goal.
At the time of print, the Yamato Gamushara shows hadn't yet sold out, but Fuhrman expects they will. "You have to trust the economy to some extent, and you have to trust that this group that's been here before in Erie has the cachet that will eventually bring people in."
And with a man with such passion, vision, and commitment to art and its role in human condition, one can't help but want to see the performers who kicked open the door.
##
The Mary D' Angelo Performing Arts Center is offering two Yamato performances at 2 and 6 p.m. Sunday, Nov. 6. For more information, including ticket prices, visit the Center's website at pac.mercyhurst.edu or call 824.2000.