Yin Yoga Helps Writer Find Her Inner Chill and Lose Her Voice-- but only Momentarily
For a writer, it's hard to turn off that inner narrator. Despite her best efforts to keep that narrative going, Abby Badach managed to turn it off and relax with some Yin yoga. But thankfully she turned it back on and wrote this column.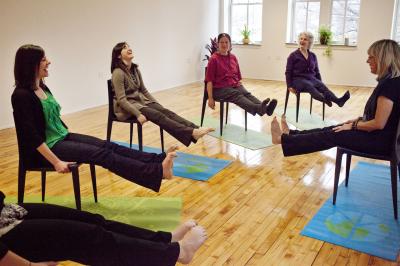 If I'm unable to give an accurate assessment of the yin yoga class it's only because I entered into it fully. Yin yoga, you see, hinges on a person's need to seek a cooling inner stillness and eliminate that running "inner monologue" that narrates the day.
Our instructor, Susan Black, phrased it this way: "Release your story."
At first, I was skeptical. Release my story? My story!? I'm a writer, for goodness sake; if I release my story, I'm out of a paycheck – and, perhaps, a job. Like many neurotic columnists, I have a constant track of inner color commentary to ensure my wit is frequently honed and ready to strike if need be. I couldn't dare shut that off.
My control-freak tendencies were just one head of the hydra hissing at me to go through the motions of this Yin stuff, while I secretly yearned for a class of down dog and cobra pose and other familiar asanas.
But then we chanted "Om." I laid back, closed my eyes and let myself sink into my mat.
I decided to see how it would feel to give myself permission to be quiet – to be truly still.
And I loved it.
I attended the Yin Yoga class on a sunny Friday in May at Erie's newest yoga studio, Art of Yoga, 10 E. Fifth St. (on the second floor of the Erie Art Museum). The biggest draw, for a recent college graduate, was that it was free. That's right – free yoga classes on Friday, every Friday, from 4 to 5 p.m. and 5:30 to 6:30 p.m.
"It's a way for our instructors to give back to the community," Black explained during class. "They really love yoga and want to share it with as many people as possible." She encouraged folks – about 15 people who attended this class – to attend as many Free Fridays as they wished.
That helped me feel more at ease. Though I appreciated Art of Yoga's generosity, I was hanging onto one pebble of skepticism – did they see the Free Fridays crowd as yoga freeloaders, showing up with their belongings tied in a bandanna on the back of a stick, ready to hop a train and bum their way through a yoga journey?
Nope. Not one bit. I sensed nothing but gratitude radiating from both ends. It was refreshing to be somewhere so positive – and deceptively serene, to boot. For a studio positioned in the heart of downtown Erie, Art of Yoga was surprisingly quiet. From the light hardwood floors to the abundant houseplants on every windowsill to the view of rustic brick outside the windows, the space is an inner-city retreat. Even the cars that would occasionally drive by the building blended right in with the soothing music Black picked for that afternoon's class.
Black, clad in a long-sleeved lavender T-shirt, leggings and a delicate peace sign necklace, spoke with genuine enthusiasm about her new studio. I've been to other free yoga classes before, and some – though educational and beneficial – seem to pressure a person to sign up for mailing lists and summer seminars and whatnot.
Black didn't have a sales pitch – just an earnest smile.
She asked members of the class if they had any prior experience (most did; some didn't), and began to tell us what type of yoga we'd be practicing that afternoon.
Yin yoga, she explained, is a cooling practice that works with gravity to open the joints—as opposed to working the muscles.
We never stood up. The whole class took place either seated, lying in the fetal position, lying on one's belly or sprawled out on one's back.
But that's not to say we just lounged around the whole time – this wasn't the same type of relaxation you feel when reading the funnies on the Berber carpet on a Saturday afternoon.
Each gentle yin yoga posture – held longer than other yoga classes, perhaps from two to four minutes at a time – is accompanied by deep, three-part breathing, filling the lungs from belly to rib cage to upper chest, and exhaling in the opposite fashion.
Yin yoga, Black said, focuses in particular on opening a person's hips, pelvis and spine. She noted that that the hips are a cultural place for holding: messenger bags, babies, lovers, and – perhaps most often – stress.
I've never thought about my hips in such a purposeful way. In fact, I don't think I even think about my hips at all. When I do, it's most likely in a dressing room, when squeezing (or, worse, not squeezing) into a pair of skinny jeans. But I realized my hips' purpose as the hinge between the upper and lower body, and I sunk into the poses to help stretch them and give them the rest they deserve.
Black kept encouraging us to release our inner monologues and just listen, directly, to the messages our nerves and bones and tendons were telling us. I obliged. I recognized some pain in my arch of my foot, and my left ankle – the kind of pain that your body feels, but your mind doesn't until you take the time to open your mind and pay attention.
To me, the practice felt like a much-needed "check in" session with my body. Hey, vertebrae – are you all hanging out OK back there? Anyone stressed? Knees, you're a little crackly today, I'll be gentle with you.
During the poses, I felt like my consciousness was the hostess and my limbs, ligaments, muscles, tendons and bones were all my guests. My inner monologue migrated from my brain to a force peeking into each crevice in my body, checking in and reconnecting with each cell.
During class, I was relaxed but fully conscious, not sleepy or lethargic. Actually, I left the class in tune with more energy than I had felt in weeks – enough energy to pack up one whole room before I moved out of my apartment the next day. Anyone who's ever moved out can tell you that's not an easy task.
I picked up an Art of Yoga pamphlet, voluntarily signed up for their email list and will definitely be back.
Yin yoga consists of one part fine-tuned focus and one part complete release. Shake and pour. Serve chilled – very, very chilled – and enjoy.