You Ought to Know
Cees Smith: Dutch Soccer Star, Legendary Athlete Who Calls Erie Home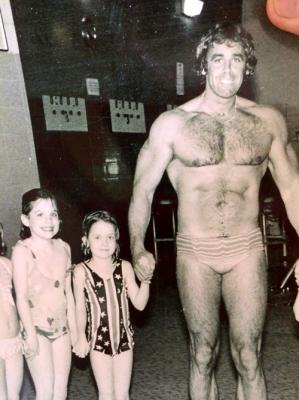 In the 49th minute, Mexico takes a 1-nil lead over the Netherlands in their World Cup Round of 16 Match. Cees Smit is not pleased. With the flag of native Holland on his lap and the flag of his former Dutch club team Ajax (pronounced "eye-ox") covering his Millcreek front door, he's a patient man, wondering if the Ajax players on Holland's national team will help them come through with a win.
To say that Cees (pronounced "Case") Smit has lived a colorful life is an understatement. A technicolor one is more accurate.
Born in Amsterdam in 1940 during WWII, he can remember the escape tunnel in the basement of his parents' home used to help Allied servicemen make their way safely back to England. He remembers the day when a German soldier made him grasp the hot barrel of his rifle to prove that it had just been used to murder four of his father's fellow Dutch underground patriots. He proudly tells of his dad's refusal to speak German during the occupation, risking imprisonment or worse. He knows how wise and brave his parents were to leave Amsterdam for a farm in northern Holland, while over 300,000 Dutch starved to death under Nazi tyranny.
In the 87th minute, the Netherlands ties the score. Cees is a patient man.
"I was always athletic," he tells me. "That was expected, as my father was in the Paris Olympics in 1924 and my mother was a championship swimmer in Europe."
And in the 93rd minute, Holland takes a 2-1 lead on a penalty kick. Cees is smiling. Netherlands is moving on to the Round of 8 after a great match over Mexico in the 2014 FIFA World Cup.
"I was good at soccer as a kid. One of the top ten in Holland as a 17-year old in the 16-18 league," he explains. "Then I was selected to play in the 18-20-year-old league. We travelled all over Europe to play matches. Ajax then recruited me, and I played there for a number of years."
As an aside, Cees enjoys America's favorite pastime, also. And while winning the 16-18 year old soccer championship, he played shortstop as a 17-year old and won the Dutch national title.
"I love baseball, and I was pretty good," he says. "I seldom struck out, too."
Having won the last four Holland Cups, Ajax can be considered a soccer dynasty. The club now has schools in various parts of the world, including South Africa. And after they won the 2014 Cup, each Ajax team member signed a jersey and sent it to Cees as a sign of the respect he enjoys still in that country.
Several American entrepreneurs well ahead of their time started the National Professional Soccer League in 1967. Eleven teams (ten in the U.S. and one in Canada) were fielded in cities with names like the Atlanta Chiefs, Los Angeles Toros, St. Louis Stars, Toronto Falcons, and Pittsburgh Phantoms. Cees would play fullback for the Phantoms.
"I'm going to America to play soccer," he told his family and friends, and their skepticism did not deter him. But before he could sign a contract with the NPSL, he had to pay back salary to Ajax. "The money was too good to refuse. Guys came with me from Holland and Germany. The whole league was foreigners! Not one player from the U.S."
Life was good. And as he told me several times during our conversation, "America has been good to me. I became a citizen. You know, you can do anything you want in this country if you just roll up your sleeves!"
Several of the Phantom players bought Chevy Camaro Z-28s shortly after receiving their signing money. They'd all drive them to practices on fields in the Pittsburgh countryside.
Not Cees.
"I bought a horse!" he exclaims, laughing. "And I rode it to practices, cowboy hat and all!"
But due to an almost total lack of fan interest, the league folded after one season. And when it did, Cees decided to stay in America rather than return to Holland with his friends.
"You see, the Pittsburgh Steelers drafted me to become their place kicker."
Cees and Coach Chuck Noll soon became good friends. It was Cees and Jan Stenerud of the Kansas City Chiefs who transformed the kicking game in the NFL. At his tryout Cees kicked five field goals right footed and then five left footed from 40-50 yards away. "I told the coach that the days of the 'straight-on kicker' were over. Now kicking is no longer called 'soccer style'. It's just the way kicking is done."
But there were opportunities elsewhere and Cees declined the Steelers' offer. Instead, he opened Pittsburgh's first Nautilus Fitness Center. Having qualified for the decathlon in the 1964 Tokyo Olympics, dead lifting over 440 pounds, running the third fastest time in Europe for 100 meters at 10.7 seconds, and holding a third degree black belt in judo and jujitsu, he was clearly the fittest choice for the job. Strong business intellect and a positive attitude toward new challenges ensured his success.
While in Pittsburgh, Cees was asked to design projects at Lake Arthur in Moraine State Park north of the city. There, he oversaw the building of the marina and started a sailing school using Catalina boats. As his successes increased and his reputation for doing things right grew, Cees was asked to go to Washington, D.C. to open a series of health clubs.
But big-city life was getting to him. Having grown up as a small-town boy on the water, he longed for a quieter place to sail his "Dutch Drifter."
Cees knew of Erie's bay and peninsula, and then learned that the Glenwood YMCA was looking for a director. He interviewed, and after some negotiating, accepted the job. And again he succeeded in making that Y a popular spot for Erie's families, starting a dojo for judo, boxing, racquetball, scuba, advanced swimming, indoor running track, and a Nautilus fitness and weight room. He stayed as director there for seventeen years and continues to make Erie his home.
Cees still has family in Holland. They love visiting him here and eagerly tell their Dutch friends of the great choice he made in adopting our Bay Area.
"Everything I ever did worked, because in this country, you can do anything."
As for Cees' Final Four for this year's World Cup?
"Holland, Germany, Argentina, and Brazil." Knowing how right he's been about so many things in his life, it's no surprise that he's right on this, too.
And his choice to win it all? You guessed it.
Tim Welsh is a paperboy at The Erie Reader. His life has come full circle in that respect. He cannot be easily reached.