You Ought to Know: Alexandru "Alex" Pop
Alexandru faced myriad obstacles on his way to America. Ian Welsh sat down with him to hear the story of a man you ought to know.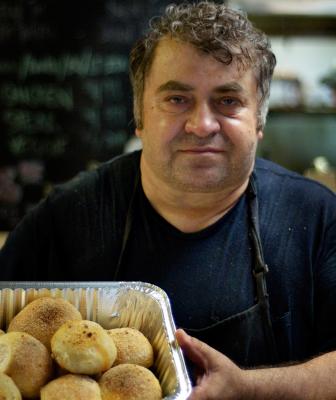 I'm an Erie native, 30 years old, raised just a few blocks from the old Super Duper on East 28th Street. Every so often, I'll take that route downtown so I can revisit my former stomping grounds. Looking out over the mega-parking lot where Super Duper once stood, I can still conjure up vivid memories of our iconic neighborhood grocery store: the pungency of fresh fish from the deli, the complimentary cookie for us kids, the hot loaves of Italian bread. These sensations stand out, but without a doubt, my single greatest memory of Super Duper is the lava-red glow of the hot foods section, where I first discovered the most delicious food I have ever known.
Unfortunately, this dish is so uniquely "Erie" that mentioning it anywhere else in the world fetches nothing but confused looks.
No, not ox roast sandwiches (besides, what is ox roast, other than just plain beef in broth?)
Not sponge candy or even Smith's hot dogs, topped with Greek Sauce, which apparently originated somewhere south of Erie anyhow.
I'm talking about our famous Pepperoni Balls, the unfathomably delicious crown jewel of Erie cuisine.
And who is this Alexandru, you ask?
In my mind, Romanian-born Alexandru "Alex" Pop is the undisputed king of the Pepperoni Ball, undoubtedly the most talented baker in all of Erie—not to mention the most storied character you'll ever find behind a deli counter.
Before being granted United States citizenship and years prior to beginning his career as baker at Teresa's Italian Deli on East 38th Street, Alex averted trampling by wild boars, climbed an electric fence over the Yugoslavian-Romanian border, and nearly starved to death in a communist prison camp, just to have a crack at the American Dream.
Although nothing can substitute for hearing Alex relate this story himself, I've given my best shot at recording his odyssey to America, making adjustments to Alex's dialect as sparingly as possible.
Born in 1950, Alexandru Pop was raised in pastoral Valea Unguras, on his family's farm, where he and his three siblings tended sheep, milked cows, and raised fowl. The Pop family also maintained a few acres for corn and other cereal grains, which Alex learned to harvest at the age of 10.
After helping run grain through the mill, Alex would unload a bundle of firewood next to the family's stone hearth. There he would spend hours watching his mother fold freshly ground flour into dough, gently kneading each loaf before nestling them one-by-one into small, square pans.
"I remember when I was a child," he recollects, "my mother would bake for us, two weeks' supply at one time. Almost every family had this country-style wood-burning oven, which was the very, very best for baking. Every year we collected grapes and made wine, and always floating on top of the barrel was wild yeast. Sometimes my mother would take this and use it for bread."
This was Alex's early education in the art of baking.
When not working on the farm, Alex sought a formal education, too, spending long hours trekking through the rough Romanian mountains to class.
"I walked many miles to a different village for school. It was so freezing cold in winter, making it very difficult to cross though," he recalls.
Despite the treacherous commute, in 1965 Pop graduated from elementary school with the distinction of having achieved the highest mark in his class on their final evaluations.
Alex's excellence in the classroom earned him a spot in trade school. After two years of training as a custom woodworker, Pop was hired by a nearby factory to assist in the manufacture of wooden chairs and couches. Typical of any other well-educated, talented tradesman you could imagine, Alex found himself settling into a relatively pleasant career, one that could have quickly led to a bright future, with a warm home and happy family.
Nevertheless, 1960s Romania was not the ideal setting for most Romanians to pursue their life goals. On the morning of August 21, 1968, the same year Alex began his career creating furniture, the Soviet Union invaded Czechoslovakia, occupying the country in a matter of hours. Although Romania had been under communist control for 20 years, the militarization of Czechoslovakia was condemned by their Head of State Nicolae Ceausescu, who feared that Romania might be the next country to be occupied. Ceausescu's denunciation of the invasion marked the apogee of Romania's drifting away from Soviet control, and Ceausescu took necessary precaution by reinforcing his Romanian military.
Alex was recruited into the Romanian Army later that year, and by 1970, the military academy's new "Top Chef" was assigned duty aboard a Manfred-Weiss mobile kitchen. Morning, noon, and night, he treated his weary comrades to hot soups, coffees, and of course, delicious, rustic breads.
"I made the best every day," he recalls, proudly. "It is very important to put love into food. A little soul."
Alas, Alex could not put love into the communist army, with its rampant corruption and crude way of life. Pop spent 10 long years in the Romanian military while cautiously avoiding Communist Party membership himself, causing him to fall into disfavor with party leaders, who placed Alex on blacklists, denied him pay, and caused immeasurable grief.
In 1979, Alex quit the army, and somehow, amidst all the violence and volatility caused by Soviet aggression in eastern Europe, he and his wife managed to have four beautiful children, all boys.
Pop was determined to raise his family in a country free from communist control, so over the course of several secretive gatherings with friends and family, he and his lifelong friend Costello devised a plan to cross the Romanian border into UN-controlled Yugoslavia in the darkness of night.
That's how, one fateful evening deep in the Romanian wilderness, Alex was suddenly wakened by the nearby clamor of roots and stones being unearthed, deep baritone snorts, and high-pitched squeals. Costello was awake, too. Without making even the slightest of movements, they sized-up the beasts from their hideout under some thicket on the forest floor.
"There were over 100 wild boars—large boars, young boars. I turned to Costello, and before I know it, he climbed like a monkey into a nearby tree, and I followed him. There we stayed until it was safe to come down."
Using plastic bags as blankets, Alex and Costello survived cold, damp, sleepless nights without being detected by patrol. When finally they arrived at the border, they knew exactly what was in store for them: rows of electric-signal and barbed wire fencing, stretching 1,100 miles along the Romanian border.
Removing the shirts from their backs, they insulated their hands and feet from the fencing, maneuvering delicately and silently over the border into Yugoslavia.
Tragically, after making their way out of the woods, he and Costello were captured by police, and ultimately sentenced to two years in a communist prison camp.
"There were 30 small bunk beds for every 100 people," Alex remembers. "We were fed only a small block of bread every day, and a tiny fish the size of my finger."
There, practically on death's doorstep, Alex and the other inmates were kept in such close quarters that disease and infestation scored thousands of victims.
"I remember being full of fleas, like a hound," Alex recollects. "The prison guards sprayed our clothes with toxic chemicals to kill the bugs." The burning on Alex's skin was so intense that he light-heartedly recalls flying to nearest window "like a Russian B-29" for relief.
When Alex's prison term finally ended, he and Costello wasted no time planning their next attempt, and sure enough, they were captured a second time. When he and Costello were detained and dragged into the interrogation room, sitting before them was the very same intelligence officer who handed them their sentence two years prior.
"Alex," the officer acknowledged, "Costello—you come again?"
The two pleaded for their freedom. "We are good people," Alex recalls arguing. "We behave. We want to be free."
Inexplicably, this rhapsody won the favor of the officer, who showed Alex and Costello mercy by ordering them to a United Nations refugee camp in Belgrade. There, thousands of displaced eastern Europeans, like Pop, sought protection and asylum. After two months in the camp, Alex applied for refugee status with the United States, and upon passing a series of interviews and examinations, both he and Costello were granted permission to enter the United States as political refugees.
Touching down in New York City for the first time, Alex recalls the feeling quite well. "It was like I was born a second time," he says. "Still, I have to pop myself on the nose, just to make sure I'm not dreaming."
Alex could have made a home anywhere in the United States. Costello, still a friend to this day, staked his claim in San Antonio, Texas. Thankfully Alex settled on the shores of Lake Erie, here in Pennsylvania.
As you know, the sun has long been set on community grocery stores on Erie's east side. The Super Duper building was demolished after a long, pitiable period of vacancy, and come to think of it, even the mighty Paul Bunyan was felled in around that same time.
The masterwork of local bakers, such as Alex Pop, serve to keep Erie's homegrown culinary spirit alive. We ought to support locally-owned businesses as best we can before all we have are mega-parking lots were iconic landmarks once stood and cherished memories of the way things were.
I owe Alex a debt of gratitude for bringing me back to the good ol' days with every bite of his baked creations, and I am tremendously appreciative that he volunteered to share his story with all of us.