You Ought to Know: Deb and Vanessa Vahanian
They are Gorgeous Growers of Glass. And thanks to a letter from Tracy Evans, Ben Speggen got to know them.
June 15, 2011 at 12:00 AM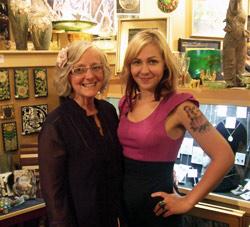 I swing open the door to my car and grab my bag. My car sits across from Glass Growers Gallery, nestled between the new entrance of the Erie Art Museum and the Al Deluca's Variety Store that holds the corner of Fifth and State streets. I stuff my hand into my hip pocket and fish out a few quarters. I said less than a half an hour when setting up the interview. Chance it and toss in only one quarter for 20 minutes or overshoot and toss in two for 40?
I cross the street and run the letter we received through my head one more time.
"These two ladies individually are beams of light that can brighten any day," Tracy Evans wrote to us. "Together they are a powerhouse of Beauty, Intelligence, Style, Sarcasm, Wit, and Love. They are ladies that you want to know…"
I eye the storefront. It's small, and with a Starbucks and McDonald's down the street, I wonder how many people walk by this place without ever stopping in. I open the door and head in, trying not to make eye contact, trying to keep quiet so that I can snoop around and get a feel for the place to measure it up before I sit down with these women whose conversations the events promotion direction of The crooked i described as "never dull" and whose "smiling is contagious."
I don't make it two feet through the door before I'm spotted.
"I know you. You look like you're from Erie Reader," says a voice that belongs to a body I can't yet even see.
"Yes." My plan's foiled.
An exuberant hello comes bellowing out from behind the cash register from a petite young woman who's ringing up a customer. I continue the exchange but seize the chance to browse while she's occupied.
Art hangs from the walls, is displayed in cases, is on stands. There's art everywhere. So much art it'd be easier to try to point out the places that don't have art. I tuck myself away and stare under a glass counter. I spot two pieces of jewelry with writing on them, two phrases: "Happiness is wanting what you have" and "Bless our nest."
After a couple more seconds pass, Vanessa Vahanian comes over, smiling, laughing. We start by chatting about tattoos and art. The one on her arm is of her children, she tells me. Two bears are dancing on petals. She's going to have more work done to it, she says tracing it with her finger. Later, during the interview, she says she's a big fan of jewelry, that that's her focus and passion, her forte. "Jewelry is art you can wear," she says. "Tattoos. Art you can take with you."
After grabbing a painting from the wall—Deborah, Vanessa's mom suggested we snag one to stage a photo opportunity of them fighting over hanging it because that would be fun, and this moment captures Deborah best, constantly thinking, constantly creating—we head out of the store and into the Erie Art Museum to find a quiet table so that we can talk.
Glass Glowers Gallery started in 1974, Deb tells me. But she stops there. Instead of telling the history of the gallery, she hands me a magazine that already features that story. She's focused on the future. Both women are.
"I never think of it as a model," says Deb regarding her business approach. "[Business] models can be staid and static. We certainly look at our sales and financial obligations, but we also realize we have our finger on the heartbeat of what people want in the area, what they're curious about, what's popular culturally."
And they do. Ask either what their favorite local spot is and they'll answer with new businesses. Deb loves Jekyll and Hyde's Gastropub and Vanessa loves the music Marty Schwab brings through The crooked i, both recent developments downtown.
But what about the name? Do they grow glass here?
"One day, John [Deb's ex-husband, whom she started the gallery with] just came in and said 'hey look, we're growing glass'," Deb explains on the gallery's early days when the couple made art out of found objects. She speaks in bursts of energy with emphasis on certain words, as if the brush strokes fall heavier there and lighter and quicker elsewhere.
But this is a business. A business that's been successful since 1974 and seen a couple location changes (they started on Second and Plum but moved to Seventh and Holland in '82 and then moved again in '99 to their present location at 10 E. Fifth St.). They're happy to have the gallery downtown.
"Art and culture being downtown is very crucial," Vanessa speaks through a beaming smile that is contagious. "As far as community, it just improves the quality of life so much to have the culture."
But the move to be closer downtown came at the sacrifice of space. The gallery went from being two-stories to 1,000 square feet. But the Vahanians, always looking to the bright side, never saw this as a problem.
"I guess that's my approach to life in general," says Deb, who'd rather be known as a Grower of Glass than the president/owner of the gallery since she hates titles. "How does this positively affect us and what is that and where is that lesson in whatever that was?"
"Gorgeous," Vanessa adds, laughing at our amusement of the alliteration. She, a manager, also hates titles. "Gorgeous Grower of Glass."
While certain business owners just trim their collections and the number of artists they work with, the Vahanians—Gorgeous Growers of Glass—haven't. Instead of focusing on making a business, well, a business, the Vahanians focus on creativity. "Your life is enriched by creativity," Vanessa says. "So enriched," Deb echoes. The Vahanians focus on being a conduit between artists and customers. Deb describes the relationship between the gallery and the artist and the artist and the audience and the audience and the gallery as organic. If, for instance, she explains, someone's looking for something specific, say, a painting of a boat, and the gallery doesn't have it, she'll make the connection.
Which speaks to their success: they're community oriented for the good of art, even if that particular art isn't on their walls. They listen to the artists, and they listen to their customers.
The space they share with the Art Museum surely refreshes their customer base, but Vahanians have built a loyal group of customers that continue to frequent the gallery.
The gallery began by supporting the renaissance of making things with one's hands. It's now focused on regionalism as well, which makes a good fit for Erie. The Gem City's an industrial town, blue collar through and through. Our history tells the story of us making stuff. And if there's an art movement, what better than to be one where we make it with our hands?
And the knowledge of that—art, artists, people, movements, and life—that these women have is difficult to put into words. They talk together—not over each other, but with each other, finishing each other's sentences, helping each other's thoughts along, and even at times speaking so in line, so in chorus it's impossible to attribute just one voice to a particular phrase.
"I have this creative desire," says Deb. "I have this practical side as a mother and a grandmother, so I want to support my family and I also want to be able to be creative. So having a gallery gives me that opportunity."
I think back to one of the engravings: Happiness is wanting what you have.
"Like any small business, you wear it," Deb says, and I think again about jewelry as art. "It's a pleasure. It's a privilege to be able to do it."
Humble words from a woman who could be in a much larger city, working in a much larger job.
"What I do have is an incredible relationship with people who inspire me and I stand in awe of."
While Deb travels and visits friends and family in cities such as New York, she constantly returns to Erie. But each time she comes back, she comes back with new ideas to refresh her vision.
Vanessa does something else to keep her vision fresh.
"I like to pretend [Erie's] a place I've never been," she says. "You notice things so much more vividly through fresh eyes. My children help me do that because toddlers see everything in new light constantly."
There's so much more to say, so much more they have to tell. They're constantly on, constantly thinking, constantly smiling. I challenge either of them to frown and they laugh. Vanessa tries but the corners of her lips never turn down, and we just erupt in laughter. I check my watch and realize the interview I thought would last no more than 30 minutes has gone on for over an hour and 15. I have mixed feelings. One's about a potential parking ticket, but this conversation was worth whatever Erie Parking Authority wants to charge me. Part of me feels I've known the two for years. The other part feels that I only scratched the surface and am missing so much.
It's likely a bit of both.
Deb later adds in an email, "It is crucial to the Erie visual arts community to support the gallery system. For years, there has been undercurrent thinking that 'Oh I can get it cheaper from the artist.' When people do that, they shoot us all in the cultural foot. Galleries provide a constant venue for artists to display their work. So we need all the supporters we can muster. When flowing properly, the gallery system is continuous effort of creation and presentation, one that often deserves all our considerations and patronage."
And what makes her and her daughter's work different is their continued efforts to be in conversations—that are never dull—with the city and its artists. Without these Gorgeous Growers of Glass, who knows how many bare walls or necks this city would have.