You Ought to Know: Rich Hodges
Jay Stevens wanted to get to know the chef better. So he volunteered to wash dishes in exchange for inside-out beef wellington. The powerful food hit him deep in his veins. And his hands are still stinging. See how it all went down.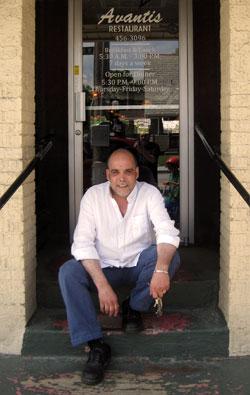 Any self-respecting profile of Rich Hodges should start with food. So let this one start with inside-out beef wellington. A round cut of sirloin is perched in the center of puff pastry baked with its sides peeled out, so that the whole dish resembles some kind of exotic jungle blossom with pastry petals and a beef center. Underneath the beef is the nectar: duxelles fois gras, a thick paste made of finely chopped mushrooms and goose liver.
If it sounds good, it tastes even better. The steak – medium rare – melts in my mouth, the duxelles fois gras blends perfectly with puffed pastry and whipped potato and wine-based gravy to add a complex, earthen tone to the meat. It's delicious, yes, but more. Mysterious and excessive, perhaps. Desperate, too, in its good sense, like when you walk home on a warm May night with a belly full of good food and bourbon, and suddenly the iron and blood of your steak hit your veins, and you know your life won't have enough of these moments.
So I ask Hodges how he would describe the food. He's the chef. It's his creation. There's a catch, of course: he can't use adjectives relating to taste. So, how would he, the creator of the dish, describe it and the food he nudges into being?
"I think...fun."
He must see the disappointment etched on my face. "Maybe fun's not that profound or interesting," he says, "but the word jumped into my mind, and I like to abide by spontaneous reaction – Emerson says that, 'always abide by spontaneous reaction.'"
He's getting into it now, I can tell. His voice sharpens an octave, the same way it did when the first ticket appeared in the kitchen and he barked his crew into action. I should know; I earned my steak tonight by washing dishes – my idea, a good way to know the chef, I reasoned – and my hands are still stinging from the boiling water and scouring pans and pots and scalding dishes with metal scrubbies. So, yeah, I recognize that tone. Bullshit time is over.
"I'll talk to somebody, and they'll say 'this was killer,' 'that was killer,' and I'd say, 'yeah, the dish is a lot of fun,'" he says. "And it was because it was either fun to make or it took such big balls to make, and the product was actually kind of fun in that we figured it out and did it.
"So, I would like to think, that, you know, when people leave here, one of the things I'd like them to say would be, 'yeah, that was fun. We had a great time. That was fun!'"
We're sitting in the back room of his restaurant, Avanti's on Lincoln and Eighth streets. It's the mural room. On one wall hang photographs from Erie's past; on the other, an enormous painted mural of scenes from those photos. A flood. A train. Erie residents in the streets in hats and ties and dresses. Hodges sits across the table from me, dark half-circles under his eyes, short-cropped receding hairline, a mournful set to his expression, which belies the mischievous banter he regularly engages in, edged by a smoker's rasp Tom Waits would be proud of.
Hodges is a transplant. He grew up in North Easton, Massachusetts, where his mother had her own breakfast-and-lunch place. But it's in Chicago where Hodges learned how to really cook, and it's from Chicago Hodges came to settle with his wife, Mary, from Harborcreek.
OK, "fun" isn't a bad word, especially when you think of the menu that changes weekly and includes beef wellingtons that have been blown apart, or brie cheese baked in an oven and sprinkled with caramelized onions and maple syrup and peppercorn, or duck with red pepper and almond sauce, or a bread salad – a panzanella – a roll stuffed with kalamata olives, cucumbers, and sun dried tomatoes topped with feta cheese and baked in the oven. Everything on Hodges' menu has a twist, a variation, something unexpected and surprising.
One of the drivers of Hodges' creativity is the food itself. Hodges prefers to buy local foods. "I never realized, and I've been working this business for a long time," he says, "but a potato that came out of the ground an hour ago is a lot better than a potato that came out of the ground a month ago, that's been ripening in a warehouse someplace." He buys produce from Mercyhurst's farm and from a community farm run by neighbor Wendy Elliott, and lets the available foods drive his menu.
"You can talk to Wendy on a Monday and say, what do you got this week?" relates Hodges of the experience. "Or I'd go to the Mercyhurst farm on a Tuesday, to see what's around. And then I'd come up with a menu Tuesday night because Wendy said, 'well, I've got these purple carrots' or 'I've got these great heirloom tomatoes,' or the dude at Mercyhurst says 'I've got a bushel of Yukon potatoes.' That's really, really fun."
And fun isn't a bad word to describe the work, either, with five of us jammed into a kitchen so narrow it resembles a hallway. Hodges and his two assistant chefs ply the oven and stove, passing dishes to one another, slicing, garnishing, saucing, sprinkling along the way, while the two dishwashers (one looking particularly overwhelmed) work side-by-side at the sink on the back wall. To move about requires team effort; we all have to shift around like a child's puzzle when someone needed to fetch, say, a whisk or another container of prepped salmon. The work is hard and dirty and full of nicks and burns, but there's steady raunchy banter and the glorious feeling of actually doing something worthwhile, like feeding people. That's why Hodges calls himself a "dirtbag" and an "asshole cook," and cooking a "dirty pirate lifestyle." It fits the kitchen.
"The food business is so cool," says Hodges, "it's like manufacturing. You're coming up with an idea, and you're designing it, engineering it, just like you'd do with a widget or bolt or whatever. You're making it. You're going into production. Then you're selling it. And then you're getting feedback from your customers.
"Except in this business, that all happens in a span of about, like, 15 minutes. You can make something, and you can look out the window and see someone put that in their mouth, and just by the expression on their face, whether they like it or it sucks."
And that's essentially Hodges' business philosophy: He makes food people like, that people buy, and that people return for.
That's important. Because before Hodges and his brother-in-law Mark McCain bought Avanti's, it was a moribund regulars-only diner with the windows screwed shut and the atmosphere of your grandfather's drinking den. "We had red and gold carpet on the floor and stuff like that," he says. "It was like stepping back in time, but not necessarily in a light and airy way. It almost had that partying in your basement feel."
You know the kind of place. They're littered across Erie. In a sense, they're the hallmark of the city's social life, the dusty collection of bars and eateries and social clubs from two or three decades gone by, places run by and for closed circles of friends who went to high school together and never left. Avanti's had that feel. "Not that it was unfriendly," says Hodges, "but you didn't really feel too welcome."
How did Hodges turn it around? It didn't take much – Avanti's still serves its regular egg-and-coffee menu during the day – and the interior hasn't been gutted. Instead, Hodges really just aired it out. Opened windows. Added art to the walls. Improved the quality of the food on the usual menu (although, quite egregiously, the coffee still tastes like ashes, and you can tell Hodges I said so). Started serving high-quality dinners at night. And business is steadily growing.
"The neighborhood really wanted it," says Hodges, explaining why his restaurant has become a gathering place, a place you can grab a coffee and paper after dropping your kids off at Harding elementary across the way, or bring your wife or visiting relatives on a Saturday when you want to, yes, have fun. He just made the place fit the people.
In short, he gives a damn. And that's probably a decent guiding principle as any for dragging the city into the future.