You Ought to Know: Ron Dombkowski
Erie's native son Ron Dombkowski isn't afraid to dream big. He also isn't afraid to tackle the skeleton.
April 5, 2011 at 11:03 PM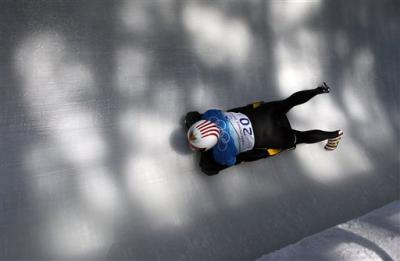 Ron Dombkowski lives his life much like skeleton, the Olympic event he's been training for since last April. In skeleton, sliders sprint to the crest of an icy, curving, downhill track and dive forward on their sleds, zooming head first toward the finish line at the bottom. This is how Ron, a 25-year-old Erie native, approaches his ambitions, many though they have been.
Ron has tried his hand at acting, coached young wrestlers, and at one time thought he might become a Catholic priest. At the beginning of his interview, Ron even expressed a need to really think about how he answered questions—just in case he decides to run for office one day. Most recently, he committed to joining the Air Force reserves.
As different as these paths seem, Ron doesn't see them that way.
"Wanting to help people, serve people," he says, "that's what the common denominator between all these different things that I've sought to do is. Even being on stage, you're lending a touch of reality to feelings that everyone has."
At almost 5'9" with a wrestler's broad shoulders and compact build, Ron moves and speaks like an athlete, using words like "dedication" and "passion" to describe the many twists and turns of his life so far. And underneath it all, he implies both a need to be the best and a knowledge that he will be.
Ron's longtime friend and former wrestling coach Kevin Blossey said Ron has high expectations of himself and others.
"He's self-motivated," Blossey says. "I think he can do anything he wants. I don't know if he wants to wait as long as some things take, though."
Ron started wrestling when he was 8 years old and eventually graduated from Fort LeBoeuf High School in 2004 with a scholarship to wrestle at Mercyhurst North East in hand. Even with taking a few semesters off, Ron finished school a round out of All American at nationals in 2007. The following year, he redshirted and worked toward completing the final credits of his associate's degree. That's when he was cast as Detective Sergeant Trotter in a play, a murder mystery called "The Mousetrap."
"Sergeant Trotter is a pretty meaty role," Ron says. "It really tested my desire to pursue something like that."
The experience on stage, combined with a few influential professors who pushed Ron to continue with communication studies, changed his course. Even though he had two years of eligibility left to wrestle if he went to a four-year school, Ron decided to major in theater. He was accepted into the performing arts program at the University of San Francisco, but after performing with Gannon University's Shakespeare Summer Nights, Ron decided to stay put. He liked Gannon's theater community—besides, Erie was home...
---

Grab a FREE copy at one of our distribution points to read the rest of the article.