You Ought to Know: Tom Ski
His murals populate the Erie landscape, his work hangs in homes, is shown in galleries, and he continues to create at a great clip. Tom Ski is an artist, and Michael Bennett sought him out. Now he says You Ought to Know him. Find out why.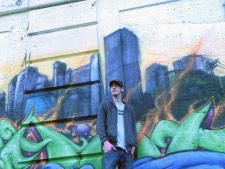 [Editor's note: Last week Michael Bennett told you he'd introduce you to Tamera Rocca and Tom Ski, and last week he introduced you to Tamera, a bartender by trade but much more by life. This week he introduces you to the other half of the couple in this week's installment of You Ought to Know.]
Part II: The Refined Mind of Tom Ski
Tom Ski is an artist. His murals populate the Erie landscape, his work hangs in homes, is shown in galleries, and he continues to create at a great clip. He is a known and sought after name in the local scene.
He can appear standoffish and seem socially inept, but it is all in the eyes of the beholder. Ski approaches life like he does his art, through his mind. He sizes up situations, finds the angle, and engages his subject with the same determination he does his work.
Ski is born and bred Erie. His only sojourn outside the community confines was spent in Pittsburgh, attending the Art Institute for graphic design.
"While I was there I was getting into all kinds of art besides graphic design," he said. "That's the main reason I left Erie, I needed to be stimulated by more then there was here at the time."
Ski returned to Erie in 2005, full of ideas and a drive to make his mark as a true artist.
"I moved back and just started doing art, street art to fine art," he said. "I had my first real show at the Roadhouse Theater in October of 2006, and it was a pretty big deal. We had DJs from Pittsburgh and break dancing. That show in particular, it was my first show and I did well, but just seeing what was possible with the Erie Scene, so much diversity just at this one party and it was really refreshing and inspired me to stick around."
He has appeared in a few shows since then, including all of the Arts N Drafts, and painting murals. His mural work can be seen on the South wall of the train station, Dovetail Gallery and inside of The crooked i.
"Recently almost everything I do is commissioned work," the lanky artist explained. "I have to pick which ones I think I can do well. I'd rather do my own thing, but at the same time when people ask you for a job it is often uncharted territory for me artistically. I'm using new techniques all the time, new ideas, it is always forcing me to expand. Without all the weird ideas people ask me to do I wouldn't have done nearly as much stuff. If it was up to me I would just be doing the same whatever I've been doing."
His "same whatever" is nothing to scoff at. Ski has worked through many modes of his own understanding of art to create his current style.
"Early on I was more, my ideas were often political, and I tried to use imagery to try to get ideas across," he said. "As time went on and I kept doing canvas fine art paintings my stuff took on a very organic feel and got supernatural and I stopped doing all the messages and statements about this or that and focused on finding more in depth ways to relay my ideas.
"When I'm doing my own thing I want someone to not be confused by it," he continued. "I want them to look at it and not have to think about all kinds of different things someone threw together to try and relate something to the audience. I'd rather them see it and enjoy it instantly for just the colors and the layout. That just draws them in, and then they want to come see it, look at it closer and pull some meaning from it or see what I was getting at. Topically appealing, I guess I'd call it."
Ski pulls his ideas from everything he has experienced. His fascination began with comic book art. He would sketch his own drawings in notebooks and derive ideas from there.
For a time he put down his pencils and brushes and picked up a skateboard, but he couldn't escape his calling.
"Visually, the skating cultural gave me something to identify with through and through, the street art thing was also very inspiring to me," he recalled. "I never did any kind of graphic design except for old show flyers. But after I went to school and saw what was possible I just keep doing new things with new mediums. Lately I've been doing a lot of sculpture which I never thought I would be doing but it's just always finding new ways to express myself, keeps it fresh keeps it interesting."
Ski is always in search of the interesting and the unique. He thinks about concepts and ideas before putting brush to canvas, his mind is always working through his ideas, molding them, shaping them until they become his own.
"When I see something that sparks my imagination it usually stays in my brain, gets refined and if it's still there I'll try and do it up," he said. "Whenever I enjoy another piece of art or a reference of any kind that makes me want to make something that's usually how it works but by the time I have the idea and actually make it, it is never my original thought it is always so changed or I pick up on something along the way and just go take it in a different direction, rarely is it ever what I started with. I can't focus on one concept too long. I try and look for, sometimes things happen in a piece that I did not plan and I'm just blown away by, 'Wow' I've never seen that before. I'm always building up my mental collection of ideas and stuff that happened in the past whether it is accidental or not, and build on it. It's great when stuff like that happens when something amazing happens you totally did not mean to do."
Ski is active in the local scene with a passion. He is excited by the current upswing in the Erie scene and wants to help foster it.
"I think its great. If you go to New York City you can have your pick of any possible cultural exhibit or band or anything you want," he explained. "Here we need to come together and build a scene. It's not just going to happen on its own. With all of these things starting to come together art, bar scene, and music I think people get behind it and realize they have a responsibility to build the scene. I do think Erie is coming together. But you have to build up relationships."
Ski enjoys his time with other artists in the local scene and feels it helps everyone's art to build rapport and fuel the scene. He has an ever-revolving display at Interglasstic Studios in Erie, and is thankful for the opportunity Zach Cacchione has given him to show his art there.
While Ski may not be blatant with his messages through his art anymore, he has a worldview to share and bring to the people. He is very understanding of the environment around him. He has been a vegetarian for over 15 years and thinks about the world around him on every level.
"I'm very concerned with environmental issues, the future and where we're taking all this," he offered. "Why does money have to define everything people do? It's not like over the course of a month I decided to become a vegetarian and plant trees and stuff. It's always been with me. I've always had a balance I think a lot of people don't have, and appreciation of nature, being in a natural state as opposed to like the hyper-culture, where people are so distracted by everything.
"I think that there is a reason they are so distracted. It all boils down to the fact someone's making money off of you," he continued. "If you're not distracted by something, if you're not entertained by something then you are doing your own thing and you're not buying any products, you're not contributing to the system. I think when people are left alone to do their own thing, that's when amazing things happen.
"There is so much leisure time for people to worry about stuff, when they could be out creating or building communities, good things, but I guess unregulated by capitalism it's a bad thing," he said. "I definitely feel like I'm here to transmit ideas and inspire people to think differently, it's very important to keep things moving, keep things happening. So we don't grow quiet or stagnant."
Michael Bennett can be reached at mbennett@eriereader.com.