"Your Ministry of Culture" Leaves Calling Card
Anonymous organization has two messages for Erie: "Obey Kunco" and "UGLY"
September 12, 2014 at 9:31 AM
An organization referring to itself as "Your Ministry of Culture" has installed two public art works, and has left a calling card (pictured here) at the Erie Reader office this morning signed "Courtesy of Your Ministry of Culture."
On Sept. 4, the word "UGLY" appeared on Erie's Bayfront (see below). By noon, the sign had been removed. What remains unclear is both why the sign was erected and who removed it.
Today, a panel near the Benchers Union graffiti spanning the southside of the railroad tracks near 14th Street between Sassafras to Peach streets displayed a Shepard Fairey-inspired image (the same as that calling card) reading: "Obey Kunco," featuring an image of Jessie from Pixar's Toy Story series.
Although it again remains unclear why the artwork has been posted, a connection to City Councilwoman Jessica Horan-Kunco's recent concern over graffiti in Erie can easily be drawn.
Little remains known about the organization as well as its intentions. What is known is that images of the "UGLY" works are available on a Flickr page with the author name Robin Gunningham, the name many associate with renowned graffiti artist, political activist, film director, and painter Banksy.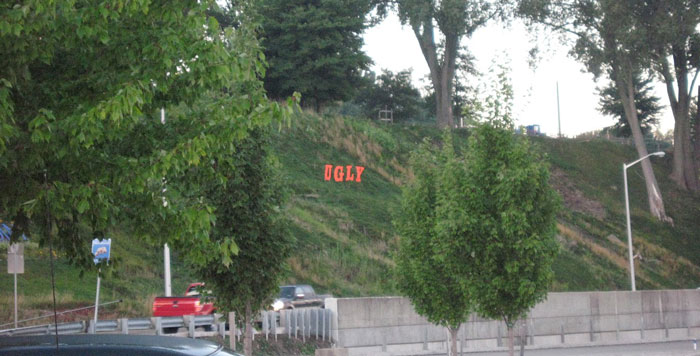 Ben Speggen can be contacted at bSpeggen@ErieReader.com, and you can follow him on Twitter @ERBenSpeggen.