Zabawa Has Lot of Pole with the Locals
August 15, 2018 at 11:30 AM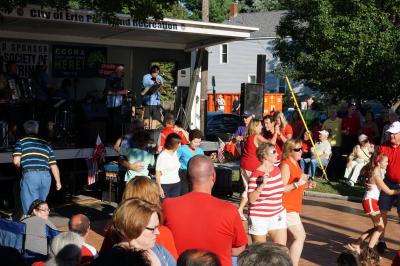 Friday, Aug. 24 - 26
The Gem City has never lacked Polish — at least from the late 19th century onward. That's when the United States experienced the first major wave of Polish immigration, the so-called za chlebem (for bread) Poles fleeing impoverished districts in Germany, Austria, and Russia for blue collar jobs and often quite literally bread (and food in general). Erie's reputation as an ascendant manufacturing center had a certain magnetism to the Poles, and by 1901 as many as 800 families had established residence here.
The Polish community had outgrown St. Stanislaus Parish, its original religious gathering point, leading a committee to submit a petition to Bishop John Fitzmaurice for a second church. The new parish, dedicated in December of 1903, was christened Holy Trinity Roman Catholic Church. Originally encompassing six lots on the corner of East 22nd and Reed, this too eventually proved inadequate as many of Erie's Polish families entered their third generation. In early 1941, a brand new edifice was completed and dedicated, and in 1953 a social center was added to the complex. This structure still stands.
Many of the Polish families that once occupied the surrounding neighborhoods have since dispersed, but Zabawa (Polish for "fun") has little trouble pulling them back in. In fact, for the last 25 years, the annual Polish festival has drawn all sorts of folks — after all, "fun" is fairly easy to get a read on, regardless of your comfort with unwieldy consonant clusters. Aiding in the translation is the music (polka sounds lively), the food (the pierogis, potato pancakes, pigs-in-the-blanket, goulash, and paczki smell tasty), and the visual reinforcement of attendees looking and leaving happy.
Entertainment includes Squeezebox (featuring Ted Lange and Mollie B.) on Friday, Lil John and the ATM Band, The Boys, and Mar-Vels (providing music for the 5 p.m. polka mass) on Saturday, and DynaBrass on Sunday. DJ Ken Olowin will fill in the gaps while you fill your bellies — and maybe your hearts, too — with the pleasure of community.  — Matt Swanseger
Friday: 5 to 10 p.m.; Saturday: noon to 10 p.m.; Sunday: noon to 6 p.m. // 2220 Reed St. // holytrinityrc.org