Zack Orr Rocks Ingenuity Fest
It was loud. It was under a bridge. It was the beginning to one crazy weekend festival. Erie?s Zack Orr played in front of a growing crowd as the weekend show kicked off Friday.
September 21, 2011 at 10:00 AM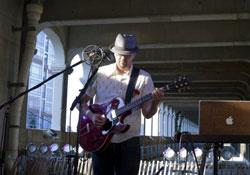 It?s loud. From the rumble of the traffic above us to the quickening beat of trance/techno coming from beside us to the swelling roar of a city outside us thanking its God for five o?clock on a Friday, Cleveland has come alive and the 2011 Ingenuity Fest is underway.
But quietly on a stage set up under the city?s Veterans Memorial Bridge, Erie?s Zack Orr, with a furrowed brow, looking like a cross between Elvis Costello and Ben Gibbard with a dash of mad scientist, tweaks an effects pedal here, adjusts a cable there, and otherwise readies himself to play to a crowd that can grow to who knows how big.
Ingenuity Fest began six years ago and drew more than 40,000 people last year. The Fest features art-centric displays of talent from all walks of life, from musicians to dancers to 3D artists to artistic engineers and more. The event, which spans the underbelly of the bridge, kicked off Friday afternoon and kept rolling through the weekend.
So with the two amps, two mics, two pedal boards, and two guitars ready, Orr launches into the eight-song set with ?Thaw of the Cherry Queen,? the same track that opens his latest effort, 2010?s ?Francisco the Man? in front of a paltry audience but without reservation. And with good reason?this track?s quintessential Orr: melodic, thick-layered harmonies coming from his guitar and samples ringing out from his computer that blend brilliantly with the warm airiness of his Lennon-esque voice without overpowering the lyrical prowess of a cerebral artist that challenges listeners to pay attention to each word without leaving them disconnected from the genius on stage.
?Thaw of the Cherry Queen? is one of Orr?s longer songs and it builds, swelling into a fullness about to burst into blossom as Orr sings out ?Spring.?
No sooner is he finished with the thick-layered sounds of the rich and heavy ?Cherry Queen? he grabs his acoustic guitar and begins ?On and On? to showcase his diversity. One of the only songs he played his acoustic for, Orr uses the instrument more as a drum set than a guitar in this song. He taps a finger below the guitar?s bridge, bumps the palm of his hand toward the guitar?s back. Even at its simplistic, Orr?s music beams with an underlying intensity that?s both entrancing and enjoyable. Which is likely why the audience is growing, adding listeners here, listeners there. 
But such can be the breaking point for artists relying on effects: how much is too much? When does it become a gimmick? When does it become more about the toys than the creation?
Orr answers this with songs like ?Jack Horner 2.0? that capture his storytelling ability. The song, off his debut album, ?The Unstoppable Lift,? ?Jack Horner 2.0? bears a title that evokes technology but focuses on telling a story with great revelation: choose your life and path wisely, and now, people are listening, telling their friends even as more and more people continue to show up to our hideaway.
And Orr?s rich storytelling continues on songs like ?I Should Know? where he sings, ?I was born innocent but then I learned otherwise. I found lies in truth as truth in lies? as the song explores truth, lies, and all the in between, which reflects the delicate consideration Orr gives his music as Orr sings the notes to the words ?I Should Know? as the guitar doubles them.
And when the set hits its peak half way in, it?s clear why Orr?s playing Ingenuity Fest: he?s an innovative musician with not only the gift of music, he?s gifted with the ability to take the stage alone and produce the sound of a full band without seeming artificial and contrived. Drawing the Death Cab for Cutie and Radiohead comparisons coupled with the Costello and Simon influenced tendencies are easier to say than to play, and Orr makes it look easier as he moves through verse to chorus to bridge and song to song seamlessly, making his music pleasant and special.
But that delicate touch on songs like ?I Should Know? and ?Fall Into Winter? can?t be overplayed. An intensity fills Orr and fuels his music, and that passion and power shines through clearly in songs like ?Storm of the Century,? which literally brought the stage down at the Fest as the swelling breeze from the bridge behind him caused the backdrop to fall. Orr continues on through the elements, chugging through with chunky riffs spilling out of his old red semi-hollow body Gibson as quick-paced lyrics bounce out declaring, ?The wind is like a razor. Can?t even see the streetlights. The rivers turn to glaciers. Ice, ice, ice.?
?Human? and ?Alien? close the set. Afterwards in an interview, Orr says he originally wrote the two songs as one but feared the over-15-minute song might be too much, so he split them into two. While four tracks separate these songs on his album, they play well together and end his set brilliantly because they sum up Orr at his best: They capture the ethereal feel he creates as he orchestras multiple individual sounds, weaving them together to create one full sound, proving that the parts, in this case when unable to be divided from the whole, are so much better together than separated and much fuller crowd at the end of the show now knows this.
Zack Orr is no slave to his effects pedals and technical intricacies.  Instead he commands these effects that make him a total musician capable of rocking the stage alone, proving ingenuity is one of the best words to describe him and his efforts.  
##
Zack Orr?s second album ?Francisco the Man? was nominated for Concept Album of the Year for the 10th Independent Music Awards. The album covers the four seasons in 12 keys. For more information on Orr as well as information on how to purchase this album, which you should be listening to right now, visit zackorr.com.