Edinboro ART 100 Celebrates a Century of Creativity
Art Department commemorates occasion with year-long schedule of events
September 25, 2019 at 11:45 AM
It's easy to feel the history when you walk into a place like Loveland Hall. As one of the centers for the Edinboro University (EU) Art Department, it's a hub for many of the school's art students. It's not the only building that houses Edinboro's extensive program, with buildings like Doucette, Hamilton, and East Hall being other venues for classes and studios. Loveland was built in 1931, a little more than a decade after the art department started at Edinboro. Bates Gallery is located there as well, named for art professor Waldo F. Bates Jr., who was instrumental in starting the department in 1920. The nearby Doucette Hall was named after his colleague, professor Aime Doucette.
There's history here, and it's clear to see just by looking at the layers of paint on the carts and easels that line one of the drawing rooms.
Art leaves an impact.
Literally, any art student will be quick to tell you that. For something whose end result is often a clean, beautiful object, there's a lot of dust left behind in its creation. Hands get covered in graphite, metal flakes, coatings of clay, mineral spirits, inks, or whatever your medium of choice happens to be. For decades, this has been the process for countless students. While certain fields like 3D animation, photography, and graphic design have transitioned to more digital realms, it's not hard to picture a teenager in 1920 drawing in much the same way someone does today. The thread of the arts leads almost directly back for generations and generations.
A celebration a century in the making
The idea of drawing these threads together for what would be known as Edinboro ART 100 began in June of 2018, with associate dean (and Erie Reader contributing editor) Jim Wertz chairing the celebration alongside director of development Julie Chacona. It was at the 9th annual Michael V. Gmitter Memorial Scholarship Exhibition at Bates Gallery where EU Interim President Dr. Michael J. Hannan pulled Chacona aside to bring up the fact that the art department's 100-year mark was approaching. Chacona started with the university in 2004 and is a large part of the school's alumni relations with the art department, and she and Wertz were quickly put in charge of spearheading the department's commemoration.
One of the keystones of Edinboro ART 100 is a documentary, made by Erie filmmakers MenajErie Studio (half of which is comprised of Edinboro graduates). With a running time of about an hour, it is the longest piece the studio, which is mostly known for commercial work and the occasional web series (including Endnotes, hosted by yours truly), has done to date.
"The film kind of evolved without a script in the beginning," Chacona explained. "They wanted to see if there was a common thread. We talked to alumni, and then we talked to retired faculty, we talked to people who were former chairs of the Art Department — that's when they started to see this thread of how students were mentored by faculty and how really small class sizes, one-on-one instruction, and studio time really helped the students develop into who they are today."
In the documentary (which premieres at Edinboro on Thursday, Sept. 26 and in Erie on Wednesday, Nov. 6), MenajErie speaks to former students like Aaron Easler and Ian Geoge (class of 2015) of Top Hat design, as well as woodworker Bryan Geary ('10) and painter Rabecca Signoriello ('04). There are insights from Dave Filoni ('96) who creatively oversees the animation development of Lucasfilm (in the words of Star Wars oracle Pablo Hidalgo, "Justin's stepping up. No one's stepping down. Dave is his George, one might say"). There's Jordan Koch ('12) of Nickelodeon Studios, and LaToya Ruby Frazier, recipient of a Guggenheim Fellowship and a MacArthur Fellowship ('04).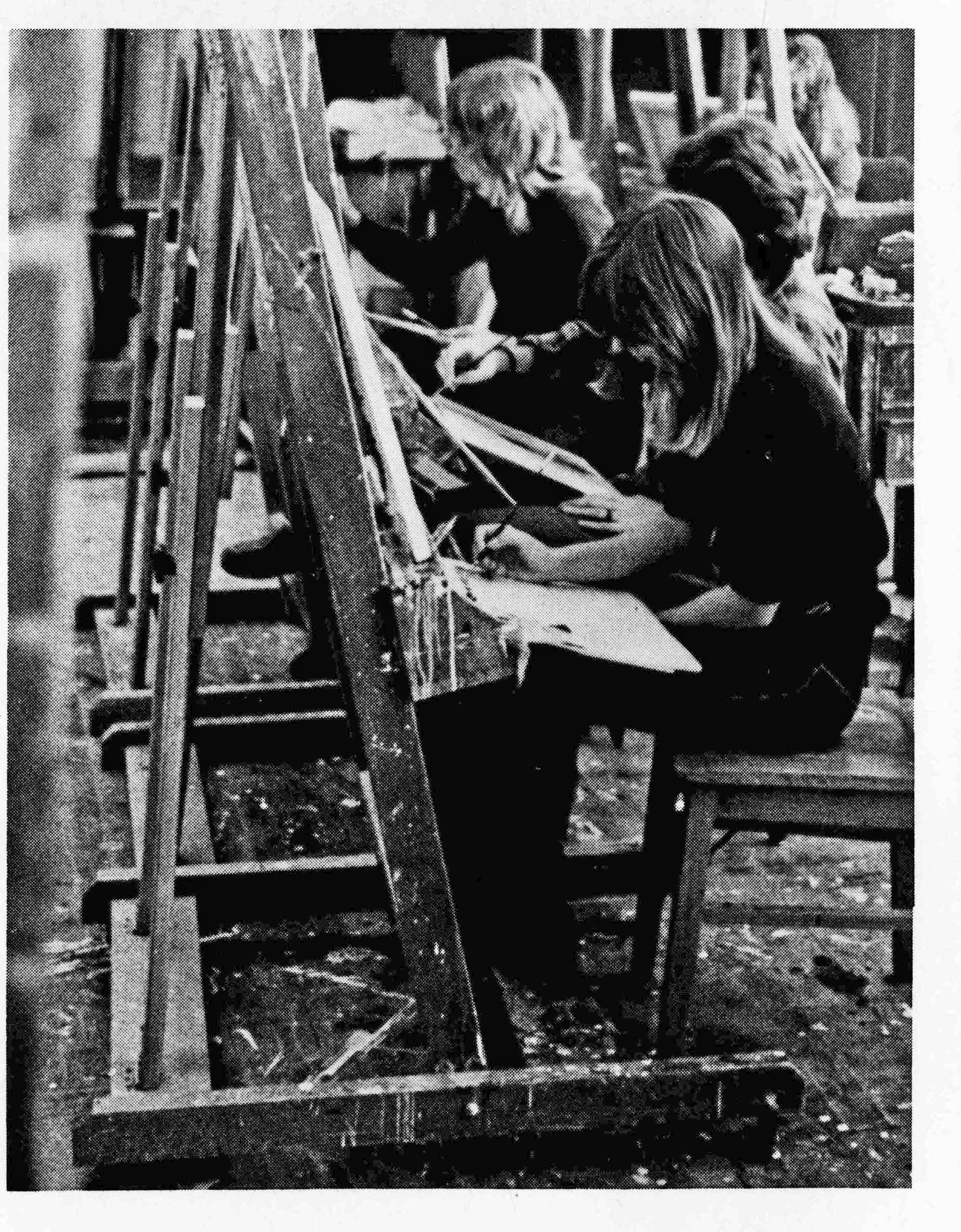 The fundamental threads
"It's been a strong department for a long, long time and it's still a strong department," noted art department chairperson James Parlin. "We have very good students, many of whom have gone on to great success in a broad variety of fields, some directly in their fields of study and others in art-related fields, and others in surprisingly unrelated fields — fields where their art education actually prepared them. An education in creative thinking and problem-solving has helped them in professions that they probably didn't necessarily expect to find themselves."
There are many things that make Edinboro's art department such a lasting success. Some of the common themes that MenajErie's documentary found were: faculty mentorship, open studio time, and interdisciplinary fundamentals.
One of the film's memorable examples of mentorship came from LaToya Ruby Frazier under photography professor Kathe Kowalski. "Her relationship started right away, with her being my mentor and teacher," Frazier noted in the documentary. "I never looked back or questioned it, I just knew that she was the voice and the teacher, and had the wisdom that I needed to make it through my education at Edinboro."
Christian Kuharik ('98), Penn State art coordinator and ceramics instructor, was quick to name Donna Nicholas as his mentor, the brassy first impression of her glazed on his memory forever. His immediate thought was "this is what I want to do, this is where I want to be, this is definitely the place for me," Kuharik recalled. "She's the one that kind of introduced me to ceramics."
The studio time offered to students is something that's essential too. Some buildings are open 24 hours a day, letting students do work as they need to. Sleepless nights have been spent waiting for inspiration to strike, trying out different ideas, and finding solutions to make their art their own. Great art can't be forced, but no great art comes without the artist pushing themselves to do more. Walking from the art buildings to the dorms, art students cart a three-foot-wide drawing portfolio past Mallory Lake and the open fields in the direction of Sox Harrison Stadium. No art student forgets that walk.
"We take people right from foundations to the completion of a professional degree," Parlin lays out. According to the school's latest academic catalog, when each student enters the art program, they start with the fundamentals. The classes everybody needs to take — for both fine art students and applied media arts students — are: Two-Dimensional Design, Three-Dimensional Design, Four-Dimensional Design, Color Theory, Drawing I, and Drawing II. This has been the way Edinboro has done things for decades (with Four-D and Color being added most recently). This means that if you're going for ceramics or filmmaking, you'll need to be able to draw. It challenges a student to see things in a different way. These foundational skills help you to understand spatial relations and overall aesthetics that permeate every medium, from composition to palette choice.
"We offer a lot of concentrations," Parlin explained. "We have specialists teaching in every concentration. You're not taught by generalists in this department," he said, speaking to the varied perspectives students will get over the course of their education.
History lessons
EU has been known by many names over the years. The school was founded in 1857, then known as Edinboro Academy (It began as a training school for teachers, and to this day still offers an excellent, nationally recognized education department). It changed to the Northwest State Normal School in 1861, then to Edinboro State Normal School in 1914, then to Edinboro State Teachers College in 1927, Edinboro State College in 1960, and finally to Edinboro University of Pennsylvania in 1983.
It was in the era of Edinboro State Normal School when professors like Bates and Doucette helped to launch the school's art department. In fact, Bates was so committed to the university that in 1924 he refused a position at the Metropolitan Museum of Art in New York City in order to continue his work at Edinboro. In addition to the naming of Bates Gallery, there's a relief portrait of him in Loveland Hall, with a large scarab beetle next to his nameplate.
Why a scarab? Well, if you were an Edinboro Student in the 1920s or '30s, you wouldn't have to ask. Bates founded the ScaRAb club, an Egyptian-themed student organization that lasted for decades. Virtually every student in the art department became a member, as a 1927 yearbook read, "Any person who is registered in the Art Course must, if he wishes to be in good standing with his fellow students, be a member of this club. Although it is not compulsory, it is generally recognized as an unwritten law, and the unpleasantness of some of the tests which the freshmen must observe is more than made up for by the feeling of good fellowship extended to them by the upperclassmen." The winking language of this co-ed, good-natured quasi-fraternity was amplified by the black berets and dark sweaters with bold scarabs emblazoned on them. "Once a bug, always a bug," read a 1941 yearbook photo.
One of the biggest success stories in its history has been Edinboro's Animation Department. Professor David Weinkauf started teaching in 1969, and by 1975 he had created the Cinema program. With a drive for innovation and technology, he helped add animation to the program in the late '70s.
Longtime ceramics professor Donna Nicholas helped Edinboro build long-lasting connections to the animation industry as well. Her father George Nicholas was a successful animator who worked with Disney, Hannah-Barbara, and Chuck Jones from the 1930s to the 1960s and beyond. He later donated his sizable private collection of drawings and other animation materials to EU. As part of September's Gallery Night, EU hosted a pop-up exhibition of these works in one of the early events of Edinboro ART 100. Drawings by Nicholas and Jones were joined by sketches from some of the biggest names in the history of animation, including members of Disney's "Nine Old Men" like Milt Kahl, Ward Kimball, and John Lounsbery (something any Animation I student possessing a copy of Richard William's The Animator's Survival Kit could tell you). A portion of the large collection was sold in the mid-2000s, which helped create the George H. Nicholas Memorial Scholarship — one of EU's 18 different scholarships available.
There's a healthy spirit of creative competition alive in Edinboro. The constructive critiques are essential, with honest feedback from students and professors alike. It seems to be the quintessential "art school" experience, with media depictions (like Season Three of Six Feet Under, or Daniel Clowes' Art School Confidential) ringing true to former students. For a public school, one with the largest and most renowned art programs in the Pennsylvania State System of Higher Education, it's also a much more affordable option when compared to other schools. Its yearly tuition is just over $10K, compared to places like the School of the Art Institute of Chicago or Rhode Island School of Design (both close to $48K), or places like Portland State University ($13-$20K), or Virginia Commonwealth University ($15-28K). By nearly all accounts, the art department at EU is competitive on a national level.
"I think that this department is going to go into the future as strong and vital as it's been for decades," Parlin reasoned. As it heads into its second century, it continues to thrive, helping class after class of new students hone and find their artistic voice.
Nick Warren has this to say: I graduated from Edinboro University with a degree in Applied Media Arts and a concentration in Film and Animation. After spending a few wayward years as a music major, I decided to switch to art. As a kid, I wanted to be an animator, and in middle school, to be a comics artist. I filled my high school electives with art credits. After the switch, it immediately felt like home. Finding "my tribe" of social outcasts was one of the defining moments of my life. I still have my portfolio bag, with pins of emo and hardcore bands from the early 2000s. I bounced around, contemplating majors like drawing, painting, and printmaking until I took my first animation class. I spent many an all-nighter in Loveland and Doucette, forgoing my 21st birthday to finish up a final drawing project for the late Steve Emmett. I had many classes with LaToya Ruby Frazier, and the late Michael V. Gmitter. After graduating, I started working at WJET-TV as their graphics artist. I had only taken one graphic design class, and failed it the first time. Because of the broad training I got at Edinboro, I was able to do anything asked of me. I spent the better part of a decade as a graphic designer in some respect, until finding myself at the Erie Reader, where I design most of the covers, among other things. 
Nick Warren can be reached at nick@eriereader.com. You can see some of his old college projects at his long-dormant DeviantArt page.
Full Schedule of Announced Edinboro ART 100 Events
Thursday, Sept. 26, 5:30-7:30 p.m.
ART 100 Documentary Film Premiere at the Bruce Gallery and Cole Auditorium, Edinboro University
Wednesday, Oct. 2 - 2310 
Year Anniversary Show, Past Winners of Celebrate the Artist: Michael V. Gmitter Memorial - Opening Reception Thursday, Oct. 10, 6 to 9 p.m. at the Bruce Gallery
Thursday, Oct. 11 - 12
Homecoming Celebration with ART 100 activities including retired art faculty show, student art club sales, art alumni reunions, art-themed parade and more.
Wednesday, Nov. 6, 5:30 p.m.
100 Years of Art at Edinboro (ART 100 documentary film and best of film and animation student work), hosted by the Film Society of Northwest Pennsylvania at the Bourbon Barrel Erie, PA
Sunday, Nov. 17 - Dec. 6
Chimera Exhibition at the Bruce Gallery
Saturday, Nov. 23
ART 100 Film Premiere, Los Angeles Premiere of ART 100 Documentary FilmLocation TBD
Thursday, Dec. 5
ART 100 Alumni and Friends Gatherings at Alumni owned businesses at the Erie Brewing Company (Rob Lowther, class of 1970)
Thursday, Dec. 5 - 11
15 Year Retrospective of Chimera, Opening reception, Friday, Dec. 6 at the Bruce Gallery 
Friday, Jan. 17 - Mar. 4
Danae Mattes Opening reception, Friday, Jan. 17 at the Bruce Gallery
Monday, Mar. 16 - 27
Gmitter 11, Opening reception, Friday, Mar. 20 at the Bruce Gallery 
Friday, Apr. 10 - 24
High School Art Show, Opening reception, Friday, Apr. 3 at the Bruce Gallery