13th annual Maple Taste and Tour is March 19 and 20
There are a whole bunch of bona fide maple sugar producers around the region, and now's the perfect time to plan on checking some of them out. It's old craft and sweet science in action.
March 15, 2016 at 11:08 AM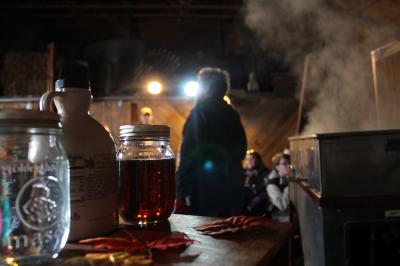 "Take some more," Jan Woods cheerfully ordered, pushing a baking pan chockful of homemade leaf-shaped maple candies back toward a group of parents (myself among them) after it'd already made its way around the room once.
"I didn't bring these here to take them home!"
You're pretty awesome, I thought, taking another little handful and offering Woods -- the maple sugar-making maven behind Hurry Hill Maple Farm in Edinboro -- a smile as my thank-you.
She'd just finished talking with a group of Boy Scouts (my 12-year-old among them), giving them the low-down on the just-wrapped-up maple sugaring season: That brief, sweet spell that falls smackdab between winter and spring here in northwestern Pennsylvania.
Earlier that day, she'd spent some time at the Edinboro library, reading maple-centric Curious George adventures to a group of preschoolers (my three-year-old among them), and teaching them, too, a bit about life on the maple farm.
"It's a lot of work," Woods told the kids (and that's true: It takes 40 gallons of maple tree sap to make just one gallon of maple syrup) but the time-tested craft -- and its reward -- are something special indeed.
Seriously, if you've never been to a maple sugar house, you should check one out sometime. Whether it's done by old-school or more-modern techniques, you'll see something kind of amazing -- something born of the trees, of the mud, of the cold of winter and the warmth of spring coming to life in sweet, sweet form.
And c'mon: The stuff is delicious.
Turns out, there are a whole bunch of bona fide maple sugar producers around the region. Thirteen different ones, small- and large-scale, make up the Northwestern Pennsylvania Maple Association. And, it turns out, now's the perfect time to plan on checking some of them out, as all 13 will be participating in the 13th annual Maple Taste and Tour, running from 10 a.m. to 4 p.m. both Saturday, March 19 and Sunday, March 20.
Head out to any of them, and you'll get to see a good little bit of the folk science/magic that's all around us this time of year. Who knows? You may even learn how to tap the sweet stuff that might be in your own backyard.
To learn more about the craft of maple sugar-making in northwestern Pennsylvania, and for a full list of the sugar houses participating in this year's Maple Taste and Tour, visit pamaple.org.
Ryan Smith can be reached at rsmith@eriereader.com, and you can follow him on Twitter @ryanmsmithplens.