2017 Year in Review
Remember Not to Forget 
December 20, 2017 at 11:30 AM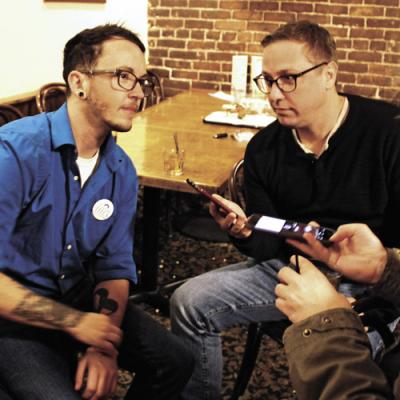 When 2016 met 2017 in America to say hello and goodbye, respectively, there was an awkward handshake. There are always expectations that what is to come will be better than what is passing and will help us make sense of what has passed already. But this time, it seemed different.
As withered fingers jutting out from 2016's battered knuckles outstretched to embrace 2017's puerile, callow hand, anyone witnessing the exchange might have heard the whisper: Be better than I was. But rather than let go and let the future happen, 2016 seemed unable to relax its grip and followed 2017, obdurate of any desire — or chance — to start anew.
Such shadowing from the ghosts of our recent past challenged our ability to recognize that hope and that potential future. After all, the year began with sharp images from the artist who illustrated "Hope" in 2008 now working to unite us with "We the People," as tens of thousands of marchers in the nation's capital carried various Shepard Fairey posters reading: "We the People Defend Dignity; We the People Defend Each Other; We the People are Greater Than Fear."
That came just days after the 45th President of the United States took office on a precipitation-debated January day. According to some reports, the gathering for that inauguration was the largest ever, period. Others examined it to be less than that. And thus, 2017 begot "alternative facts" at a time when "fake news" was sitting in soiled diapers still sucking its thumb.
So it's been easy to look at 2017's glass as half empty, despite so many thinking — or wishing or hoping — that it'd be better than 2016, that in no way could it be worse. 2017 had to grow up fast, yes, with history clinging to its heels, but it wasn't without its Polaroid moments.
Remember back in February when NASA discovered seven — count 'em, seven! — habitable planets (with warm, Earth-like conditions!) orbiting a single star just 39 light years away!?
Remember when during that same month Moonlight, not La La Land won Best Picture at the Oscars!? Remember when Professor Robert E. Kelly became known as the "BBC Dad" worldwide when his adorable children crashed his at-home interview and the World Wide Web was hardly able to contain itself?
How quaint and funny, but also how seemingly distant from us now.
And remember when six months after that NASA discovery, virtually the entire country headed outside to witness The Eclipse — a breathtaking experience for some, a blinding one for others (hey, we were told to wear glasses!), and an otherwise boring but good excuse to put down work for a half an hour for still others?
Admittedly, it may have been hard to remember that, given that in the same month, two hurricanes hit the U.S., wracking Texas and then Florida (a month before another hurricane would pummel Puerto Rico). That same month, too, Heather Heyer was killed by a motorist who turned his car into a battering ram during protests in Charlottesville over Confederate monuments.
But back to the pleasant Polaroid news: We'll get another solar eclipse in just seven years. And in even cooler news, Erie, Pennsylvania lies right along the prime real estate for the best viewing of the 2024 Solar Eclipse — which is something that should draw nationwide attention.
In Erie in 2017, though, nationwide attention wasn't much of a positive. In February, CBS News' Jamie Yuccas came to the area to film her report: "America: Manufacturing Hope."
Largely a hit-and-run piece with a Rust-Belt-Turned-Red-Belt narrative (likely manufactured miles and cities away) intent on showcasing why a certain group of Rust-Belt-blue-collar-red-blooded Americans would be willing to change their voting trends out of a perceived desperate hopelessness, Yuccas and her crew descended upon Erie to snag sound bites, like "Erie is definitely a sinking ship, and you'd be crazy not to get off a ship that's sinking" and to get a tour down Erie's 12th Street Corridor — which they were told was desolate, but had they only gone into any one of the buildings, they would've found that while larger industry in Erie may be shrinking, industry as a whole remains a vital and significant part of our economy.
A weeping young elected official about to graduate college and explore the workforce for the first time uttering "that's the first time a tear rolled down my face since Donald Trump won" when discussing his limited local job prospects and the possibility that he might be the first (in a line of four) to have to leave the area if he can't find work here makes for great TV. But it also forwards a narrative that Erie residents — and residents of similar economically stressed regions throughout the country — expect their town to be ready to hand them opportunity, lest they need to uproot for it to be handed out elsewhere.
Rather than tug on heartstrings, Yuccas and her colleagues could've read Brookings Institution Senior Fellow Mark Muro's "Erie's Rust Belt Activism," a report showcasing the vibrancy of advanced industries in our area, where Erie is above average in its representation to inform their reporting. Or she could've consulted the locally published "Erie's Advanced Industries" Jefferson Educational Society report, written by Erie Reader Contributing Editor Jim Wertz and Erie County Gaming Revenue Authority Executive Director Perry Wood.
But that didn't fit the narrative, and I digress.
Others might be digressing, too, as a rehashing of that down-and-almost-out narrative seems to be attracting additional attention.
But maybe the incoming waves of reporters will catch wind of the Dec. 15 announcement of $32 million in state money aimed at improving Erie's Bayfront Parkway, amongst other things, like façade improvements and housing repair. That latest contribution now takes the total Wolf Administration investment in Erie to $76 million — a significant sum of money in a place where "great work" is happening, according to Gov. Tom Wolf.
Or maybe other national outlets will head down State Street to check out the new 10,000 square-foot headquarters of the Erie Innovation District, which opened its doors in November with the announcement that Dell would be a partner in the venture. The project is supported by a $4 million grant provided by the Erie Community Foundation in partnership with the Susan Hirt Hagen Fund for Transformational Philanthropy and the Erie County Gaming Revenue Authority, and includes some of Erie's biggest players gathered around one table.
Or perhaps national reporters might head farther north on State Street and turn right to see the continued construction and development at Erie Insurance. And if they ventured in to speak with either the company's CEO or the Chairman of its Board, they'd find out about the $5 million investment Erie's only Fortune 500 company made toward transforming the city through redevelopment with the Erie Downtown Development Corporation. That $5 million has since spurred $2.5 million investments from each Gannon University, UPMC Hamot, ErieBank, and the Erie Community Foundation, totaling $15 million. Unconfirmed support has the total investment to date closer to $30 million. But regardless, big players are playing together, in the same sandbox, and no one seems worried about who's building the biggest part of the castle.
And maybe they'll take a stroll along John Vanco Way, the newly named strip of street running in front of the Erie Art Museum's entrance honoring the 50 years' worth work and dedication of its recently retired director who stepped down this year. There, they'll see the beautiful blending of a state-of-the-art facility with historic buildings that serves as a reminder of the burgeoning local art scene Erie's blessed to have.
Or maybe others will observe homegrown, collaborative responses, like the "Our Erie" short film that has garnered more than 250,000 Facebook views and has been shown at two national conferences, that attempts to capture a more balanced and more accurate depiction of Erie. If they did, they could head to the Renaissance Centre, where they'd find MenajErie Studio, which along with John C. Lyons, a local filmmaker and head of Lyons Den Productions, and Howie Glover of Three Gloves, shot most of that video.
In the same building, they'd find myriad other startups, a co-working space, and even Erie's only independent locally owned newspaper.
Or instead of playing out the post-industrial existential crisis and stressed middle class workers, they could follow up on the 24/7 Wall St. report that lists Erie as "the worst city for Black Americans" in an attempt to find what's led to such disparity in our region. Or they could examine how a city facing a budget crisis consolidated its high schools from four to two, then displayed even greater resilience after a fire broke out in one of the two remaining locations. Perhaps they'd be inspired to watch ServErie volunteers collectively roll up their sleeves and dedicate the time and sweat to ensure students would have safe and secure places to study and learn.
Or instead of bickering at the national reaction to NFL players sitting or kneeling, they could tell the tale of a young man from Erie who, in the midst of a successful college football career at the University of Pittsburgh, stood tall in battle against Hodgkin's lymphoma, defeating it to go on to be drafted by the Pittsburgh Steelers and earn a spot on the depth chart and have the No. 1 sales for jerseys. They could talk about how regardless of color, creed, or politics, Erie dons its James Conner jerseys with the same fervor and pride.
And as the national spotlight continues to shine more brightly on the opioid epidemic, maybe it might shine on Erie, a region not immune from the crisis but that is actively and creatively working to address it. Between benefit concerts, information sessions, and research being done by young civic-minded leaders at a local think tank, few stones are being left unturned.
Erie County Executive Kathy Dahlkemper has collaborated nationally on "A Prescription for Action: Local Leadership in Ending the Opioid Crisis," a joint report from National Association of Counties (NACo) and the National League of Cities (NLC) that "examines how cities and counties can strengthen collaboration with each other and state, federal, private-sector and nonprofit partners to tackle the opioid crisis." In November, Dahlkemper, a Democrat, went on to become just the second County Executive in Erie's history to hold multiple terms, just narrowly defeating a Trumpian Republican challenger. Previously, only Judy Lynch, a Democrat, had held more than one term as County Executive.
And it'd be hard to ignore the fact that Erie made history in November's election. Tyler Titus, whose campaign and vision were wholly deserving of attention without regard to his gender, won a spot on Erie's School Board. In doing so, he became Pennsylvania's first transgender person elected to office.
And those are two races that received far less local ink than 2017's big show: Erie's mayoral race. With Erie's outgoing mayor having reached his term limit, the city was guaranteed new leadership for 2018. Nine candidates duked it out in the primary election, leading to a showdown between Democrat Joe Schember and Republican John Persinger. And for the first time in a long time, Erie — a city with a 3-to-1 Democratic voter registration edge — nearly elected a Republican. Perhaps it was because both candidates brought ideas, energy, and enthusiasm to the race. Maybe it was because unlike the national political arena, debates, exchanges, and statements remained respectful.
Whatever the case, Erie elected its next mayor, Democrat Joe Schember, of whom much will be expected and will be expected quickly. Because despite the successes 2017 bred and the opportunities 2018 brings, Erie is not without its challenges.
An eroding tax base with a continually dwindling population is a reality. A comprehensive plan is still sitting in City Hall with a $600 million price tag (although investments like the EDDC and the state-driven improvement projects illustrate both progress and commitment).
And of course, stalwarts of Erie yesteryear like GE continue to shed jobs, affecting the entire region.
If 2017 has been Erie's on-the-verge, we're-turning-a-corner battle cry, 2018 cannot be a mere echo. Rather, our boulder we push upwards must crest the hill and we must step fully from any corners and walk our path.
And while we walk we should take note. Because if 2016's parting American words were "be better," 2017's might be "remember not to forget me," which seems to be an increasingly arduous task as we walk the earth in the ever-breaking-news ouroboros that keeps us from digesting one story at a time while continuing to stuff us with more and more and more that is, at times, often hard to swallow.
Will we remember 2017 as the year of #MeToo? Or as the year we began revising "The New Colossus?" Maybe the year when again we experienced the worst mass shooting (again and again and…) to date and did nothing? Or perhaps the year we concluded with the decision that the Internet should suddenly no longer be neutral?
It should be all of it. Because to walk by and ignore it leads to constantly being on the verge of a something and consistently being about to round some corner somewhere we can never quite peer around.
And rarely will we be pushed to the verge or shoved around the corner by life itself — or, perhaps more apropos, by the place in which we live. The minute we ask what our region, our city, or our home is going to do for us, that's the minute we've failed to remember our history. It's inherently American — even before John Fitzgerald Kennedy said it — to do, not to wait to have done. Erie has had a history of doers that it must remember but must also aspire to be greater than.
Doers are presently shaping the future. And if we walk a little farther north along Erie's downtown path, we'd find one last example of that in Ember+Forge.
There, an engineer-turned-entrepreneur left an industry bigger in the Erie yesteryear for a smaller, but I'd bet more personally meaningful, one of Erie today. And while Hannah Kirby likely knows all too well the stories of failed coffee shops past in Erie, and is familiar, too, with those quick to tell of that, it hasn't deterred her from trying, because I'd wager she'd rather bet her Erie tomorrow on herself rather than on life nudging her around some corner.
The clichéd Wayne Gretzky quote goes something like: "You miss a hundred percent of the shots you don't take." While no one can criticize someone for trying something — however small or large — to change their own conditions or the conditions of those around them, we can surely carp about those opting to take the opposite (passive) approach.
Something tells me Kirby and her new venture will be worrying less about whether Erie's the right climate to start a business and more about how to grow that business by offering good products that, if appreciated, will in turn create local jobs as demand continues to increase. That's something we can toast to as we ring in 2018: A New Year, and a New Us that's older, wiser, and willing to embrace a future instead of letting the passing present hold us back as we break beyond the verge and finally turn that corner.
Ben Speggen can be contacted at bSpeggen@ErieReader.com, and you can follow him on Twitter @BenSpeggen.