2018's 8 Great Tuesdays
All the other Tuesdays only wish they were this good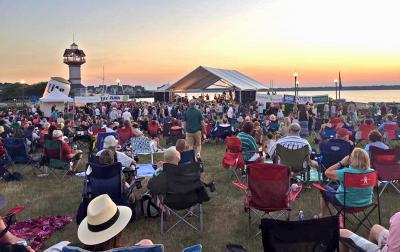 Starts Tuesday, July 3
Maybe you're one of those people that seizes the moment; lives each day as if it's your last. If that's the case, then you probably cherish each day of the week equally, and that's just swell. Chances are, though, that your past 44 Tuesdays have been more tepid than unattended tapenade at a PTA picnic party. Well thanks to Port Erie and ERIEBANK, that's about to change.
Back for a 19th season, 8 Great Tuesdays will again be cooking up live music from a variety of genres at the Highmark Amphitheater at Liberty Park. Bring a lawn chair, bring a cooler (but not to smuggle in alcohol, as that is forbidden), and by Jove, bring some enthusiasm! Because another 44-week stretch of two-star (out of a possible five) Tuesdays will be upon us before we know it. The slate of free concerts commences on July 3, and will continue for every Tuesday thereafter through August 21, at which point we regret to inform you any greatness in your Tuesdays will need to come from within.
The first of the eight significantly-above-average Tuesdays comes courtesy of the Pittsburgh-area doo-wop group The Skyliners. Originally a quintet comprised of Jimmy Beaumont (lead), Janet Vogel (soprano), Wally Lester (tenor), Jackie Taylor (bass voice and guitarist), and Joe Verscharen (baritone), The Skyliners are responsible for one of the more enduring hits of early R&B, "Since I Don't Have You." Released in 1958, the yearning ballad features an anguished and beautiful lead vocal from Beaumont, backed with all the signature flourishes of the era — tinkly piano, mellifluous strings and orchestration, and rich vocal harmonies. The group had a sprinkling of minor hits until they originally disbanded in 1963, but none repeated the success of "Since I Don't Have You," which has been covered numerous times, most notably by Don McLean (of "American Pie" fame), country musician Ronnie Milsap, and (most curiously) Guns N' Roses.
The current iteration of the collective includes Donna Groom, Nick Pociask, Frank Czuri, and Mark Groom. Beaumont had continued to front the group until his passing last fall. Local songstress Lindsay Vendetti will open the night at 6:30 p.m.
The remainder of the 8 Great Tuesdays schedule is as follows:
July 10 — Headliner: Jake's Blues; Opener: Norman Nardini
July 17 — Headliner: Separate Ways (Journey tribute); Opener: Malpractice
July 24 — Headliner: Blessid Union of Souls (alternative rock); Opener: Smilo & The Ghost
July 31 — Headliner: Samantha Fish (contemporary blues); Opener: The Jeff Fetterman Band
Aug. 7 — Headliner: Pure Prairie League (American country rock); Opener: Refuge
Aug. 14 — Headliner: Wesley Bright & The Honeytones (soul); Opener: The Breeze Band
Aug. 21 — Headliner: Femme Zeppelin (female-fronted Led Zeppelin tribute); Opener: RiffRiders
8 Great Tuesdays: transcending mediocrity since 2000™. — Matt Swanseger
6:30 p.m. // 726 W. Bayfront Parkway // Free // Under 18 must be accompanied by parent or guardian // porterie.org