20th Century Pains of Erie Parking Need 21st Century Treatment
Parkers pay the price of outdated technology one quarter at a time.  
November 11, 2015 at 11:15 AM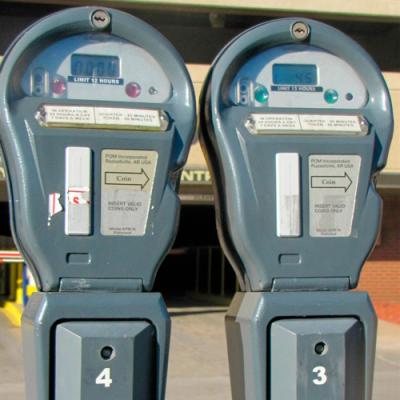 Erie has a lot of parking problems.
But let's be clear: The inability to find a parking space differs heavily from the unwillingness to park a few blocks away and walk to our point of destination. And in Erie, we're flush with parking options. 
Although Erie citizens may be quick to demand more parking – or even tolerate proposals of additions atop of what we already have – we really don't need it. 
A recent study – as reported on by CityLab's Eric Jaffe – found that on average "parking was universally oversupplied, in many cases quite significantly." That average, according to Rachel Weinberger and Joshua Karlin-Resnick of Nelson/Nygaard Consulting Associates, amounts to 65 percent. That is, typically more than a parking spot and a half exists in most metros for most Americans.
This reveals the parking-obsessed nation we've become. Rather than opt for public transportation, walk, bike, or carpool, we still prefer to drive, often alone and often in search of a parking spot situated within one block of our endpoint. 
It seems our perception is lots and spots everywhere, and nary a place to park. Or as Jaffe puts it, "we're all home run hitters who've forgotten what it's like to knock a single – or, as a closer metaphor, to draw a walk."
Take, for instance, a trip from The Brewerie at Union Station to Lavery Brewing Company. Ample parking exists at both locations, and although they're just two blocks from each other, the preferred option seems to be to drive the distance. 
Or let's say the next stop is the U Pick 6 Tap House on the corner of Fourth and State streets. Driving from The Brewerie to Tap House takes all of five minutes (from parking spot to parking spot, and yes, nearby lots and street parking both abound). Walking, on the other hand, takes seventeen minutes – and the total distance is less than a mile. 
Cases for why walking a mile in a city is better than driving aside (that's another column for another day), Erie has other, more pressing parking problems, and those problems are street-level.
If you want to park in one of the 1,400 spaces along Erie streets – and not get a ticket – you must possess a small chunk of metal. Which poses a larger problem than you may think for younger generations who often opt to carry plastic over a copper-nickel alloy – or anyone who's been to other cities and noticed you can pay at a kiosk. Or better yet, anyone who's recently been to a city like Pittsburgh that now allows parkers to pay by using an app.
On Thursday, Oct. 29, Pittsburgh Mayor Bill Peduto and the Pittsburgh Parking Authority unveiled "Go Mobile PGH" – a mobile application facilitated by Parkmobile, LLC. In its agreement to operate the platform, Parkmobile nets 8 cents per initial parking instance without charging additionally when a meter is re-upped through the app. 
Yes: Re-upped from the phone. 
Those in Erie who've run the quarter quarter-mile dash to refill a meter only to find their windshield adorned in yellow and orange tickets know the pain of defeat, as one minute means the difference between 25 cents and $10. Much more conveniently, "Go Mobile PGH" alerts users when their time is expiring and offers the opportunity to buy more time — without having to scramble to however far away their meter may be.
Forget for a moment the kiosk debit or credit card option, and say you fear not enough people would use — or have the technology to use — a mobile app. The Pew Research Center recently reported that the pockets of 68 percent of Americans contain a smart phone. And that number is rising.
Meanwhile, Erie isn't app-averse. More than a twinge of irony pings in this conversation, as Visit Erie recently plastered stickers on the 1950s-style parking meters encouraging parkers to download the "Hello, Erie" app, which provides info on restaurants and entertainment, more or less. 
Despite the ocean of parking spots everywhere, there really isn't one in which to park – unless you have a quarter. Or a token.
To his credit, City Councilman Bob Merski has been vocal on the street parking payment issue, working with Erie Parking Authority. But as it stands, we remain just hopeful that we may get a test case in the near future.  
So despite the ocean of parking spots everywhere, there really isn't one in which to park – unless you have a quarter. Or a token.
Erie Parking Authority's only alternative to quarters for paid street parking is tokens, which do come at a dollar discount when you get $10-worth for $9. But those can only be obtained at the Authority's main office, located at 25 E. 10th Street, housed in a concrete fortress surrounded by parking meters only taking quarters and tokens.
Ben Speggen can be contacted at bSpeggen@ErieReader.com, and you can follow him on Twitter @Ben Speggen.