40 Under 40 Catch-ups an Antidote to Stagnation
We talk to former honorees Hannah Kirby, Greg Coleman, and Adam J. Williams, Esq.
April 12, 2021 at 12:00 PM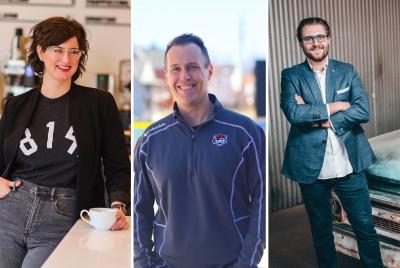 Industry, innovation, and entrepreneurship, you say? When have these three concepts ever been more challenging to maintain than in the last year? 
Yet despite the many blows locally to small businesses and organizations, the people of Erie have powered forward, adapting and evolving in the midst of unprecedented crisis. 
We at the Reader are not surprised in the least by the gargantuan efforts of three of our former 40 Under 40 recipients. 
We caught up with Hannah Kirby (class of 2014), owner of Ember+Forge coffee shop, Greg Coleman (class of 2014), president of the Erie SeaWolves, and Adam J. Williams, Esq. (class of 2013), founder of Rust Belt Business Law.
(Responses have been edited for length and clarity.)
Cara Suppa (CS): You three were part of the class of 2013 or 2014 — seven or eight years ago! Catch us up — what's new for you professionally? What have you been up to since those faraway days?
Hannah Kirby (HK): Ha! Sometimes it feels like a lifetime ago! It wasn't too long after that issue that I started thinking about a change. I wanted to be more connected with our community and started to think about what that could look like. A few years of ruminating led me to think about opening a coffee shop downtown. After a year of planning and another few months of buildout, I launched Ember+Forge. What better way to connect with the community than over a cup of coffee!
Greg Coleman (GC): My role hasn't changed, but a lot has changed around me. In 2015, the SeaWolves went through an ownership change. Over the past few years, we've worked closely with Erie Events to make major upgrades to UPMC Park. Most recently, Major League Baseball restructured the minor leagues, and we had a prolonged fight to keep our affiliation with the Tigers. Each of those changes was a hard-earned victory.
Adam Williams (AW): Holy shit, that was a lifetime ago.
We've better defined our mission: We help small businesses pursue opportunities, create jobs, and improve our economy.
We have been growing like crazy. At the end of 2020, we were ranked the #68 fastest-growing law firm in the country. We were fortunate to have my wife, Jackie, join us as our firm administrator. The year she joined (2019), our firm doubled in size — hiring twice as many employees and helping twice as many clients. During that time, we also launched the Big Cheese food truck. A huge portion of our business comes from prior clients and their referrals. This tells me we are doing a great job for them. The pandemic really created an opportunity for us to grow stronger relationships with our clients and help them in bigger ways.
CS: So let's tackle the big spiky fuzzball in the room — COVID-19. It has presented challenges I don't think any of us could have imagined in our lifetimes, and it has disrupted nearly every aspect of life and work here in Erie. We're a year in now; how have you adapted? 
HK: It's been a weird year for sure. When COVID first reared its head, our team reacted pretty quickly and moved to takeout only before it was mandated. At one point, we shut down even takeout and opted for delivery only, which was incredibly challenging as we were down to a skeleton crew (then assistant manager Heather Rapp and myself). But being flexible allowed us to move through the toughest weeks and bring back our full crew. 
GC: Minor League Baseball (MiLB) was hit hard. We had to sustain for more than 19 months without substantial income. Once we were allowed, we safely brought people back to the ballpark for movies and amateur baseball. We've also had to examine each area of the business to see how and where resources can be applied to add safety and efficiency.
AW: We made the transition to virtual work almost immediately. This meant we could focus on what we do best: helping small businesses. We've been national leaders in the Payroll Protection Program (PPP) which offers forgivable loans to small businesses.
I give a lot of credit to our team. When the pandemic hit, I gave them the option of coming along on this journey or collecting unemployment. Every single one of them committed to our firm and our clients, even though they knew it would be a challenge.
CS: What were the toughest adaptations to make and why?
HK: I think the hardest part of all this has been balancing doing what is right for the business with what is right for our staff and community. We could have reopened for inside seating, but with cases on the rise at the time, it put both our employees and neighbors at an unnecessary risk. So, we've opted to do service through our walk-up window (an idea that had been in the works for months before COVID!) since last March. I know it's not always the most comfortable option in the rain and snow, but our customers have stuck with us!
GC: It has been incredibly difficult to prepare for the upcoming season. It was exciting when the state allowed for greater event attendance, yet even those positive changes add complications. We'll have distanced seating in the stadium. We'll have limitations on how many players can be in the locker room or on the bus together. The things you typically take for granted all need to be reconsidered and then reevaluated each time health conditions evolve. 
AW: I find Zoom calls exhausting. For some reason, they take more work than an in-person conversation. I find it really draining.
Another huge adaptation was with our marketing — I really built my practice by networking and doing live presentations. With the untimely demise of the happy hour, and other in-person events, we quickly made the transition to webinars and other types of marketing.
CS: Are there any changes which, despite being brought about in the worst possible way this past year, you would keep (and why)? 
HK: We'll definitely be keeping the walk-up window for the long haul! Once we're over the hump, it will likely look a little different, but in the meantime, the windowsill will be sticking around even after we reopen.
Being limited in our service this year also allowed me to do something I had hoped to do in the near future — get a job! Managing E+F full-time was never a part of the long-term plan. So, in November I took a position at Erie Insurance on their Next Level Innovation team and turned over the reigns of the shop to our new manager, Heather Rapp. 
GC: We'll be deploying more technology this year than ever before. It will play an increased role in ticketing, food service, and the in-game entertainment. All of these changes won't enjoy the same success, but I expect some will change the game-day experience permanently.
AW: Remote work has been great for me, and our team.
This is also allowing us to expand geographically without having to open physical offices. We will be set up at a co-working space in Pittsburgh by the end of the month so we can help clients there.
CS: How have you kept your team/staff — and yourself — motivated and moving forward through this tough year?
HK: Oh, man. I have the best team. Even in the toughest moments, they have really been the bright spot. Oh, and lots of memes. 
GC: Over the past few months we've moved our offices, opened a new team store, and secured the long-term future of pro baseball in Erie. Soon, we'll be opening a new, year-round meeting and event space at UPMC Park. The restructuring of Minor League Baseball and public health conditions delayed our schedule by nearly 10 months. Now, it's like cramming for a test, except new questions are being added daily.
AW: I make sure they know our vision: help small businesses. And it's easy to focus on that because small businesses have never needed so much help.
That's not to say the year hasn't been without struggles. Change is difficult for everyone, but we've built a team that adapts to change and can be a source of confidence and clarity for our clients.
Personally, I'm surrounding myself [with those] who see more opportunities than threats and look to grow, instead of finding excuses. It's critically important to surround yourself with people who have a growth mindset. Sometimes we need to look outside of Erie for that, but we bring all of the positivity back with us.
CS: Finally, it looks like there's light at the end of this dark tunnel — what does a "return to normal" look like for you? And what are you personally most looking forward to when "normal life" resumes? 
HK: We're hopeful that we'll be able to reopen our indoor seating at Ember+Forge soon. Getting our daily trivia from Donny feels like the best way to return to normal. 
Personally, I'm looking forward to the day when I can visit my friends on 12th Street and sit at the bar for a beer.
GC: I am looking forward to the first pitch on Opening Night on May 11. We won't be at "normal" yet, but it will be a big step. After navigating COVID-19, construction, and the threat of minor league contraction, just opening the 2021 season will be a remarkable accomplishment. We'll enjoy it for a few minutes and then get right back to delivering smiles and memories. We can't wait to have the fans back at UPMC Park soon.
AW: There's nothing "normal" about what we do. Successful entrepreneurs get comfortable being uncomfortable. They look for the change, and risk, and uncertainty, and they jump in with both feet. And we are here for it. In fact, I'd love to see more of it in Erie. We need more of it in Erie.
For more information go to emberandforge.com, milb.com/erie, or rustbeltlegal.com. 
Cara Suppa can be reached at csuppa@eriereader.com