A Bastion of History
Bastion Studios welcomes new age of artists in restored mansion
February 26, 2020 at 11:30 AM
We all know that house. The one you pass every day that occasionally catches your eye. The one with all the old grandeur and character, that you can imagine at one time was the jewel of the neighborhood. The one that has been neglected, whose beauty has faded, but you know has the potential to be something great again. Bill Kern noticed one such house every day on his way to work. The 7,600-square-foot Second Empire mansion on 21st and Peach, built in 1876, had been "always pointed out as one of the first, fine old homes in the city" (John Elmer Reed, History of Erie County, Pennsylvania, 1925) but was compromised, renovated, and poorly converted to offices in the 1970s. Then, over time, it was unoccupied, overgrown, and eventually for sale.
After touring it multiple times as the price kept dropping, and after a lot of discussion and brainstorming, Kern came up with the idea to transform the building known as the Daniel Illig house at 2016 Peach St. back into what it was meant to be. And while restoring it, he also aspired to create a business: an artist collective, a shared studio space and a one-of-a-kind art gallery. The inspiration born out of the vision he had for the old mansion he passed every day was soon becoming Bastion Studios. Kern was ready to take on the project and help the Daniel Illig house become a unique place that our community can, once again, call a treasure.
"The first day I got the keys, I came with a ladder so I could pop into a panel in the drop ceiling right away and hope for the best." And the best was exactly what he found. Grand, 12-foot-high ceilings, with ornate plaster medallions in the center of nearly every room on the first floor and decorative plaster moulding in the parlor. And after some time ripping away all the fake wood paneling and drop ceilings, taking boards off of windows, and pulling up carpet, he found even more original gold. Intact hardwood floors, fireplaces, curving plaster walls with thick wood moulding. A chandelier in the dining room with a gas line still running through it. Original butler's pantry cabinets. An original side door that was hidden, covered with drywall, paneling, then additional pieces of paneling covered in wallpaper and glue. Bit by bit, the house was beginning to turn back into what Daniel Illig had envisioned for his family way back in 1876.
Illig was born in Germany in 1835 and came to Erie in 1857. He married Mary Schultz, who came from a family of very early, pioneering settlers of Erie and together they had 14 children over the course of 22 years. Daniel established a very successful tailoring and clothing business and kept his shop at 1106 State St., in a building that used to stand where today's National Fuel offices are. It was on the success of his business that he was able to build the grand family homestead at 2016 Peach St. in 1876. Among his 14 children, one of the most influential in terms of Erie history was his son, William. William worked for a number of businesses in Erie, including tailoring and clothing, like his father. He was the youngest person at the time to be elected to the City Council, the Board of Education, and the Board of Health. It is William Illig's son, William Jr., who went on to form the historic and prolific local law firm: MacDonald, Illig, Jones and Britton in the 1940s.
Erie Style, published in 1982, notes the Daniel Illig house as being the best example in the city of Second Empire style architecture. "Decorative iron cresting, pedimented dormer windows, and elaborate bracketing drew attention upward; and the additional height provided by the mansard roof also offered additional living space." They also note that: "Sadly, the ground floor of this fine Second Empire building has been almost irreparably altered into a concrete block storefront. The once-elegant interior is seriously dilapidated."
That is until Kern, his wife Emily Bond, and hired specialists got to work attempting to bring the house back to life. After purchasing the house in October of 2016, they spent the next three years working on restoring the original elements that remained in the house, while replicating and replacing what had been removed. Kern is a woodworker and this skill is quite useful in restoration as he is recreating nearly all the trim work around the doors and windows that was ripped out to install drywall and paneling during the 1970s renovation. And since he is already rebuilding most of the doorways, he is taking the opportunity to make the space more accessible. While the couple has already done a mountain of restoration work, there is and always will be a long list of things to complete. The bathrooms and kitchen spaces of the first floor, as well as a bricked-up side room that used to be an exterior porch are still on the long list of projects.
Much of their energy and work over the past 3 years has been focused on the upper floors: converting them from a second floor of offices and a totally destroyed third floor into usable artist studio space. Immediately upon coming up the stairs to the second floor, you see Kern's own art displayed and ready to inspire. Hand-carved, one-of-a-kind, electric guitars are hung right outside a complete recording studio, which is in the first room at the front of the house. There is also a studio dedicated specifically to recording podcasts, comfortable and modern, but still with the old radiator and massive original windows looking out over the city to remind you of the age and grandeur of where you are.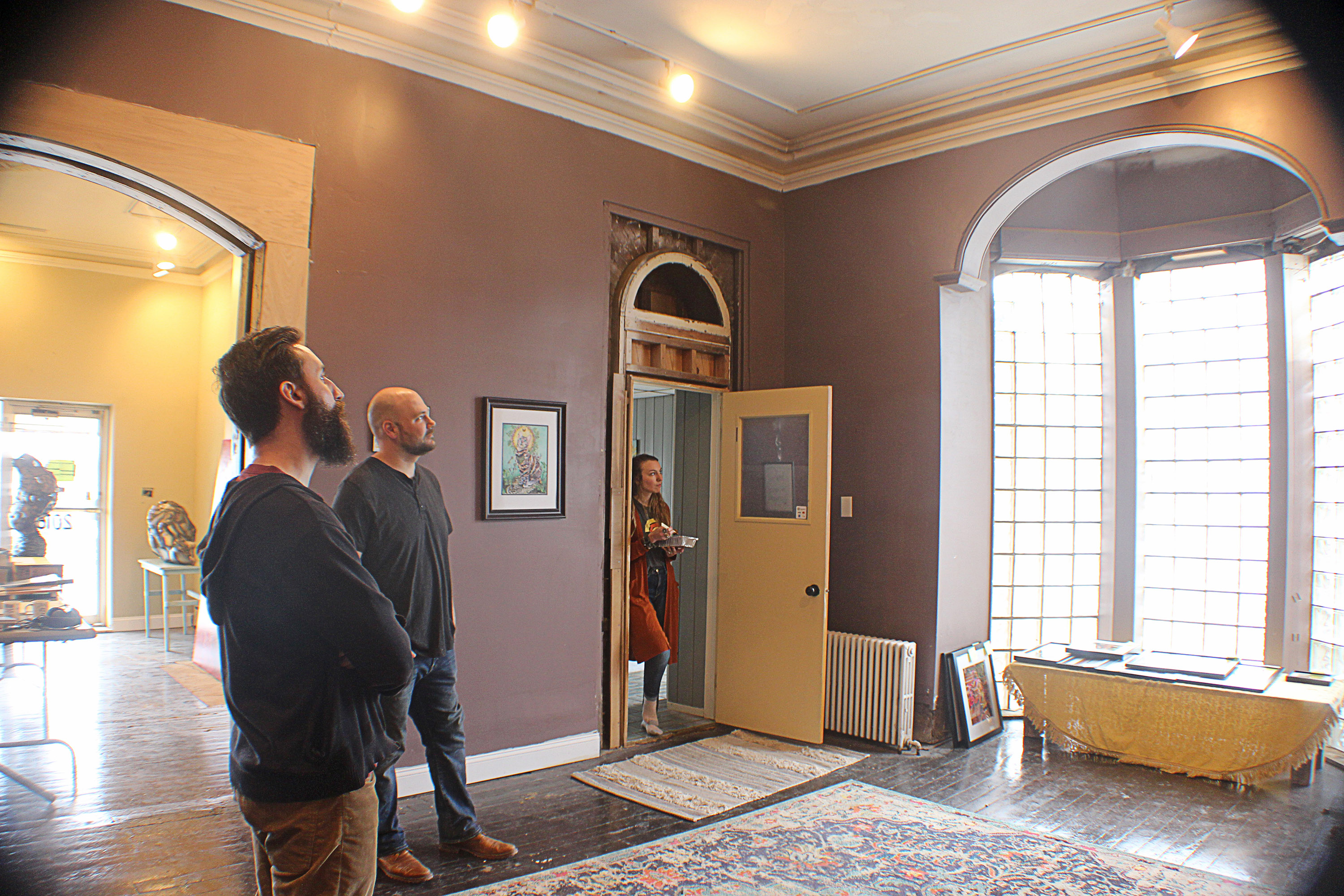 Grant Sauer (left), Bill Kern, and Emily Bond admire the beautifully restored interior of Bastion Studios. Kern, a master woodworker, and Bond have toiled for three years replicating and replacing the unique features of the 19th century mansion that houses their business.
The third floor was most likely once servant's quarters, as evidenced by a closed off, dilapidated second staircase likely leading down to the kitchen. The first bright, spacious room is stocked full of easels in anticipation of the group drawing classes Kern hopes to hold there. In the rear of the house on the third floor is a room full of old doors bolted to casters. Kern found the doors while sifting through the debris on the third floor. Likely removed when converted to commercial space, he has repurposed them with the intention of artists using them to create a "leave me alone" space. While he hopes the spirit of the studio is a communal one, sometimes one just needs to finish something or have some quiet time to work something out. The doors can be moved around to create a modular cubicle for privacy. The third floor also has a lounge and resource library for discussion and education.
"Our target member is someone just leaving art school, who is used to having a communal workroom and may not have the means to purchase all the equipment necessary to produce their art yet." With varying tiers of membership, all include access to the building and use of all the tools one could possibly need to create their art. They have equipment for woodworking, blacksmithing, drawing, painting, stained glass, ceramics, mixed media, and music/voice recording. Members also have the opportunity to display and sell their work on the first floor, which is open to the public and offers vast open wall space, open floor space, and built in shelving for ceramics or other three-dimensional art.
While taking on an old house in need of so much work may seem an impossible task to most, Kern seems relaxed and excited about the opportunity and the future of the business. His wife, Emily, keeps her office and business in the building as well, and their sweet pup, Frank, is always there to greet visitors. You get a feeling of warm welcome like one would get from entering a family's well loved, comfortable home. It seems to me that Illig, a maker and entrepreneur himself, would be very pleased to know that the beautiful home he built for his family is being given the love and respect it deserves and is being used as a place for artists to come together and be inspired by the spaces he built to be creative, and share their work with the community.
Bastion Studios is located at 2016 Peach St. and open Thursday-Monday from 12-8 pm. Contact them at (814) 823-3408 or eriebastion.com
Erin Phillips runs the Instagram @olderieonfoot, an in-depth look at local architecture "by foot, stroller, papoose, bike, and occasionally minivan."