A Conversation with Brian Regan
The much-loved comedian will make his sixth Erie appearance just in time.  
October 28, 2015 at 2:15 PM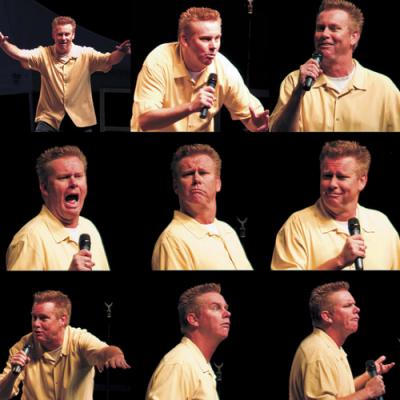 Veteran stand-up comedian Brian Regan returns to the Warner Theatre on Thursday, Nov. 5 after a one-and-a-half year absence … and the timing couldn't be more perfect. 
"If you come back in a year instead of a year-and-a-half, it's like 'Wasn't he just here?'" Regan explains. "If you wait two years, it's like 'I don't know who this guy is. It's gone from my consciousness.'"
According to the notes he brings to our interview, this will be his sixth appearance in Erie. "I have an assistant who writes these things out so I look smart."
Regan is remarkably humble and gracious for such an accomplished man. After 35 years in the business, he's one of the most respected in his field, with the likes of Jerry Seinfeld, Patton Oswalt, and David Letterman singing his praises. Last year, he performed in front of his largest audiences ever (selling out the 12,500-seat EnergySolutions Arena in Salt Lake City on consecutive nights), appeared in his first motion picture (Top 5 with Chris Rock), and made a record 26th appearance on The Late Show with David Letterman. Altogether, he puts on about 100 shows a year, averaging 1,500 attendees at each. Obviously, he's smarter than he lets on – because he's been doing something right for a long time.
The smartest thing he has done over the years is trust his instincts. Regan's childhood home just outside of Miami was the incubator for not one, but two, comedians (older brother Dennis). He grew up surrounded by funny people – both his parents and all seven of his siblings possess "tremendous senses of humor." Regan knew early on that he liked making people laugh, particularly his father. 
"It was joy making my dad laugh. He's a very funny guy. To put together some crafty little thing and say it [in such a way that] he would … double over laughing was one of the most pleasurable experiences I ever had."  
However, he didn't even consider comedy as a profession until his days at Heidelberg College in Tiffin, Ohio. "I had no notion of being a standup comedian; I just wanted to get away from my comfort zone … I started to figure out what worked for me as a human being, and I enjoyed making people laugh. I think maybe being in a different environment helped me get on this path. One way I'm able to make friends is by being funny … I remember one guy – a fellow student – just laughing like crazy and saying 'Man, you are so bizarre.' That made me feel so good [laughs]. Maybe somebody else would take that as an insult, but I took it as a compliment." 
While the physical component of Regan's standup is certainly bizarre – he has enough warped facial expressions to rival all the gargoyles in Gotham City put together – the subject matter is often no more bizarre than reality itself. Like all worthwhile observational comics, Regan is adept at identifying the strangeness in familiarity, at sifting through the mundane for humanity's essential truths. He is especially keen on the superfluous (why do we need detailed instructions on how to toast a Pop Tart? What use is a refrigerator salesmen when all refrigerators serve the same basic purpose?), the pretentious (the one-upmanship of dinner party conversation, first class fliers sneering at the unwashed masses in coach), and the imbalanced (Flipper the dolphin was exclusively good, so he should have a counterpart that is exclusively evil).
Regan's greatest asset as a comedian, however, is his honesty. He is hilariously self-aware, even within the course of our interview. During a pause in the interrogation, he announces Joe Biden has dropped out of the running for the Democratic bid for President. I ask him who that leaves:
Brian Regan: Well, it's [Hillary] Clinton in the lead then [Bernie] Sanders is barking at her heels. I don't if that's sexist to say that "her heels." Her shoes?
Matt Swanseger: Her "gender-neutral footwear."
BR: [laughs] You've got Hillary Clinton and then you've got Bernie Sanders barking at this broad's high-heeled pumps — no, that's going in the wrong direction. That's even more sexist!
MS:  — as she's strutting down Fifth Avenue with her poodles and miniskirt. 
BR: How are we gonna have a woman president when all they want to do is shop all day!?
MS: She's gonna shop us straight to China. This country is going to hell in a handbag.
BR: [laughs] What's gonna happen when she chips a nail?
MS: Who steps in as Vice President?
While nothing from the above exchange is likely to make it into one of his routines (noted for their accessibility and inoffensiveness), it demonstrates his ability to momentarily displace himself from subjective experience and survey the bigger picture. Both the convenience and the danger of clichés (e.g.,"barking at her heels") is in their thoughtlessness – but whereas most people see only the convenience (within the context of their conversation), Regan sees the potential danger (within the contexts of gender equality/political correctness) and is honest enough to call himself out for it. He's as fundamentally flawed as any of us; he doesn't always say or do the right thing in a given scenario. The difference is he doesn't fear discussing those (our) flaws on stage in front of thousands of people, regardless of demographics. 
"[Whether] I play in New York City or Erie, it's still a group of people who know about McDonald's and Starbucks and airplane seats and kind of laugh at the same things."
The things you'll be laughing at on November 5th may be different from what you've seen before – in fact, up to 75 percent of the stuff he's doing now wasn't in his latest Comedy Central special, Live From Radio City Music Hall, broadcast Sept. 26. Rest assured, though, that if you hear it, Regan has laughed at it first. That's all that matters.  
"I don't think my job is to get on stage and figure out what audiences are looking for. My job is to get on stage and show audiences what I'm interested in … I always say to myself, 'Don't try to make the audience laugh, try to make me laugh.' That's what my goal is, to be true to myself … I'm trying to come up with things that I think are funny, not that the guy out there with the silly hat is gonna think is funny."
I ask if he gets a lot of people with silly hats at his shows. 
"That's my favorite kind of audience. Silly hat audiences … When I'm backstage, that's one of the first things I'll ask my tour manager. 'How many silly hats are out there?' He says 'quite a bit,' I start to feel good about myself. He says 'not that many,' it's a little hurtful."
So make sure you visit your favorite avant-garde haberdasher before the show, Erie. We mustn't disappoint. 
Matt Swanseger can be reached at mswanseger@eriereader.com. You can follow him on Twitter @SwazzySwagga or read his blog at squanderoza.com.