A Date With The Best of Erie
A distillation of reader-sourced romance
February 11, 2022 at 10:00 AM
We've got to give you credit. You've really been giving this dating thing your best. Your best pickup lines, dad jokes, and celebrity impressions. Your best ever commitment to physical and mental fitness, to personal grooming and hygiene. Your best pair of socks and underwear, so intact and hole-less not even a government nanobot could slip through. We respect the glow-ups. 
But have you been giving it your Best of Erie? Whether you're single, taken, or beautifully and ambiguously in-between, our annual readers' poll is juicier than The Juice Jar (voted Best Place for Vegan or Vegetarian Food) when it comes to romantic inspiration. No matter what it is, it would seem that, collectively, we know a place. 
Was your last relationship a wreck that not even Bonnell's Collision Center (Best Auto Repair Shop) could fix? It's time to look beyond the damage and see yourself for the Best Locally Made Product you are (no shade on Smith's Hot Dogs).  Have you and your better half been an item so long you could find it at Claudine's Consignment (Best Antique Shop)?  Perhaps it's time to make like J.J. Agnello Heating & Cooling (Best HVAC) and get some airflow. 
Worse comes to worse, you could always head to the ANNA Shelter (Best Place to Adopt a Pet) if your heart is led astray. Now that we're feeling at home, let's scratch some surfaces. 
Disclaimer: The date ideas that follow are based exclusively on the 2021 Best of Erie Awards' top vote-getters — if a particular favorite is not mentioned, it's because it was not a category winner or runner-up, not necessarily because it's not worthy. 
Best of Erie Advice for Romantic Outings
For the Hungry and/or Thirsty
Drinks and/or dinner — the most classic of date nights. It may not be the best in terms of originality, but in terms of scheduling, it's often one of the easiest to metabolize. And let us not neglect its oft-underappreciated antimeridian counterpart, the coffee (try Tipsy Bean, Ember + Forge, or Brew Ha Ha at the Colony) and/or breakfast date (Flip Cafe, Gem City Dinor, or Panos' Restaurant all offer plenty of excuses to disappear off the griddle).
First, we'll broach the beverages. For a quaff to remember, you'd be well-advised to drop into the Erie Brewing Company, Voodoo Brewing Company, or Lavery Brewing Company — through the years, they've proven good companies to keep. For more potent potations, a Prohibition-style cocktail in the swanky confines of Room 33 speakeasy may suit your fancy — otherwise, a concoction from any of Best of Erie award-winning distilleries (Altered State Distillery, Luminary Distilling at Fuhrman's Cider Eatery, or Erie Distillery) could generate a buzz about your future together.
But what to eat? Well, if you're hungry for pure hot, sizzling, unadulterated romance, you're in luck — we had an entire category dedicated to just that. With breathtaking views of the Gem City's ultimate thirst trap (Presque Isle Bay and Lake Erie) Oliver's Rooftop was hard to top in the Best Romantic Restaurant category (the immediate runner-up and Erie's Best New Restaurant, Pier 6 Rooftop Bar & Grill came close in both this and the Best Waterfront Dining categories), although The Cork 1794 and Pineapple Eddie Southern Bistro (again named Erie's Best Restaurant overall) are not without their attractive qualities.
If you're not craving romance specifically, the cupboard is definitely not bare either. Whatever cuisine you're in the mood for, there's a Best Of category winner out there to seduce you. So if you're comfortable with your special someone seeing your bare face and hands helplessly slathered in wing sauce (e.g., at Odis 12, One Way Inn, or Park Tavern), go for it. True love is all about vulnerability.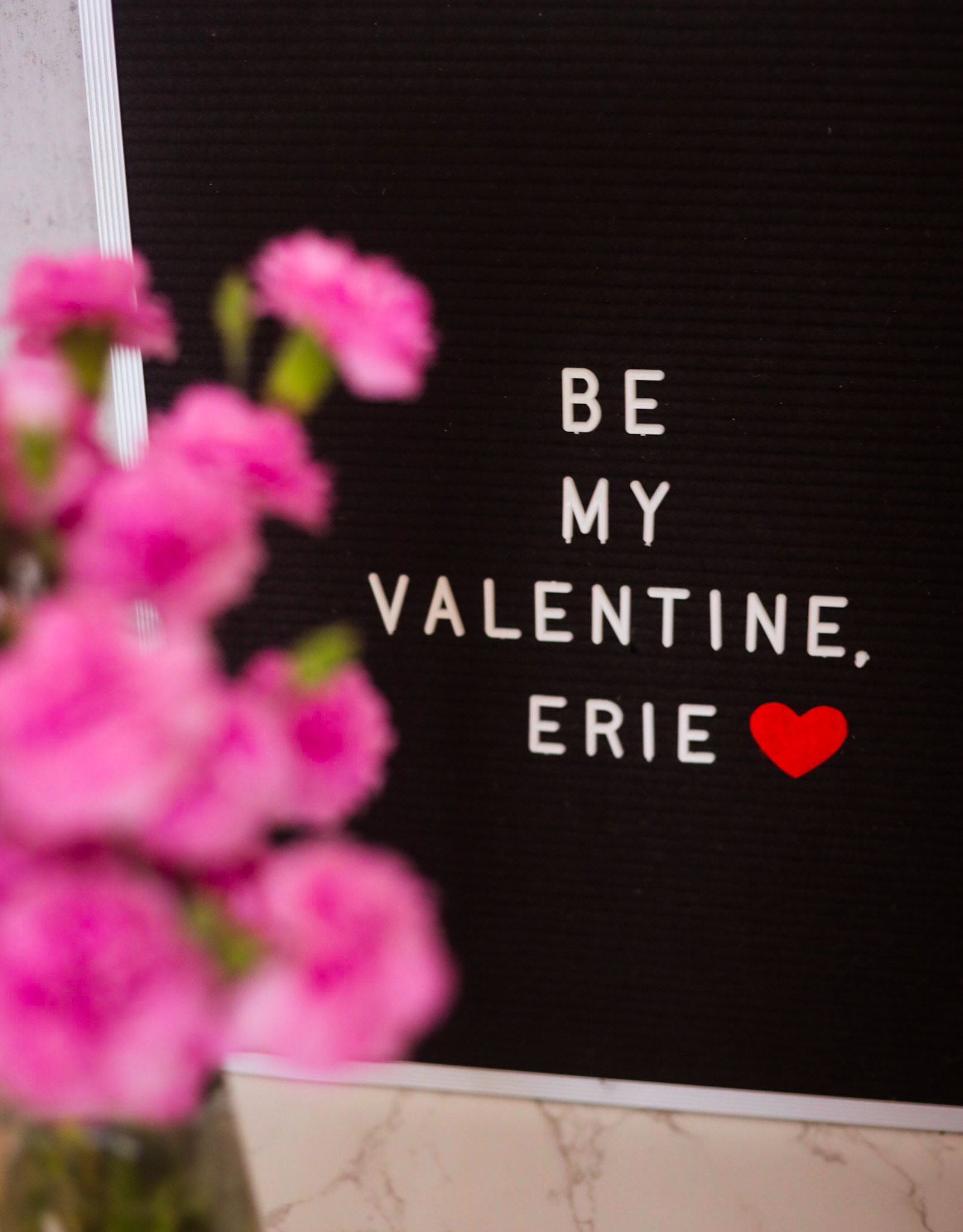 Photo by Jessica Hunter
For the Artsy and Cultured
Mutual mastication is so gauche. Why not feed your brain instead? With an eye-catching rotation of exhibits from premier regional, national, and international artists spread across three floors, The Erie Art Museum is a feast for the eyes and the cerebrum. They also host a number of unique events throughout the year, including the popular Gallery Nights, when you and your art noubeau have a unique opportunity to explore many of the dozens of other gallery spaces (such as Best Of Erie winner Glass Growers Gallery) around town all during a single three-hour time slot. 
Perhaps the subject — not object (they're not just a piece of Urbaniak Bros. Quality Meats from Erie's Best Neighborhood Grocer) — of your affections is partial to the theatrical arts. Well, we're happy to report that Erie has a certain flair for the dramatic. The Erie Playhouse has staged many memorable evenings over the past century plus and is consistently voted Erie's Best Community Theater. That's not to say there isn't plenty of talent elsewhere in our hometown theater scene — PACA (i.e. Performing Artists Collective Alliance) productions repeatedly push the envelope, and its historic building holds potential for other unique date nights (e.g., Erie ClaySpace pottery classes, PACA Movement Center dance lessons or yoga).
For the Outdoorsy and Adventurous
What do you say we get out of here? [winky face] If you're like a lot of people, you may have difficulty sitting still. Loosening up the body often helps loosen up the mind and spirit, and that's one reason why Presque Isle State Park is perennially voted the Best Place for a First Date. This is not to mention its gorgeous scenery and scintillating sunsets, which is why PI is also usually a shoe-in for the overall Best Park category (although Wintergreen Gorge, Frontier Park, and Asbury Woods are also great if you want to — or have been told to — take a hike).
The recreational and romantic possibilities of Presque Isle are robust year-round, even in the so-called "dead of winter." Have you ever walked hand-in-hand over the frozen bay or peered out over the ice dunes during a midwinter's twilight? If not, you probably like being warm (but you're nevertheless missing out). Doubtlessly, though, spring will return and you and your boo will again be able to snoop exotic wildlife at the Erie Zoo — perhaps inspiring your own arboreal feats at Peek'n Peak Outdoor Adventures (until then, it also functions quite capably as a ski resort). 
Best of Erie Advice for Romantic 'Innings'
By romantic "innings," we're not talking about pretending you're on kiss cam for the duration of an Erie SeaWolves game at UPMC Park, although the Best Team to Root For runner-up certainly deserves your adoration (as do the category-winning Erie Otters — their games make for a great first date during hockey season, too). 
It's just that dressing nicely and going out and doing all the things can sometimes prove exhausting. We understand that "relax" can be a dangerous word when levied toward a significant other, depending on the context. But there is absolutely nothing wrong with a lazy evening at home. Perhaps you might pick up a bottle of wine from Arundel Cellars & Brewing (or Best Winery runners-up Mazza Vineyards or Heritage Wine Cellars) along with some incense and candles and see if you might generate a little electricity that way.
But if candles don't reilluminate your passion, here are a few things that might serve as a Church & Murdock Electric-caliber emergency backup generator to your flailing love life:
A couple's massage at Coventina Day Spa, Panache Salon and Spa, or Ambridge Rose Spa & Salon. 
A romantic staycation at the Victoria Inn Bed & Breakfast, Grape Arbor Bed and Breakfast, or Spencer House Bed & Breakfast.
Flowers delivered from Potratz Floral Shop & Greenhouses, Allburn Florist, or Gerlach's Garden & Floral (scale to your level of feels and/or guilt).
Try as we might, though, things always don't work out. And that's often when we as individuals get the motivation to start. Our voters like Planet Fitness, the YMCA of Greater Erie, and Iron Oxygen in particular for their #RevengeBod needs. But we're truly hoping you don't end up calling MacDonald, Illig, Jones & Britton LLP or Agresti Real Estate Agency, although our readers consider them the best at what they do!


Best of Erie Advice for Romantic Giving
As we've touched upon, flowers are a sweet gesture on many occasions — so are chocolate-covered strawberries from Romolo Chocolates (winner of the Best Chocolate and Best Dessert categories), cupcakes from Icing on the Lake (a Best Dessert and Best Bakery runner-up), cookies from Ye Olde Sweet Shoppe (the other runner-up in those two categories), or perhaps even a pie for your sweetie pie from Art's Bakery (you lattice know they're the upper crust of Erie bakeries every year).
It's a little cliche, but if you're thinking of popping the big question on Valentine's Day — will you get tacos with me? — El Amigo is your best friend. But then again, maybe so is she (or he). In that case, pay a visit to Dahlkemper's Jewelry Connection or Breakiron Jewelers and put a ring on it. With any luck, you'll be planning a date at one of the area's best wedding venues — Peek'n Peak Resort, Port Farms, or Whispering Trees Manor — in no time.  
Matt Swanseger (mswanseger@eriereader.com) claims no liability for the outcomes of any of the date ideas above.