A Fourth Version of What Mike McQueary Saw Surfaces
A whole lotta PSU scandal rests on what Mike McQueary saw back in 2002, and how he explained it.
December 13, 2011 at 12:19 PM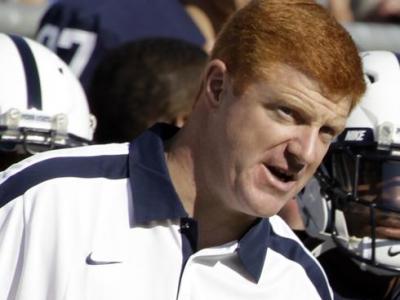 I missed it this weekend, but the Patriot-News unearthed another version of Mike McQueary's story about what he saw in the shower back in 2002:
...Dr. Jonathan Dranov, a family friend and colleague of McQueary's father, sat with the then 28-year-old graduate assistant and listened to his very first account of what he had seen, a source told The Patriot-News.

According to the source with knowledge of Dranov's testimony before the grand jury, it went like this:McQueary heard "sex sounds" and the shower running, and a young boy stuck his head around the corner of the shower stall, peering at McQueary as an adult arm reached around his waist and pulled him back out of view.

Seconds later, Sandusky left the shower in a towel.
As Deadspin's Emma Carmichael notes, that's the fourth version of the incident that's come to light.
McQueary's testimony impacts the case against former administrators Tim Curley and Gary Schultz, who are being prosecuted for not going to the authorities with McQueary's accusations. Dranov's alleged description of how McQueary related the incident to him doesn't jibe with what McQueary told prosecutors - it's far less damning, and does not relate the witnessing of a sexual assault.
That said, while it could damage the state's case against the administrators, it's not likely to affect the case against Sandusky much, given the number of victims that have stepped forward to testify against Sandusky.
But now the scandal -- with its firing of Joe Paterno -- looks to be revolving around Mike McQueary. I can definitely envision a scenario where charges against Curley and Schultz are dropped to protect the integrity of the case against Sandusky. I can also envision a scenario where Penn State faithful revise the scandal to clear their coach and school from any wrongdoing, and push to go back to business as usual.
Still, no matter how varied McQueary's witness testimony is, we're still stuck with the fact that Jerry Sandusky showered with children alone in Penn State locker rooms, and Joe Paterno and the school administration apparently had little problem with it....