Shining on Night Lights Music Festival
A quick Q-and-A with one of the festival's chief founders, organizers, and musicians: Scott Molloy
August 24, 2016 at 5:44 AM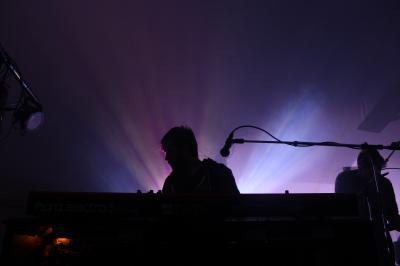 With the 2016 Night Lights Music Festival's turn-on just one short day away, I figured it'd be some good fun, as part of our continuing coverage, to take a few minutes out of the busy schedules of some of the very-awesome festival's organizers and performers for a little Q-and-A action.
First, I caught up with Scott Molloy, who, as a founder, organizer, and musician in Lazlo Hollyfeld, has been with Night Lights from the start.
Here's what he had to say on a short collection of topics:
Ryan Smith: First, thanks again for taking the time. Start off by telling me a little bit about what you're all doing with yourselves around those Heron grounds as Night Lights gets turned on in just a few short days.
Scott Molloy: Prep. Lots. Building stuff, building more stuff, hanging stuff, hanging more stuff, then building more stuff. And having a fire. It's pretty much been that way for years now. Did I mention building and hanging stuff?

RS: The last time we talked, I mentioned it seems like you all have some really damn good taste in music. And I meant it. Now, gimme five bands you love  -- who aren't on this year's Night Lights lineup.
SM: Broken Social Scene. Radiohead. Tragically Hip. Bonobo. Arcade Fire.
RS:  Besides all the tasty grooves, what are the things you're most excited for at this year's festival?
SM: For me, [that's] always easy: Getting to play a set in the woods, surrounded by family. It's the moment each year I remember what I love about all of it. Music, friends, life. All of it.

RS: To wrap it up here, offer up some words on what it's all about to first-time Night Lights-goers. And anything you'd like to add for those making a return trip?
SM: It's a community. If you are a first-timer, welcome! But as part of that community, the most important things are care for your fellow temporary neighbors; respect for a place that has years of meaning to so, so many; and to be safe and happy. We are all there to escape for the weekend and enjoy life. Don't be the one to ruin it. That's just not okay.

RS: Thanks again, man -- see you this weekend!
This year's Night Lights Music Festival starts Thursday, Aug. 25 and runs through Saturday, Aug. 27 at the beautiful Great Blue Heron festival grounds, 2361 Wait Corners Road, Panama, NY.
For tickets, directions, lineups, schedules, and more info, visit nightlightsfest.com.
Ryan Smith can be reached at rsmith@eriereader.com, and you can follow him on Twitter @ryanmsmithplens.