A Look at Airbnb in Erie
City needs ordinance for short-term rentals
December 4, 2019 at 10:30 AM
They've traveled to Erie for weddings and funerals.
They've celebrated LECOM students at "White Coat" welcoming ceremonies and cheered a son playing hockey for Mercyhurst University.
They've eaten at Colao's and kayaked at Presque Isle.
They've run in the neighborhood, biked at the beach, and entertained the kids at Waldameer Park & Waterworld.
And for the Thanksgiving, Christmas, and Fourth of July holidays, they've stayed at a place that is close enough to family to feel like home, while providing a bit of breathing room.
Those are just some of the reasons why guests have booked an Airbnb operated by three sisters — Kathleen "Pixie" Whipple, Lucinda Maurer, and Susan Morse — on Upland Drive in Erie's Glenwood neighborhood.
Sisters, left to right, Kathleen Whipple, Susan Morse, and Lucinda Maurer add lots of special touches, including this Erie throw pillow, to the Airbnb they operate in Glenwood.
"Imagine going to Grandma's house, warm, inviting, but with modern conveniences," wrote one of the 133 guests who have posted reviews on Airbnb.com for the "quaint home on tree-lined street" that the three sisters have operated since July 2016. 
I met the women at the Nov. 20 Erie City Council meeting, when they urged council to draft an ordinance to allow Airbnb to legally operate in the city of Erie.
On Aug. 13, the Erie Zoning Hearing Board determined that the Glenwood Airbnb could not operate because the house is in a neighborhood zoned R-1 residential. 
The Zoning Board based its vote on a decision by Erie County Judge Stephanie Domitrovich, who sent the zoning dispute back to the board after it initially voted in favor of the Airbnb operators in November 2017. The Glenwood Association challenged the 2017 Zoning Board vote in court.
Domitrovich based her opinion on a Pennsylvania Supreme Court ruling that allowed a township in Monroe County to ban short-term rentals in residential areas. Domitrovich asked the Zoning Board to reexamine its 2017 vote because Erie does not cover short-term rentals, by Airbnb or other businesses, in its zoning ordinances.
The sisters continue to operate their Airbnb while the most recent decision is appealed.
I don't know exactly how to write an ordinance that would keep Airbnb operators in business and address the concerns of Erie residents who worry about property values and disruptions in their neighborhoods.
But the way that Whipple, Maurer, and Morse approached City Council offers some valuable lessons about how we can start to solve such sticky questions. The women did their homework. They were civil and engaging. They offered concrete ideas for compromise.
They also welcomed questions, as I learned when I called Moore the day after the council meeting. She invited me to her house that same morning.
I was drawn to their story for a couple of reasons.
First, I've been following the case of Erie's Airbnb controversy since before I took office. I figured it was an issue where City Council should be proactive, but it's been a challenge to sort through various legal developments, not just in Erie but elsewhere in Pennsylvania, including Lancaster and Bethlehem. 
 In making their presentation to Erie City Council, Whipple, Maurer, and Morse acknowledged that the issue of whether to legalize short-term rentals is more complicated than either simply approving or banning Airbnb.
It's also more than a legal issue. As the oldest of six, including three sisters, I've experienced the power of sisterhood — of taking a stand for what we consider to be right.
And I know the emotional pull of the family homestead. My family moved into our house on Lincoln Avenue 63 years ago, during a raging snowstorm just two weeks after the Thanksgiving blizzard of '56. I was five years old.
My mom died in 2001, but Dad lived on Lincoln Avenue until he died in 2005, although he spent his final days in a nursing home. 
For two years after my father's death, we held onto the house, paying the taxes and utilities and hiring someone to mow and to shovel. When my out-of-town siblings would come to Erie, we had a place for everyone, just up the street from my own house, where my spare rooms were filled with visiting grandchildren and their Erie cousins.
I floated the idea of trying to rent the house out during summers, but there was no practical way to do that. Without income, we couldn't swing the finances to keep the house.
In February 2007, we sold the Allen home we fondly called "929," just a few months before two guys in San Francisco pumped up some air mattresses and rented out space in their townhouse to help pay their rent.
According to a Sept. 20, 2019, story in Business Insider magazine, in 2009 the San Francisco entrepreneurs changed the name of their business from airbedandbreakfast.com to Airbnb, offered beds instead of just air mattresses, and attracted investors. Now they have a $31 billion business that is set to go public in 2020.
Susan Morse, 63, a financial consultant, owns the Glenwood home that serves as an Airbnb. She and her husband, Don, who live in Florida most of the year, are snowbirds. They flock to Erie because they enjoy the summer here and they want to spend time with their family.
Morse, Whipple, and Maurer have an older sister, now 83, whose story is at the heart of why they went into the Airbnb business.
With Morse in Florida, the oldest sister lived in the Glenwood home year-round, until the house, including the stairs in the two-story Cape Cod, became too much for her to handle.
Morse proposed a way to keep her Erie house, so she and her husband could stay there when they came home to Erie and so that it'd also be available when they host family gatherings — sometimes with as many as 50 relatives.
Morse asked Whipple and Maurer, who are both retired and live in Erie, to run her house as an Airbnb.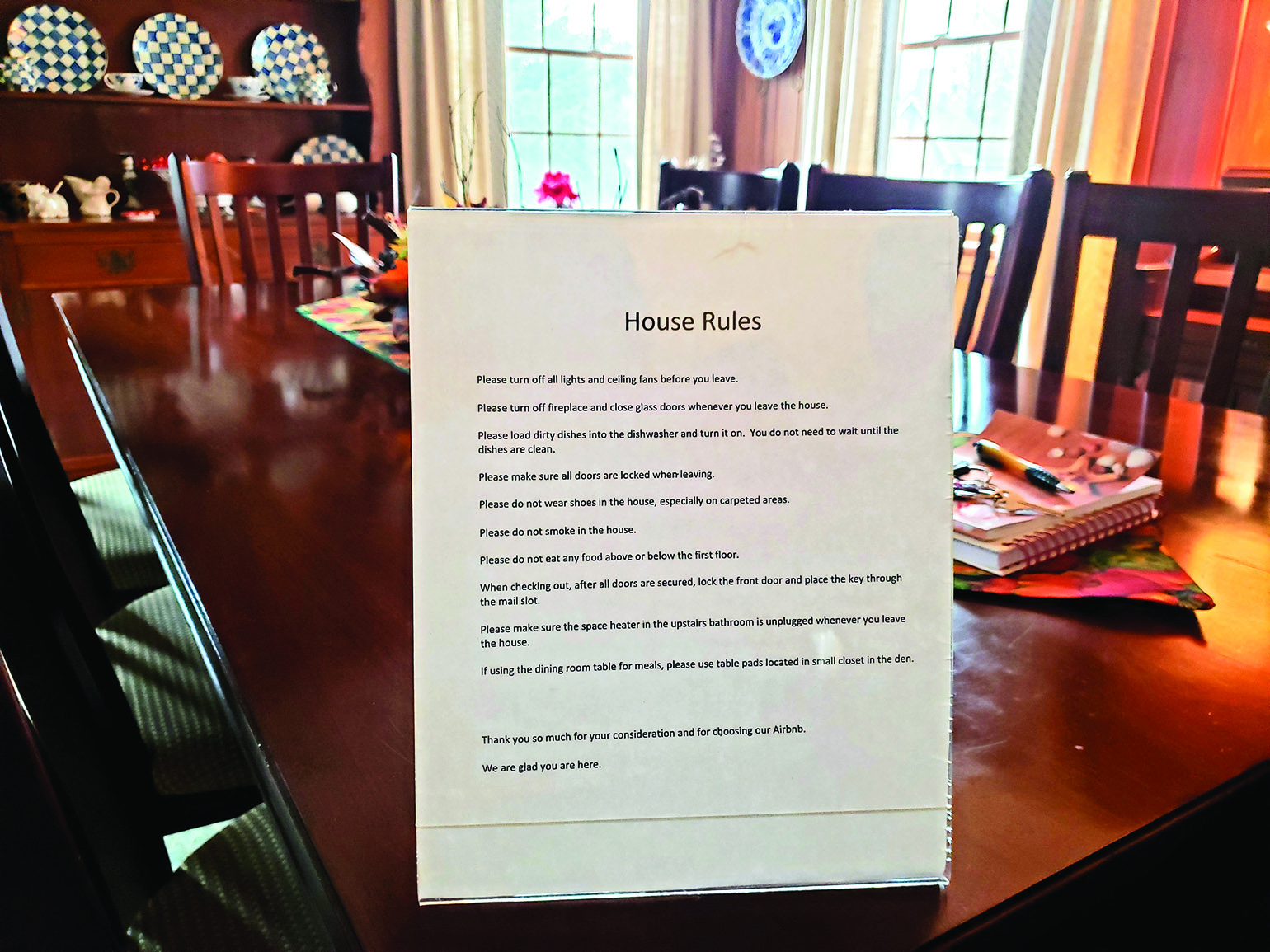 A sign stating the house rules sits on the dining room table at the Airbnb operated by three sisters in Glenwood.
At first, Whipple thought the idea was "crazy," but she and Maurer quickly got the hang of things. In fact, the first day the house was listed, they got eight bookings.
Soon, they found themselves serving as cheerleaders for Erie whenever they meet their guests. They stock Smith hot dogs in the freezer for cookouts and sponge candy for snacks. They keep menus for local restaurants on hand and provide information about Erie attractions. 
They've hosted the family of the priest from their church, as well as a Tibetan monk and his family. They've provided an empathetic ear when guests face trying times, like the man who came from Chicago so his wife could undergo surgery here.
Morse has even donated a stay at the house as a gift for charitable auctions in Florida. The winners "have absolutely raved about Erie," she said.
They are also keenly aware that as Erie touts start-up businesses and supports entrepreneurs, it's important to be in step with "the shared economy."
When Morse stayed at an Airbnb in Cartegena, Colombia, she learned how the shared economy fosters other businesses, including artists and those who offer small tours. "It's transforming communities," she said.
To help Erie officials figure out what to do next, they gave us a report, "A Guide to Smart Airbnb Regulation for Local Governments," created by a software group called Viewpoint Cloud.
The guide recommends doing research, framing the issue, engaging residents, defining objectives, figuring out how the ordinance will be enforced and then tracking how it is working to see whether it needs to be modified.
The three women pointed out that by setting registration fees and assessing fines for those who violate the rules, the City of Erie can gain revenue from Airbnbs and other legal, short-term rentals.
I can also picture other benefits — for example, older homeowners being able to stay put, because they are generating some extra income by sharing their homes with interesting visitors who will learn to love Erie as much as we do.
Liz Allen would Airbnb a spare room if she didn't have so many crates stacked up with folders from Erie City Council and freelance writing projects. You can reach her at lizallenerie@gmail.com.