A New Cycle
Lake Erie Cyclefest upbeat about prospects in second year
August 1, 2018 at 10:45 AM
Thursday, Aug. 2 - 5
Endurance sports — running, swimming, and cycling — are less about raw speed and power than they are about establishing a rhythm and maintaining a steady tempo. Last year, the Lake Erie Cyclefest was not totally in sync with the needs of the cycling community. This time around, its organizers are confident that they will be clicking to the same metronome.
The inaugural Cyclefest, although a success (with over 600 entrants), skipped gears in a few key areas — timing (with two other nearby rides falling on the same weekend), safety (portions of some routes were a bit heavy on the traffic), and the inability to fraternize post-race (no scheduled gatherings or hubs for participants). This year's planning committee has used that feedback to pop the proverbial chain into place and hopefully shift the Cyclefest from late summer curiosity to late summer centerpiece.
"This is only our second year; we're in toddlerhood now," says Tammy Roche, Cyclefest spokesperson and VP of Financial Development, Membership, and Marketing at the YMCA of Greater Erie.
But the young learn quickly. The training wheels will come off a week earlier in 2018 as the Lake Erie Cyclefest sets its pace to the beat of a very experienced drummer — the Erie Blues & Jazz Fest. Not only will this steer around the scheduling conflicts of last year, but it will also roll together like-minded audiences, according to Roche. "Our rides all take place in the early morning and are done by mid-afternoon." Just in time to face the music, and in a green setting that the generally environmentally-conscious cycling community should prove fond of.
Additionally, bike routes have been tweaked to avoid or greatly minimize exposure to busy roads and each ride will be either capped off with a picnic or coincide with a community event already in progress. Cyclists and Erie County residents will all be spokes on the same wheel as this first-ever Rhythm and Ride Weekend pedals toward becoming an annual tradition — or if you will, part of the cycle.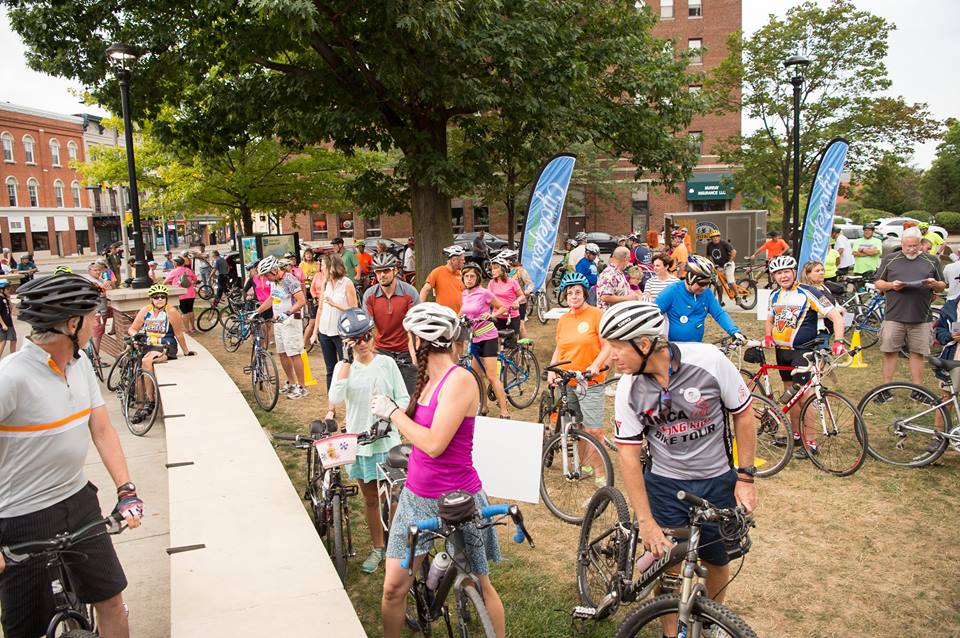 The first annual Lake Erie Cyclefest (shown above) had an enthusiastic turnout from Erie community members.
———
Like Riding a Bike?
The Lake Erie Cyclefest consists of six rides over the course of four days, covering a broad swath of Erie County (and beyond). Here is a brief rundown of what you'll be signing yourself up for (and at what cost — all proceeds benefit the YMCA of Greater Erie's Food + Fun Bus, WQLN Public Media, and EmergyCare).
Good Morning Star Shine
When: Thursday, Aug. 2 (5:15 a.m. registration, 6 a.m. start)
Where: Beach One Pavilion, Presque Isle State Park
What: It may be early, but the Good Morning Star Shine ride may be the brightest spot in an otherwise Sol-less work day. New to this year's Cyclefest by popular request, this ride is a standard loop around the peninsula (13.4 miles) guided by Good Morning Erie's Traci Teudhope.
Cost: Free
Bike Erie Slow Roll
When: Thursday, Aug. 2 (5 p.m. registration, 6 p.m. ride)
Where:  Perry Square
What: Pretend like you're slacking on your New Year's Resolution and ease off the accelerator for this 10-mile ride through various Gem City historical and cultural sites. The Slow Roll is about savoring the sights and sounds with the pack (thus the pace of about 6 mph). You'll eventually circle back to the park for the latest installment of the Erie Downtown Partnership Block Party, featuring the musical talents of Cosmic Rhythm and Eric Brewer & Friends.
Cost: Free
YMCA Jelly Jar
When: Friday, Aug. 3 (7 a.m. registration, 8 a.m. start — deluxe version, 9 a.m. start — standard version)
Where: Shades Beach, 7000 E. Lake Rd.
What: The YMCA of Greater Erie has grape expectations for this either 27 or 52-mile ride through Lake Erie Wine Country, with vineyards, fruit farms, and lakeshore views galore. If you can squeeze out a little more juice, you can tack on an additional 5-mile loop around Findley Lake, N.Y. for a possible grand total of 57 miles. With optional stops at Mazza Vineyards and Kraza's Cove (homemade ice cream in Findley Lake) and a post-ride picnic provided by Brooklyn Pizza (with beer sampling from Five & 20 Brewing), you'll want to be sure to preserve(s) yourself.
Cost: $40
Tour de West County
When: Saturday, Aug. 4 (7 a.m. — registration, 8 a.m. start — 50-mile ride, 9 a.m. start — 25-mile ride, 10 a.m. — 12-mile ride)
Where: Lake Erie Community Park, 10912 W. Lake Rd., Lake City, PA 16423
What: It's said that few people could keep up with Dan Rice's wit and alcohol use —but on the flip side, it's doubtful Girard's favorite clown could've kept up with you on a bicycle. This marquee event will transpire under a big top of open sky, taking you through the rolling farmlands, narrow lanes, and old growth forests of Western Erie County. Of course, when at Dan Rice Days do as the titular character would do — hobnob with other cyclists upon returning the park with a picnic and samples from Five & 20.
Cost: $40
Oscar the Grouch's Gravel Grinder
When: Sunday, Aug. 5 (7:30 a.m. registration, 9 a.m. start)
Where: Lake Erie Speedway, 10200 Delmas Dr., North East, PA 16428
What: There'll be nothing to grouse about this freshly added route, granted you don't mind a few bumps off the road. This 25-mile "fat tire" ride is centered around Eastern Erie County's Eastern Reservoir, with a brief foray into N.Y. State before returning to the race track. As with the other paid rides, there will be refreshments and good vibes (no grouches!) afterward.
Cost: $40
WQLN Alley Cat Ride
When: Sunday, Aug. 5 (1 p.m. registration, 2 p.m. start)
Where: Frontier Park Educational Center, 1501 W. 6th
What: Like the jazz cats taking the stage on this day, participants will have to improvise and think on their feet in the only competitive event of the Cyclefest. Victory will be contingent on quick thinking, not quick pedaling, as riders scour downtown Erie neighborhoods for clues in this combination ride-and-scavenger hunt. Win or lose, post-race beer samples (Five & 20) will allay any possible blues.
Cost: $15
— Matt Swanseger