A New Generation of Local Filmmakers Emerges with Erie's Voices
Film Society, Positive Youth Development, and the Downtown YMCA partner for Summer Jobs program.
September 2, 2015 at 11:30 AM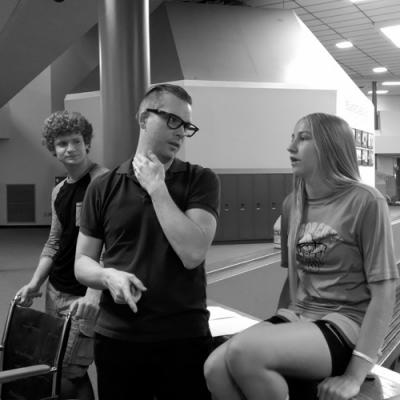 A new generation of local filmmakers emerges with Erie's Voices
On Sept. 16 at the Erie Art Museum, we'll be introduced to seven local moviemakers who are still working their way through high school – in addition to preparing for their debut film screening.
They're the graduates of the Erie's Voices summer program, a partnership between the Film Society of Northwestern Pennsylvania, Positive Youth Development of Erie County, and the Downtown YMCA, designed to introduce some talented young people to the fundamentals of filmmaking and digital media.
The students gathered together for 10 days of hands-on instruction at the Teen Center of the YMCA of Greater Erie, where they learned "all the basics of film, journalism, research, and writing," according to John C. Lyons, the Executive Director of the Film Society. Lyons was one of three teaching artists overseeing the project. He handled the filmmaking tutorials, while Hannah Choi Paul introduced the students to writing techniques, and Aubry Regan familiarized them with the basics of journalism.
The young artists came from a variety of backgrounds. "We had some city kids, some country kids, some suburban kids – and a lot of them didn't know each other at all," Lyons says. Eventually, their hard work took the form of three short films, each about five minutes in length, organized around the central theme of peer aggression.
On Sept. 16, the red carpet will be unveiled at 5:30 p.m. for a short pre-party. At 6, the students will introduce their short films, and there will be a Q&A to follow. The conversation will be followed by a feature film, 2014's Breathe, which was chosen to compliment the students' work on account of its themes of adolescent friendship, violence, and jealousy.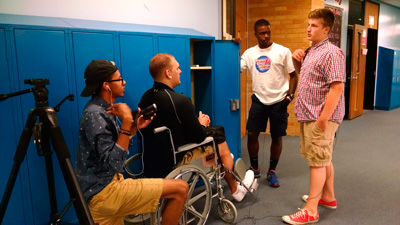 So what can we expect from Erie's youngest moviemakers? The most experimental of the shorts is titled Break Free, and it follows the interior monologue of a young man who has been the victim of bullying. Inspired by Alejandro G. Iñárritu's 2014 Oscar winner Birdman, the film unfolds in a single take as our protagonist struggles to deal with his personal demons. Three students collaborated on it –
Isaac Jones of Union City, Mia Rossi of McDowell High School, and Logan Lego of Mercyhurst Prep.
Alex Staley of East High and Julia Bollinger of Harborcreek produced something a bit more classical in form. Their film, Max and the Fancy Chair, concerns the unique relationship between a high school student with a disability and the football star who torments him. Expect a surprising twist from the narrative.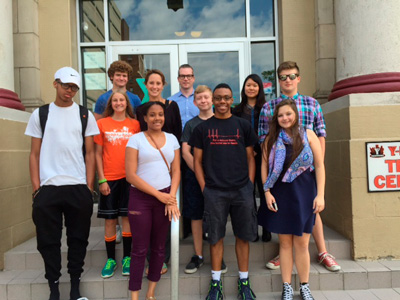 Finally, Isis Atkinson of Collegiate Academy produced an ambitious documentary titled Perfectly Different, in which she interviewed a wide variety of young people – ranging from high school aged children to recent college graduates – about the dangers of peer aggression. Union City's Benjamin Reinke assisted on all three of the night's productions.
Lyons claims that the program was successful due to its focus on the students' creative impulses. It was important to make room for "their voices, their own stories... and what they wanted to say about peer aggression." The teaching artists provided the tools, but the students were given plenty of space to push their ideas to their fullest potential.
Plans are in place to continue the Erie's Voices project in the future, with the next program devoted to the issue of violence in our community. With strong community support (and a decent turnout at the screening), we could be witnessing the birth of a new creative vanguard in Erie.
Dan Schank can be contacted at dSchank@ErieReader.com.