A New Vision for an Old Bakery
Young business partners preserve fire, soul of Majestic Bakery
March 11, 2020 at 11:30 AM
Food memories are my favorite memories. As a child, our go-to family restaurant was Martucci's Italian Restaurant at 27th and Myrtle. I can still see it: the dark bar you pass through on the way to the tables, the dusty Italian reproduction art on the walls, the candle burning in the red glass jar right next to the ever-present basket of thick-sliced, simple Italian bread. As those old school Italian restaurants slowly disappear, nothing can bring back those memories like a fresh slice of Italian bread and butter. Even if you're not aware of it, if you ever ate at one of those old places, you have likely eaten Majestic bread. Established in 1915, Majestic Bakery has been embedded in our city's collective food memory for generations. For a brief moment, it seemed like that legacy might have come to an end. In January 2019, the historic bakery and long-time landmark in Erie's Little Italy saw its original brick oven turn cold after more than a century in operation.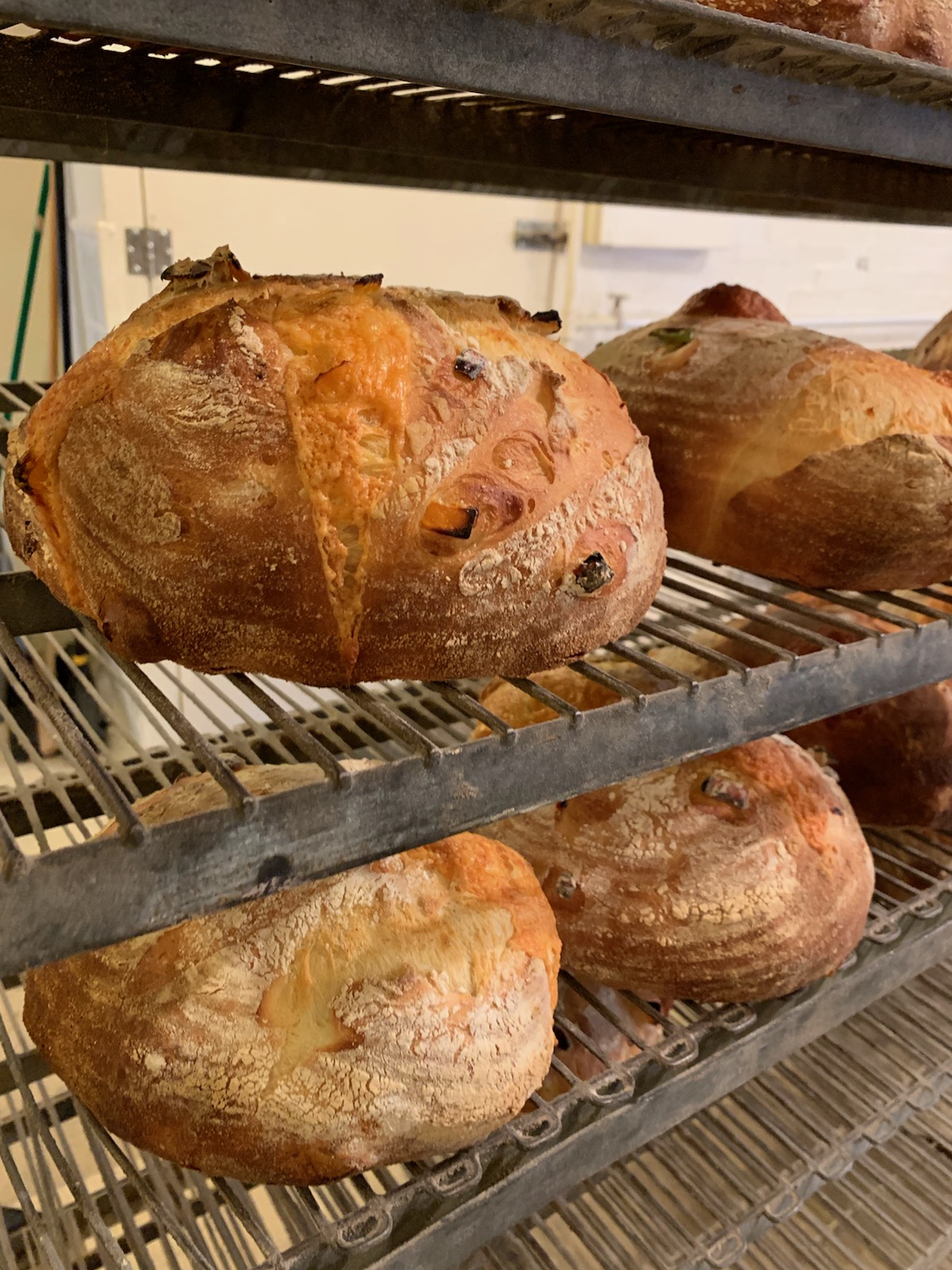 Every Majestic loaf — such as this artisan jalapeno cheddar sourdough — begins with a base of flour, water, and salt and is built upon from there.
But new owner Cam Spaeder could not let that happen. Spaeder and his partner, Sarah M.K. Moody, went for a drive one day and saw that the historic building was up for sale and decided to take a risk and save the historic bakery. "I just loved the building," he said as he guided me through the large but unpretentious bakery. You can feel it upon entering — take one glimpse at the massive original brick oven, letting the smell and the heat wash over you. You can tell this place has a soul that has existed for a very long time.
At one point, many of Erie's neighborhoods were defined by the predominant country of origin of their residents. Erie's Little Italy neighborhood is loosely defined as the area spanning Sassafras Street to Liberty between West 16th and 19th streets. While most cultural neighborhoods have blended together, one can argue that Little Italy has managed to hold onto its heart at Walnut Street: St. Paul's Church, La Nuova Aurora Society (which was established in the early 1900s as an organization to support the growing Italian community in Erie), and Majestic Bakery.
In order to uncover some of the history of the bakery, I contacted the descendant of one of the earliest known owners of the bakery, local artist Kris Risto. His family (immediate and extended) has owned the bakery for most of its existence. Around the turn of the 20th century, the bakery was established by an Italian family and called The Mazzao Bakery. It originally occupied the space that currently houses the Nuova Aurora Society. Around 1917, Risto's great grandfather's cousin, Louis Spase, a Macedonian immigrant, purchased the business, built the bakery at its current location at 1501 Walnut St., and got that massive brick oven up and running. The family lived in the house just south of the bakery, which was built in 1887. Risto expands on the family history: "Louis asked his cousins and other relatives in the old country to join him in operating the bakery. My great grandfather, Sam Kostef, and his brother, Angelo, both immigrated to the United States in 1930 to work at Majestic. He brought his sons and daughter — my grandmother Lenka Risto — to the U.S. in the 1960s."
When Spase died, he left the bakery to his sons, who ran Majestic until 1975, when Risto's father (James Risto) purchased the bakery at the age of 26, the same year that Kris was born (and also, coincidentally, the age at which Spaeder recently purchased the bakery). It was James who really "brought the bakery out of Little Italy." He converted the then wood fired oven to gas and expanded the property to absorb the adjacent family house in order to accommodate the major increase in business. It was James Risto who created the iconic Italian loaf that so many of us grew up eating at Italian restaurants or buying in white paper bags at local grocery stores. Kris has vivid memories of growing up in the bakery and in the Little Italy neighborhood: "I grew up at Majestic, most of my childhood was spent there. I went to St. Paul's School and walked to the bakery after school. I remember climbing on top of giant stacks of flour bags and listening to the roar of giant mixers spinning." He worked at the bakery from the time he was 12 and spent evenings, weekends, and very early mornings helping out well into adulthood.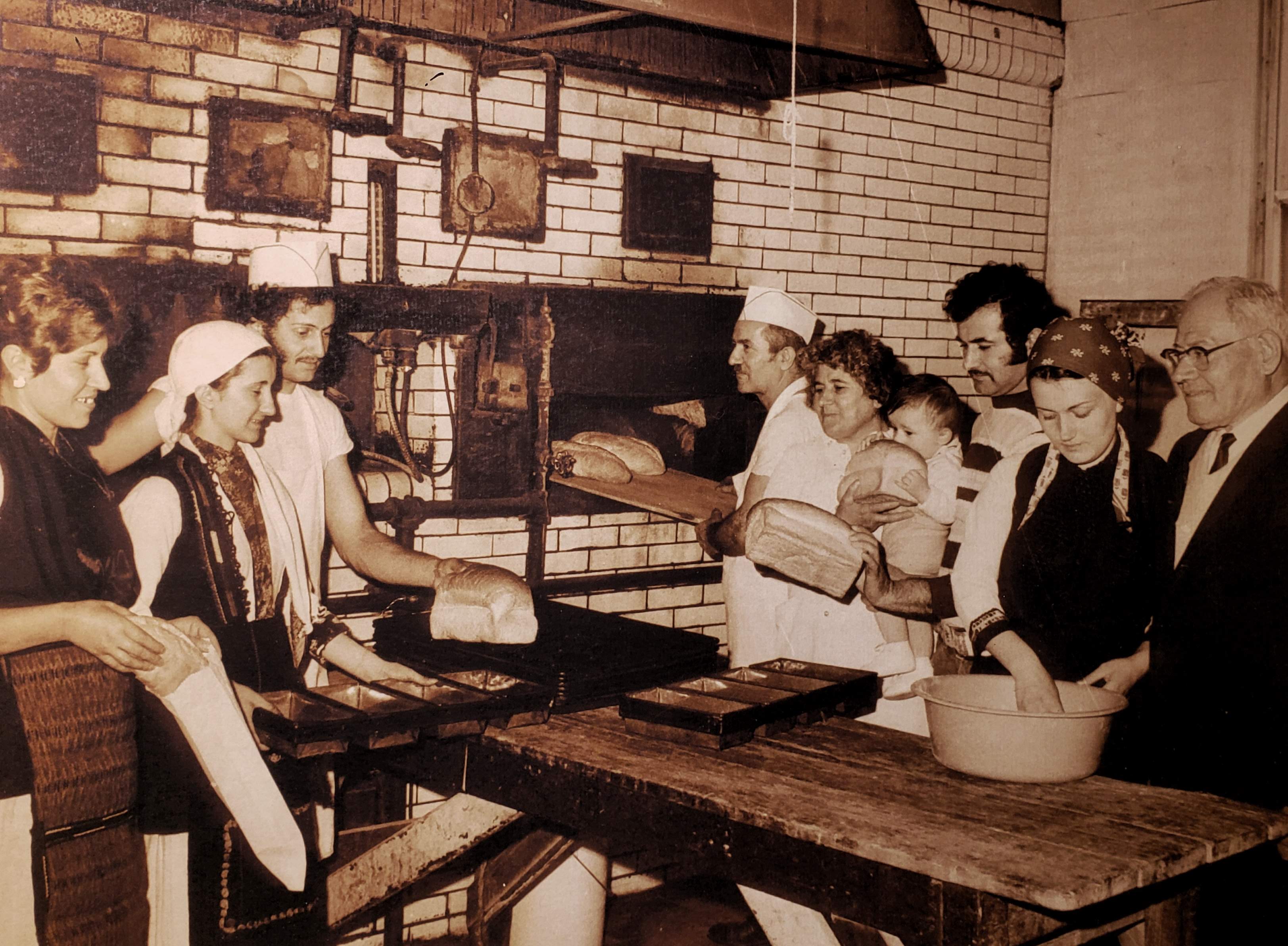 James Risto, father of Erie artist Kris Risto (the baby in this photo), converted the wood-fired ovens to gas-powered when he took over in 1976, expanding the bakery's reach beyond Little Italy.
When a long-time baker retired in January, the Ristos decided to put the property, business, and all that came with it (including, of course, the oven, but also the old mixers with brass dough hooks and industrial sized dough machines) up for sale. Risto muses, "that neighborhood and building are a part of my family history. It was home to my family for decades. It honestly feels weird not having keys to the building anymore." But the oven was not cold for long, as Spaeder closed on the property in February and has worked to get the business up and running since August. I asked Risto if he does any baking now and he replied, "No, I don't bake. I've done enough baking to last a lifetime. Besides, Cam's new Majestic bread is so good I don't have to."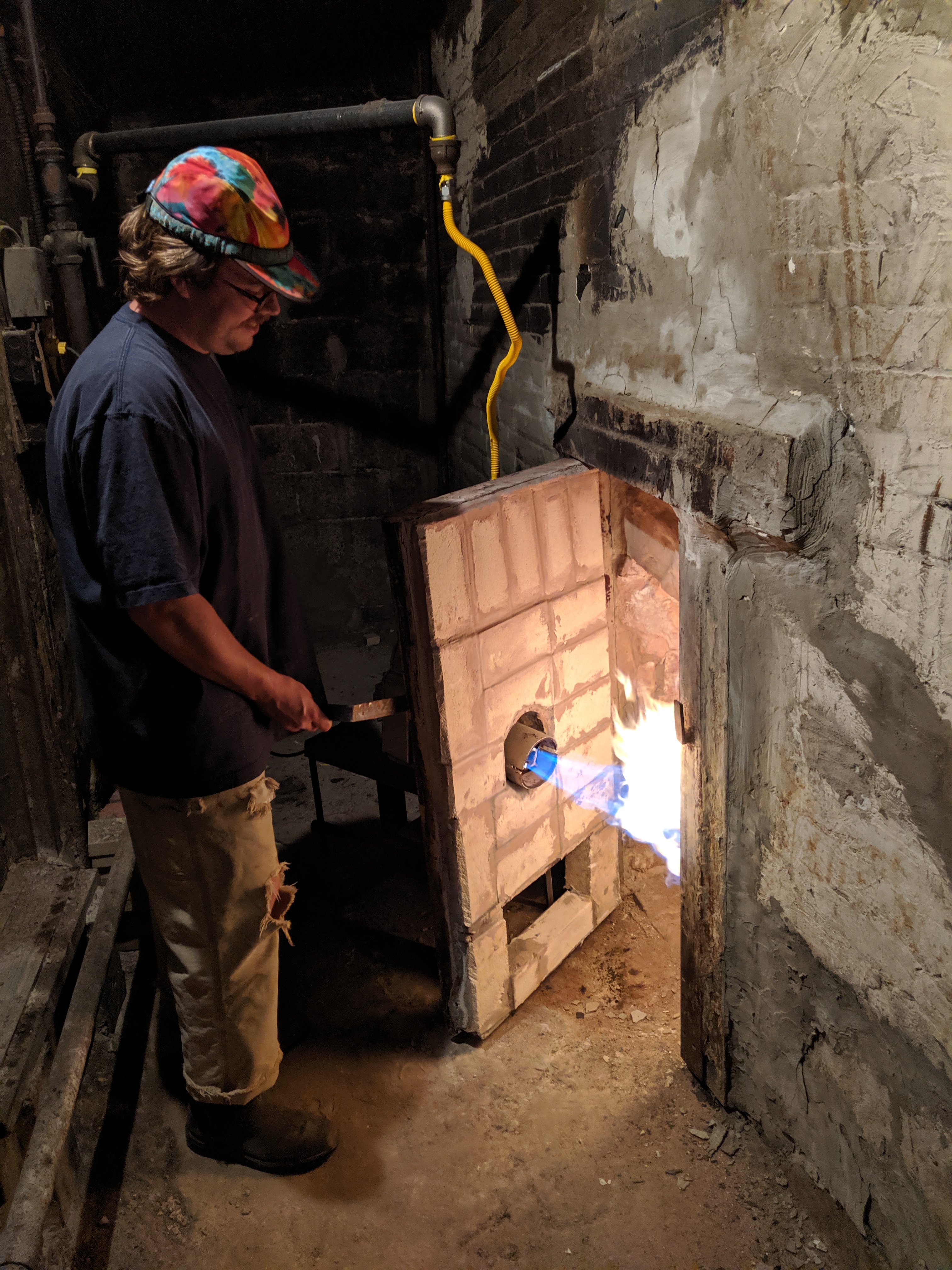 Owner Cam Spaeder opening the back of the original brick oven to show the heat source (by gas, converted from wood in the 1970s).
When Spaeder purchased the building, he knew next to nothing about baking and was fortunate to find someone who does. He partnered with baker Michael Fuhrman, an Erie native who fell in love with artisanal bread baking in Germany and has been baking for over 20 years. And while Jim Risto made his success on the ubiquitous white Italian loaf, Spaeder and Fuhrman are trying to bring a different flavor to the scene. By mostly using a sourdough technique, they keep things simple in terms of ingredients but the method results in a more complex flavor. They use flour, water, and salt to make the base of the bread and broaden their offerings from there. Every week, Moody posts their menu on Facebook and in their Instagram story and it can include anything from the simple "Erie Sourdough" to Dark Chocolate Cherry Sourdough loaves. They make Old World soft pretzels, savory pinwheels with pepperoni and cheese or roasted red peppers, dinner rolls, and rustic rye. And for those not so willing to move on from the basic Italian loaves, they have those too (also made using the sourdough starter).
Their operation is still quite small, but they hope to grow and expand over time. Currently, their breads are available at the Whole Foods Co-Op and Oasis Market in addition to the bakery itself. They have recently teamed up with local urban organic growers French Street Farms to provide the bread for a farm-to-table, plant-based meal served up in the kitchen at Oasis Market, and are looking forward to more collaborations with local businesses in the future.
It's a pretty rare thing to be a part of Erie's past as well as it's future, but Spaeder and Moody are doing just that. In preserving the turn-of-the-century Majestic building, the oven, equipment, and legacy of the bakery, they are continuing a business that helped define a neighborhood for generations. In their technique, vision, outreach, and collaboration, they are providing an inspiring example of how to rehabilitate a historic building and business and keep it relevant, interesting, and successful today and into the future. Spaeder adds, "It's really cool to revitalize this bakery with old-style breads that are like the bread that was actually being made in 1915. It's coming full circle."
Erin Phillips runs the Instagram @olderieonfoot, an in-depth look at local architecture "by foot, stroller, papoose, bike, and occasionally minivan."