A Ride to Tidioute
Pennsylvania, Prohibition, and the renegade pastor who took on his town
November 22, 2017 at 3:30 PM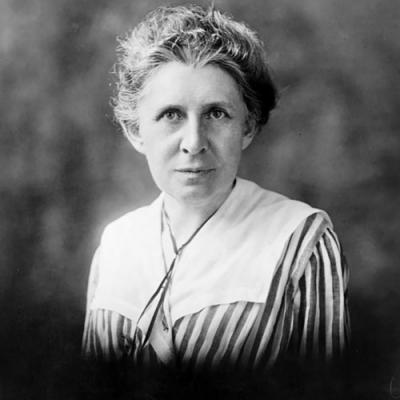 By 1928, journalist Ida Tarbell, then in her early seventies, was no stranger to controversy. After all, the Titusville-raised muckraker was best known for taking on one of the most powerful people and companies in the world: John D. Rockefeller and his Standard Oil monopoly. "That poisonous woman," he called her.
In those later years of her life though, Tarbell — a lifelong supporter of the temperance movement, which advocated for abstinence from alcohol — inspired controversies which divided even former allies. In this case, she wanted Prohibition to end.
Prohibition laws, Tarbell wrote in her series of articles on the subject, were "inconsistent with the political, social, and moral contentions of a democracy." She added a dire warning: if these laws were not repealed, there would be another civil war.
Her public stance made her a target for steadfast prohibitionists. They lobbied vicious accusations against her. Instead of backing down — after all, who were they compared to Rockefeller? — she doubled down. It was precisely their rabid fanaticism that worried her. Despite advocating for sobriety, she believed in "temperance by choice" and not "temperance by force." The failures of the moral experiment were glaring and the nation — now emerging as a world leader after World War I — seemed to be ripping apart at its seams.
"What have we already come to?" Tarbell wrote. "Prohibition has made it possible for every form of crime to organize around liquor selling and drinking. It has become an ally and tool of crime." She referred to the fanatics on both sides — but prohibitionists in particular — as "dangerous animals" who "inflame their opponents beyond all hope of reasonable discussion, consideration, [and] compromise."
"[You] cannot," Tarbell maintained, "make people obey laws simply because they are written in the books."
Had she returned to her childhood home of Crawford County or the neighboring Erie County, she would have found agreeable locals. Here, federal prohibition laws were largely ignored. The Volstead Act — which provided a mechanism for enforcing the Eighteenth Amendment that made illegal the manufacture, sale, and transportation of alcoholic beverages — was more lampooned than feared. Citizens openly and insolently rebelled against it.
There's a romanticism to the Roaring Twenties. Glitzy fedora-wearing gangsters. Norm-shattering flappers. Speakeasies and jazz and moonshine. Shows and movies such as Boardwalk Empire and The Untouchables remind us of the heroes and villains on both sides of the law and anyone assigned The Great Gatsby in high school likely fantasized about spending an evening at a West Egg party.
On the shores of Lake Erie, getting liquor or a beer was as easy after 1920 as it had been before. The accessibility to Canada across the narrow lake, as well as the abundance of rural towns free of federal oversight, made for a county that was conceivably the wettest in Pennsylvania per capita.
David Frew, a local professor and author, chronicled this in Midnight Herring: Prohibition and Rum Running on Lake Erie. He wrote that when "the supply of booze was steady … most of the same taverns and bars that had served alcoholic beverages prior to Prohibition, continued to do so … [and] several of Erie's police, politicians and judges continued to be loyal supporters of their favorite establishments."
Frew added that due to its proximity to Buffalo, Cleveland, and Detroit — much more significant markets for smuggled booze — Erie was relatively safe from federal authorities who had bigger fish to fry. As a result, Erie County became a hub for importing Canadian booze. Kelso Beach and Four Mile Creek were popular landing points for such boats, according to Frew. Clubs sold booze openly and parties on Millionaire's Row were not to be missed.
The county itself was no different than the city. Alcohol — both Canadian and homegrown — flowed plentifully. The city of Corry was no exception. Corry, located on the eastern border of the county, functions as an unofficial gateway into deeply rural Pennsylvania. Being so remote, business owners had little fear of federal authorities interfering with their thriving illicit market.
That changed in 1930 when Corry became the target of a massive federal raid.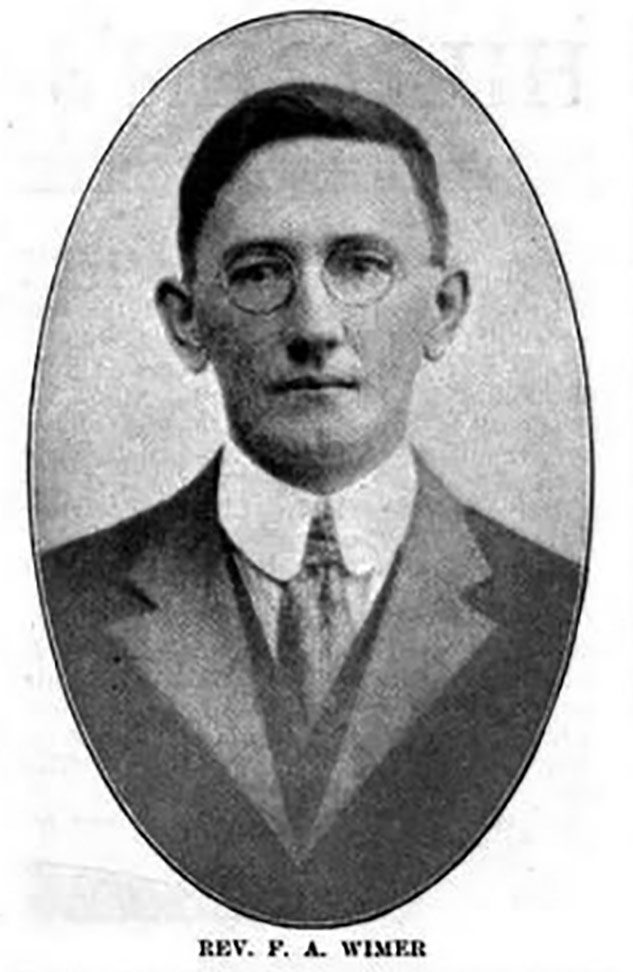 It was 1928 and a 44-year-old pastor named Frank A. Wimer was given a new assignment at the Methodist Episcopal Church in Corry. He'd spent the past decade bouncing around different area churches with his wife, Elisabeth, and two children, Fred and Frances. At a previous church in Lander, Pennsylvania, the congregation praised the pastor's leadership, wisdom, patience, modesty, and work ethic. They were particularly impressed when he built much of a community house attached to the local church by himself.
With his new assignment in Corry, he once again packed up his family and started anew. What he found was a town plagued by debauchery — open indifference towards the laws of the land. Alcohol was transported and sold freely throughout the city and, Wimer soon realized, the police did nothing. Even the locally elected leaders who had campaigned on eradicating Corry of its bootlegged booze were equally complicit.
After two years of having his complaints ignored, Wimer and other concerned residents took matters into their own hands. They contacted a Pittsburgh-based deputy federal prohibition administrator named Harold D. Wilson and demanded that Corry be "cleaned up." A brief investigation revealed names and locations. Undercover agents made "buys" of illegal liquor with minimal effort. These purchases granted Wilson the federal warrant needed to proceed. He contacted Sergeant John Bergen at the state police barracks in Butler and began planning the raid for mid-July.
According to the July 18, 1930 edition of the Kane Republican newspaper, on the previous evening, a total of 61 prohibition agents, state policemen, and county constables gathered at a grove outside of Corry, where they were all served dinner by their local informants — mostly members of Wimer's congregation. Afterwards, they assembled in the woods, reviewed their plans, and swiftly descended upon Corry, just a few hours before dusk. They raided 20 establishments, 14 of which were found to house speakeasies. The booze was confiscated — along with a few unlawful slot machines — and by the night's end, as many as 30 people were arrested. Enoch Filer, the United States Commissioner in Erie, ordered them to be held on federal charges.
The raid made headlines across Pennsylvania. Angered Corry residents immediately accused Wimer of being the snitch. The Warren Times Mirror published an article only days later detailing how the pastor had been "blamed for the booze raids in the town" and that threats had been made against his life. Another newspaper in Reading detailed these threats:
The Rev. Frank A. Wimer, pastor of the First Methodist Episcopal church, revealed today that he has been threatened with death and his church property with destruction in an anonymous letter because of the part he played in … the extensive raids by federal prohibition agents [in Corry]. The writer, Wimer said, ordered him to leave town within 10 days or be taken for "a ride to Tidioute." Wimer pointed out that several men were murdered near Tidioute, Warren County, after such a "ride" about a year ago.
That double-murder near Tidioute, another newspaper alleged, had never been solved. Wilson, upon hearing about these threats, told a journalist that "if it is necessary to guard him and the church property, I know the federal prohibition force will be liberally used."
Wimer remained defiant. He claimed to one journalist that he believed he knew who sent the letter. "I'm am not frightened," he said, "because I think the writer is yellow and a coward. … I admit I was one of the Corry residents responsible for the booze raids. I am proud of it."
Ray R. Powers of the Elks Lodge on N. Center St. was the first to plead guilty in federal court that August. The Pittsburgh Press detailed that over 1,000 pints of liquor and beer had been confiscated at the Elks Lodge alone. As for Wimer, he continued preaching in Corry for another two years, before being reassigned elsewhere.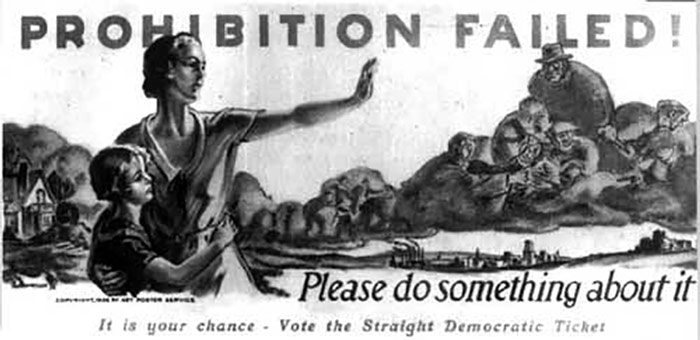 Despite its ardent supporters, such as Wimer, it was becoming increasingly clear that the Eighteenth Amendment was a disaster. Newspaper editorials criticized the laws both as a federal overstep and downright ineffective and impossible to enforce. Meetings were organized throughout major cities, including Erie, to strategize on nationwide repeal efforts.
By 1933, those efforts were realized with the Twenty-First Amendment. The federal government's great moral crusade came to an end.
Ida Tarbell was optimistic. In an article titled "If Not Prohibition — What?" she argued that for anyone who desired temperance, they should go back to the "old educational temperance work" with "methods improved … [and] restore to the people of this country a practical method … to make themselves temperate."
The legacy of the region's booze-soaked past lives on today through popular local establishments such as Rum Runners, Bootleggers, and Hooch & Blotto's. In December, another local business named Room 33 will join their ranks — the name inspired by the year in which Prohibition ended.
The legacy of the region's booze-soaked past lives on today through popular local establishments such as Rum Runners, Bootleggers, and Hooch & Blotto's. In December, another local business named Room 33 will join their ranks — the name inspired by the year in which Prohibition ended.
This speakeasy-themed social lounge will emphasize craft cocktails, live music, and even a cigar room and is "designed to be a marriage between pre-and-post Prohibition," Rebecca Styn, who is opening the establishment, says. "Our intent was to highlight the era after the Volstead Act was enacted, but to also celebrate the repeal — hence the name Room 33. Serendipitously, the address also happens to be 1033 State Street."
As for why she thinks we remember such contentious years so fondly?
"Generally, most individuals want what they cannot have," she says, echoing one of Tarbell's arguments. "When alcohol became both illegal to sell and expensive, it also became fashionable. And because Prohibition was wildly unpopular, many of those who stood up to it were heralded as heroes instead of criminals — no matter how misguided this may seem."
Whatever the case, the allure of sipping on locally-distilled whiskey and listening to live jazz will prove difficult to resist. We can all drink to that.
Jonathan Burdick runs the historical blog Rust & Dirt. Follow them on Twitter @RustDirt, and on Instagram @Rustanddirt.