A Stay-at-home Masterpiece
From Jan van Eyck to Salvador Dalí: How three Erie friends took to quarantine life by recreating famous works of art
April 30, 2020 at 1:28 PM
One day a few weeks ago, I called up my friend Jacque Wegelin just to check-in. I wanted to hear about her new puppy Mozzie and her recent trip to Costa Rica (in the pre-COVID-19 era). 
We laughed catching up, as she was her usual positive self. The call was cut short towards the end by an unusual statement. "Yeah, sorry I've got to run soon, I need to send Kristen this picture of me dressed up like Frida," she explained matter-of-factly. 
"This I gotta see," I laughingly admitting to her.
It turned out pretty darn well if I do say so myself. 
The two photos that Jacque has just received was from her friend Kristen Konopa essentially told the whole story.
Konopa, an avid museum-goer, had seen similar art recreation challenges online. Choosing Jan van Eyck's Portrait of a Man (Self Portrait?) from 1433.
She nailed it.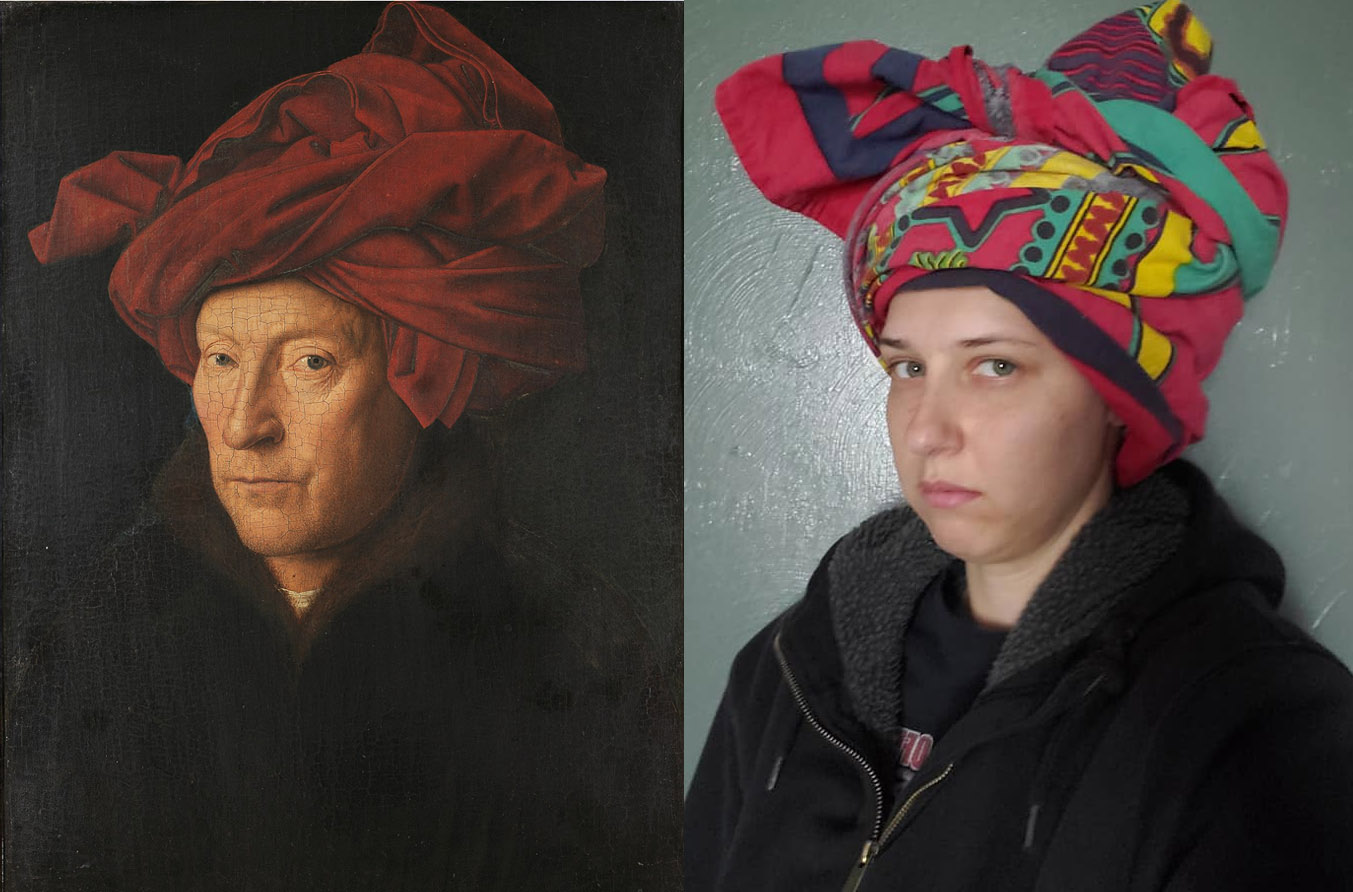 She said simply that the "idea started when we saw a few people doing it and thought it was just so clever." 
Wegelin, of course, responded in kind.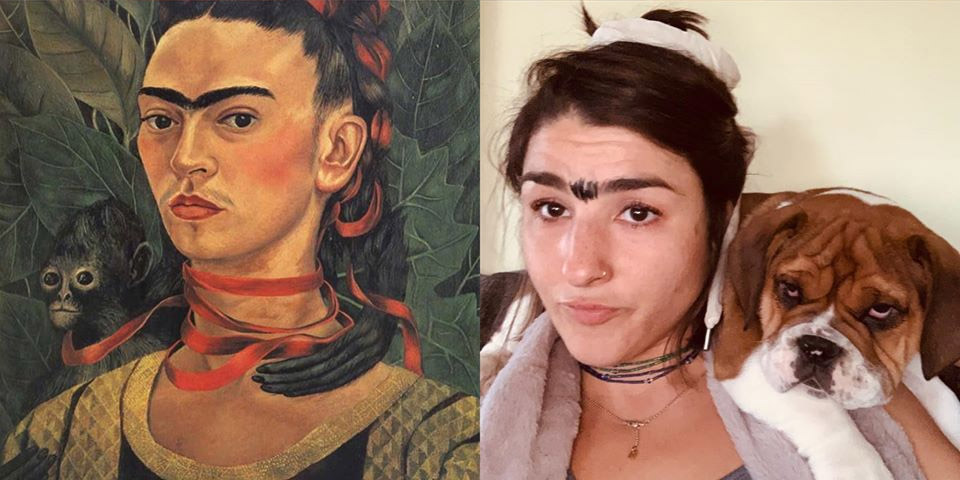 Frida Kahlo's Self Portrait with Monkey (1940), featuring Wegelin's new English Bulldog puppy.
 Then, the following day they joined forces: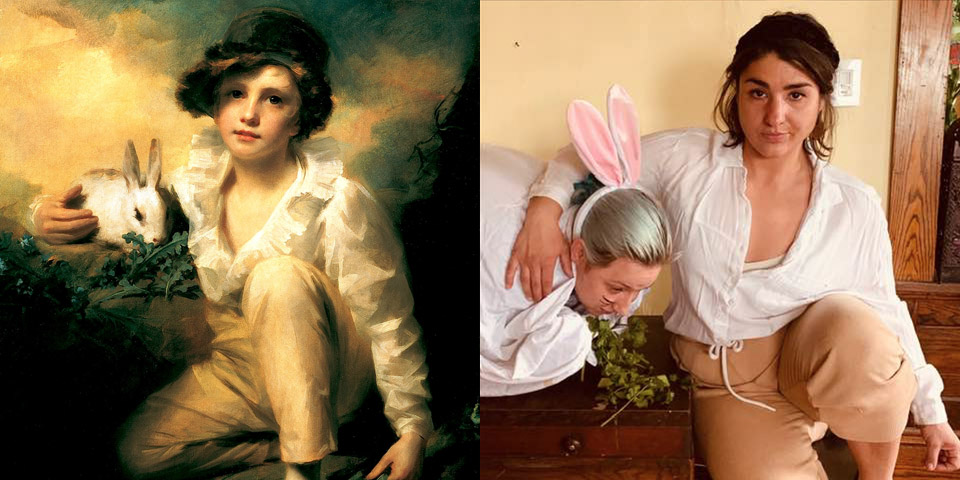 Henry Raeburn's Boy with Rabbit (1814).
 It wasn't long after, when one of their best friends, Rachel Betts joined in too. "We saw the idea from someone doing it online and wanted to do something creative and that would make each other laugh," Betts said.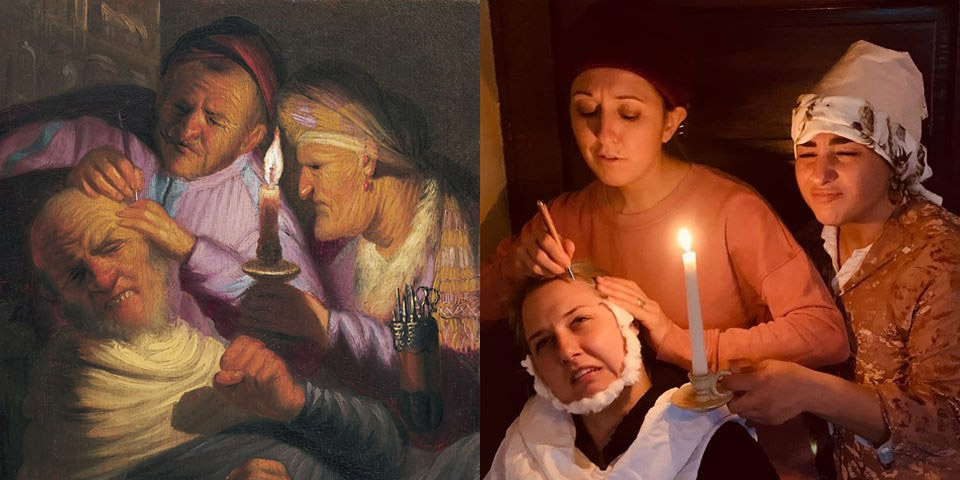 Rembrandt van Rijn's Stone Operation (1625) from his series, The Senses.
The three women each live alone and have been following social distancing guidelines and masking while in public. They each live close by and have established an effective "quarantine bubble" with each other.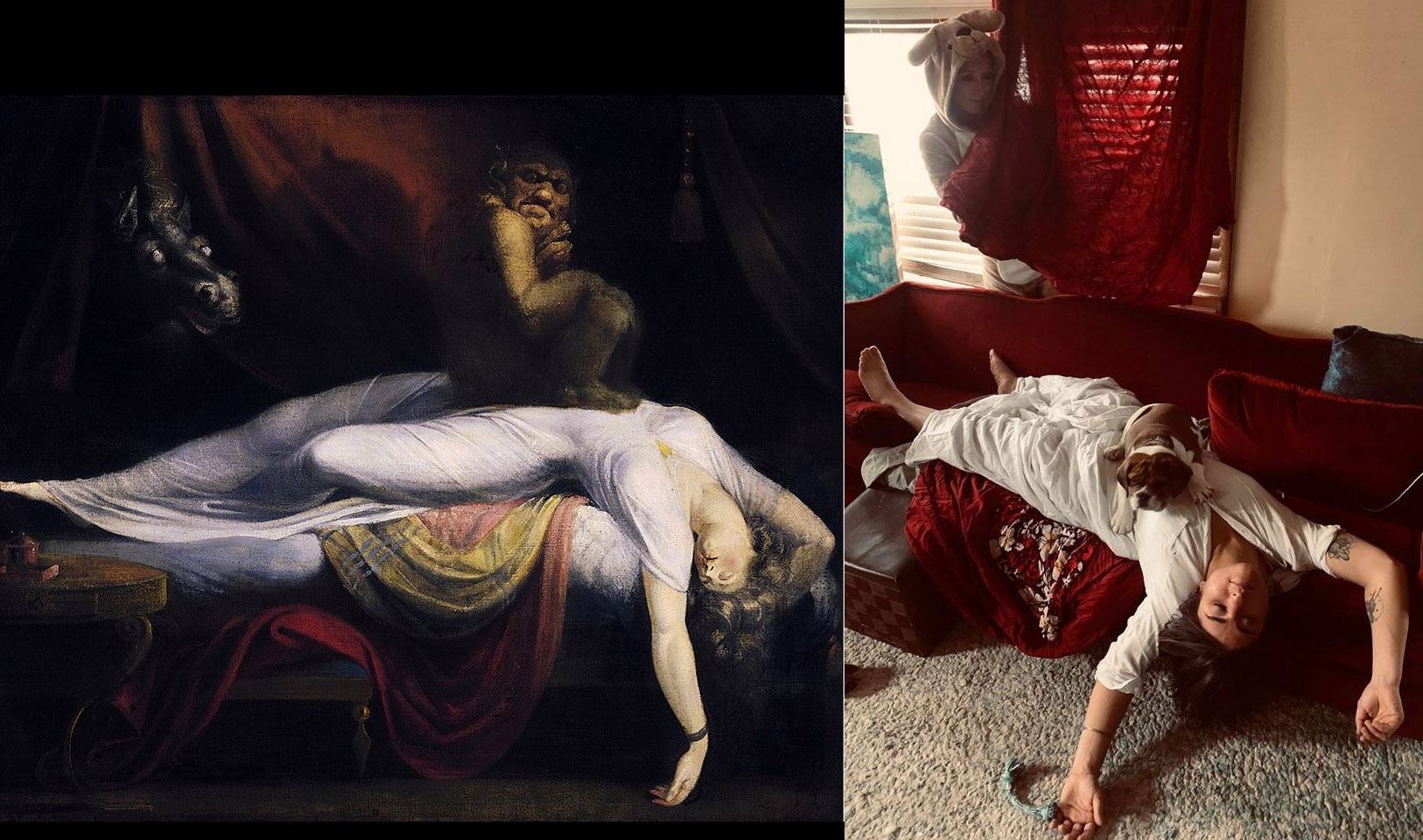 John Henry Fuseli's The Nightmare (1781)
According to Betts, she and Wegeline had "been obsessing over our new pups so we obviously wanted to include them."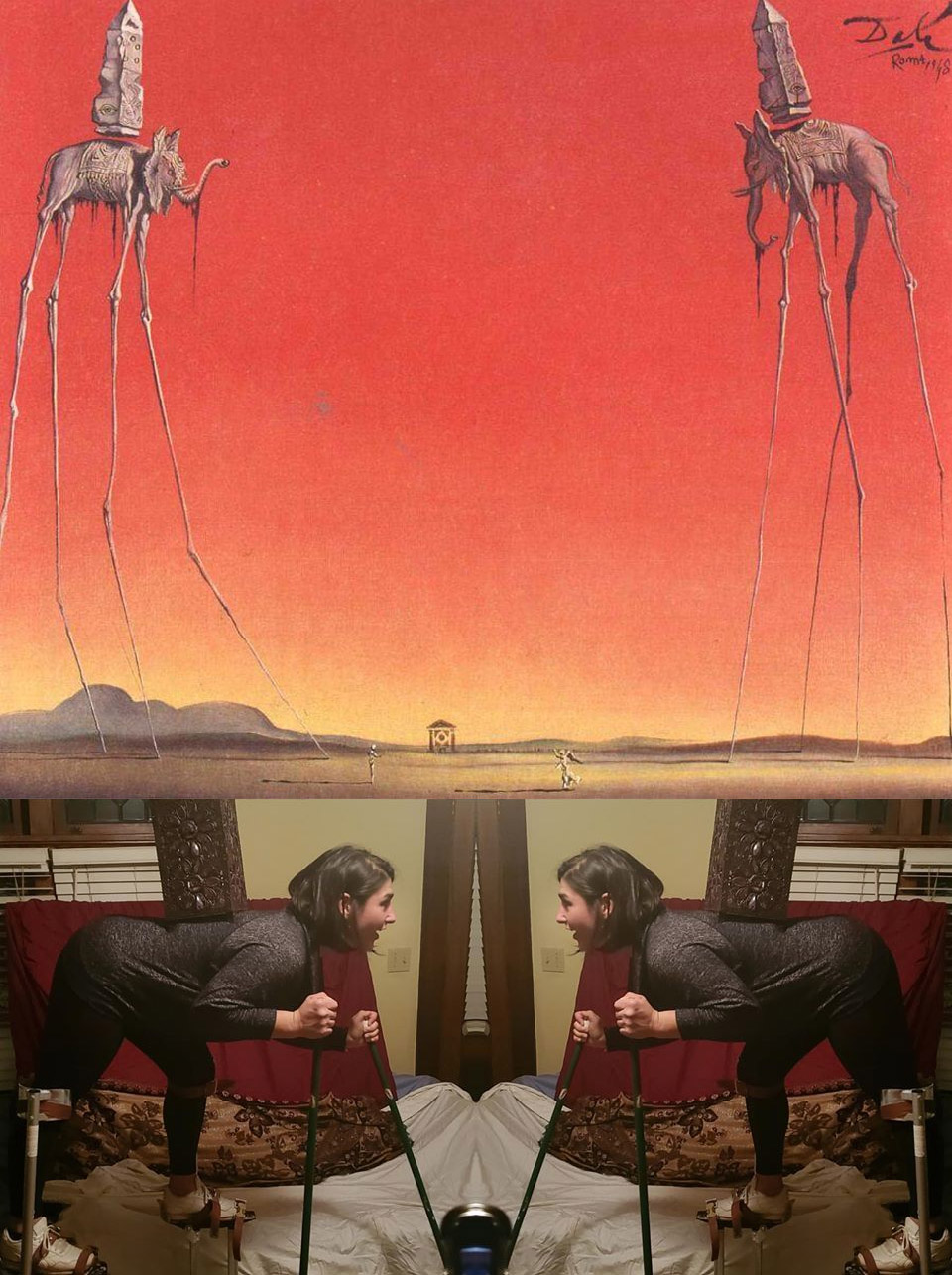 Salvador Dalí's The Elephants (1948).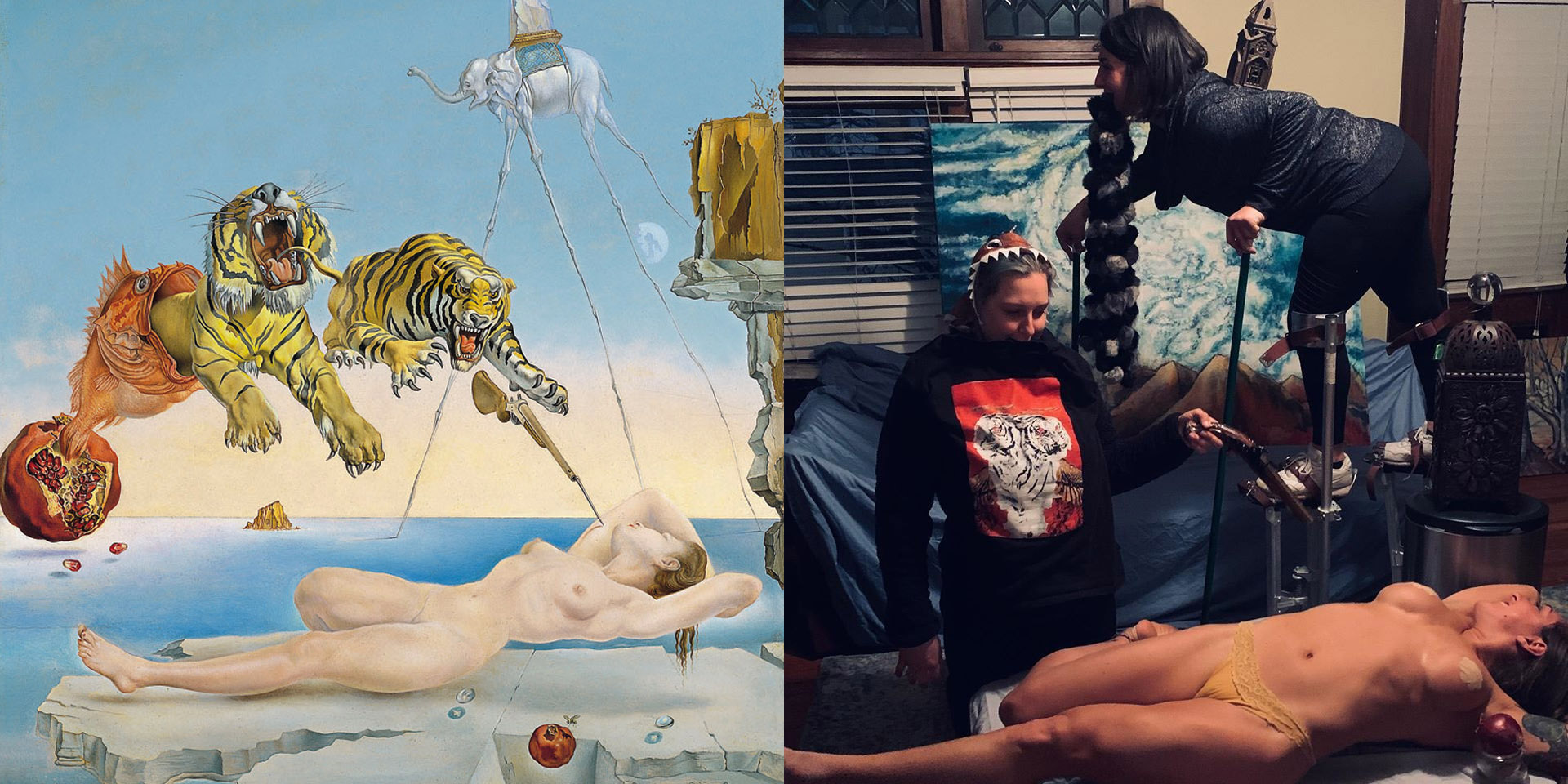 Salvador Dalí's Dream Caused by the Flight of a Bee Around a Pomegranate a Second Before Awakening (1944).
"The Salvador Dalí one was fun because it was a challenge, but all three of us love his work so we were determined to find one of his to use," Betts exclaimed.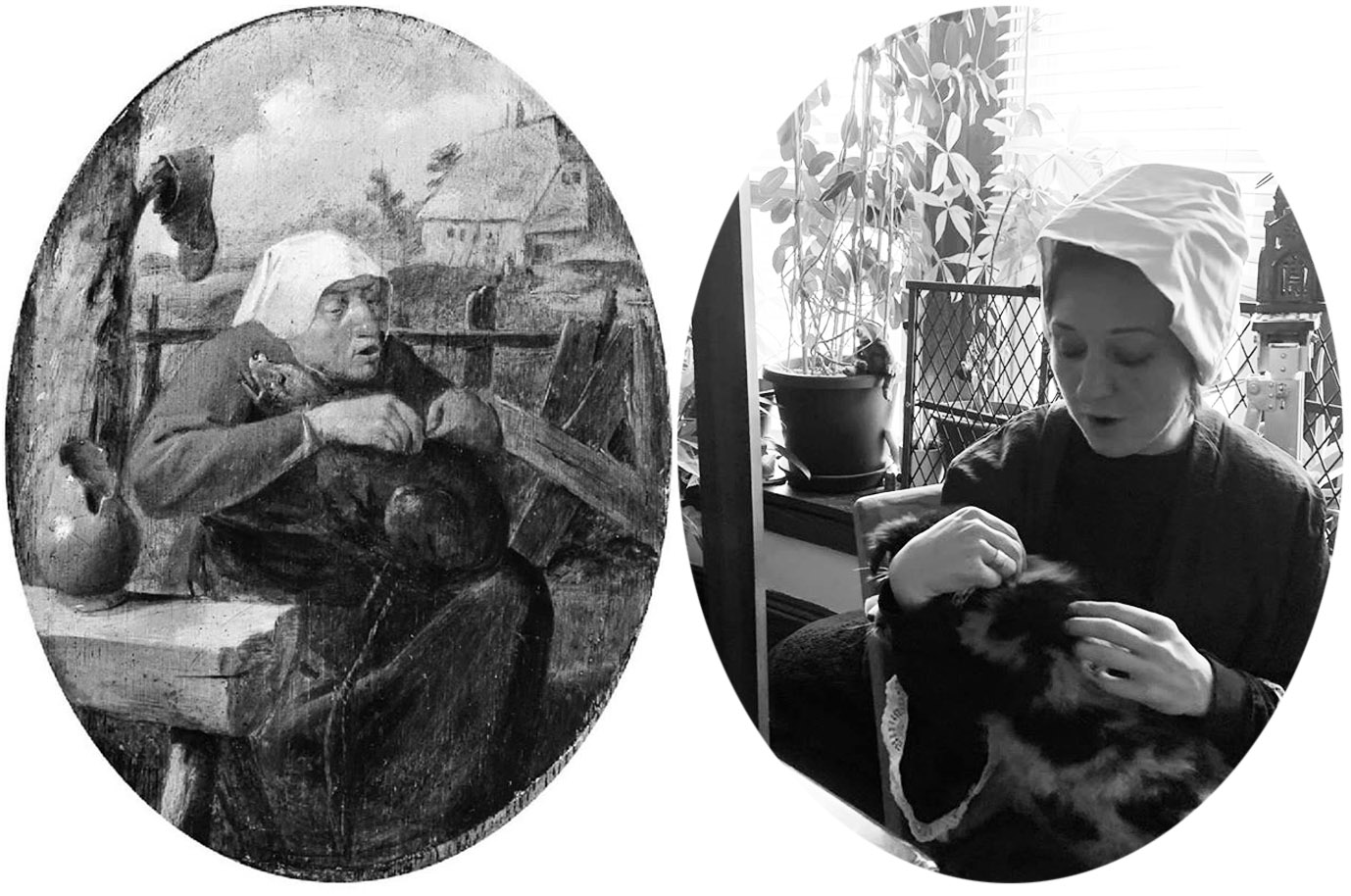 Adriaen Brouwer's A Peasant Woman Picking Fleas off a Dog (1626), featuring Wegelin's flea-less older dog Squish.
"We started picking through pictures online of ones that were interesting to us and thought we could pull off. We thought some of our friends would think it was funny like we did but we were just humoring ourselves mostly," Betts said.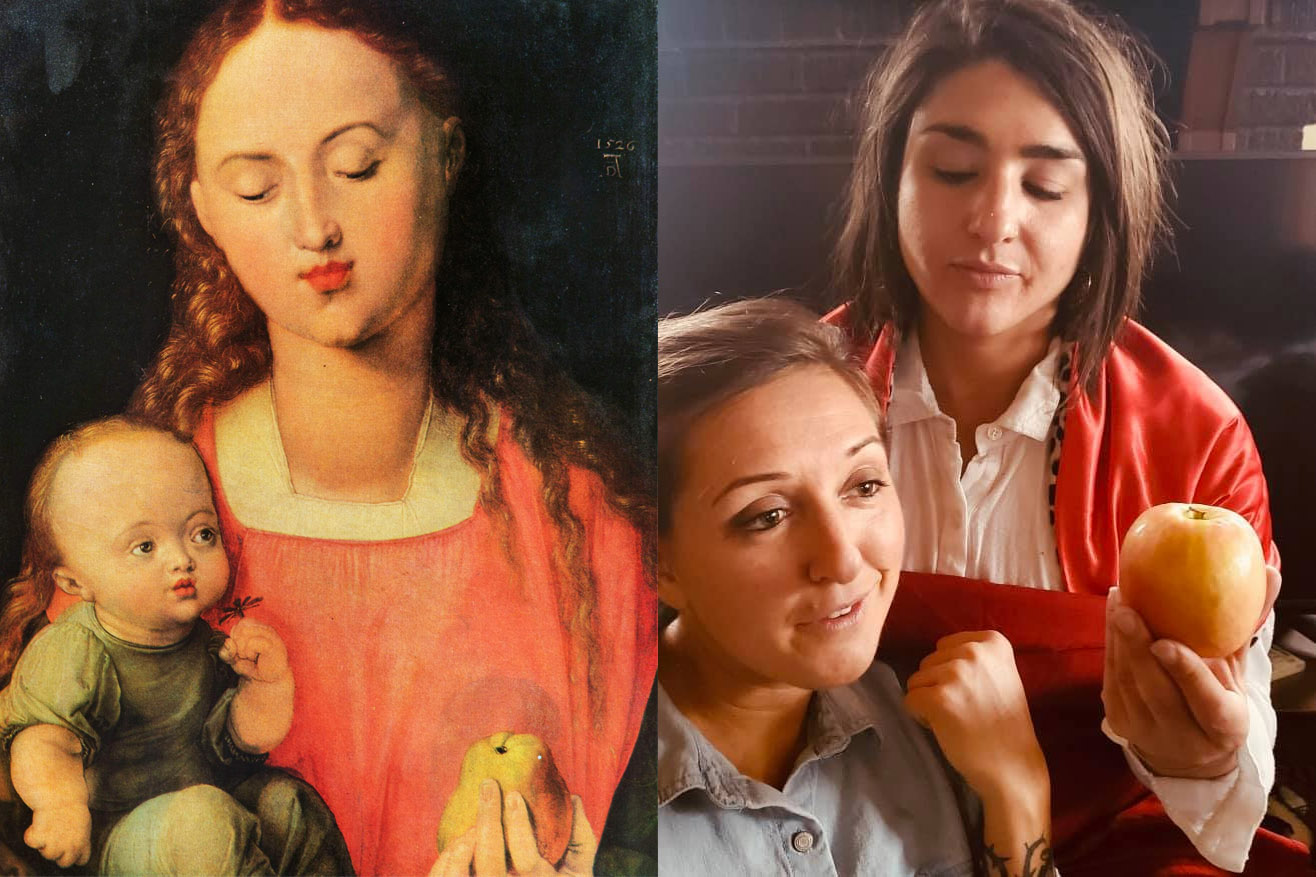 Albrecht Dürer's Madonna and Child with the Pear (1526).
Speaking as to how they were able to keep themselves entertained. "Jac edited them and when she posted them we were like okay, happy we can entertain other people too," Betts said happily.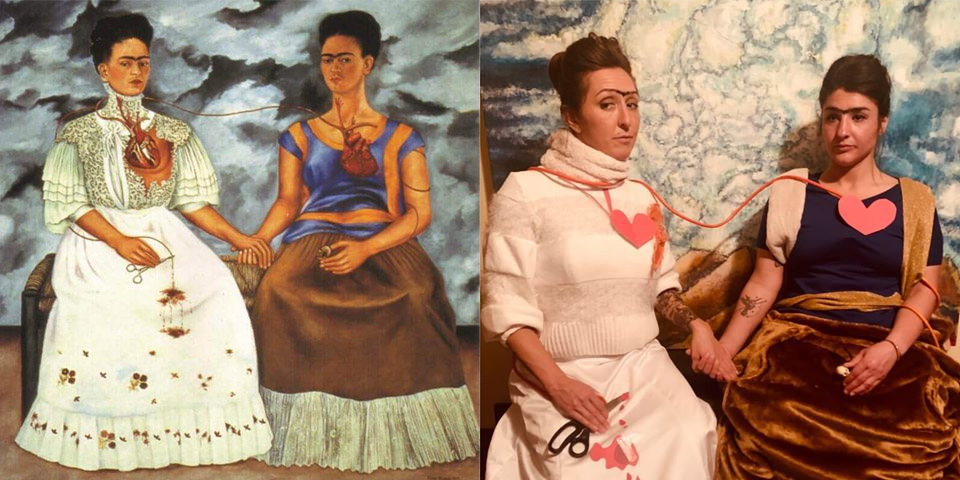 Frida Kahlo's The Two Fridas (1939). 
"We just are using whatever resembles the photos or just running around the house pulling things out of drawers and the bottoms of our closets," Wegelin said. "Rachel and kris brought a box of Halloween and festival gear for props." Laughingly, she added "and of course, putting the dogs through hell to get a good shot," may I add no animals were harmed during the making of these photos," she confirmed.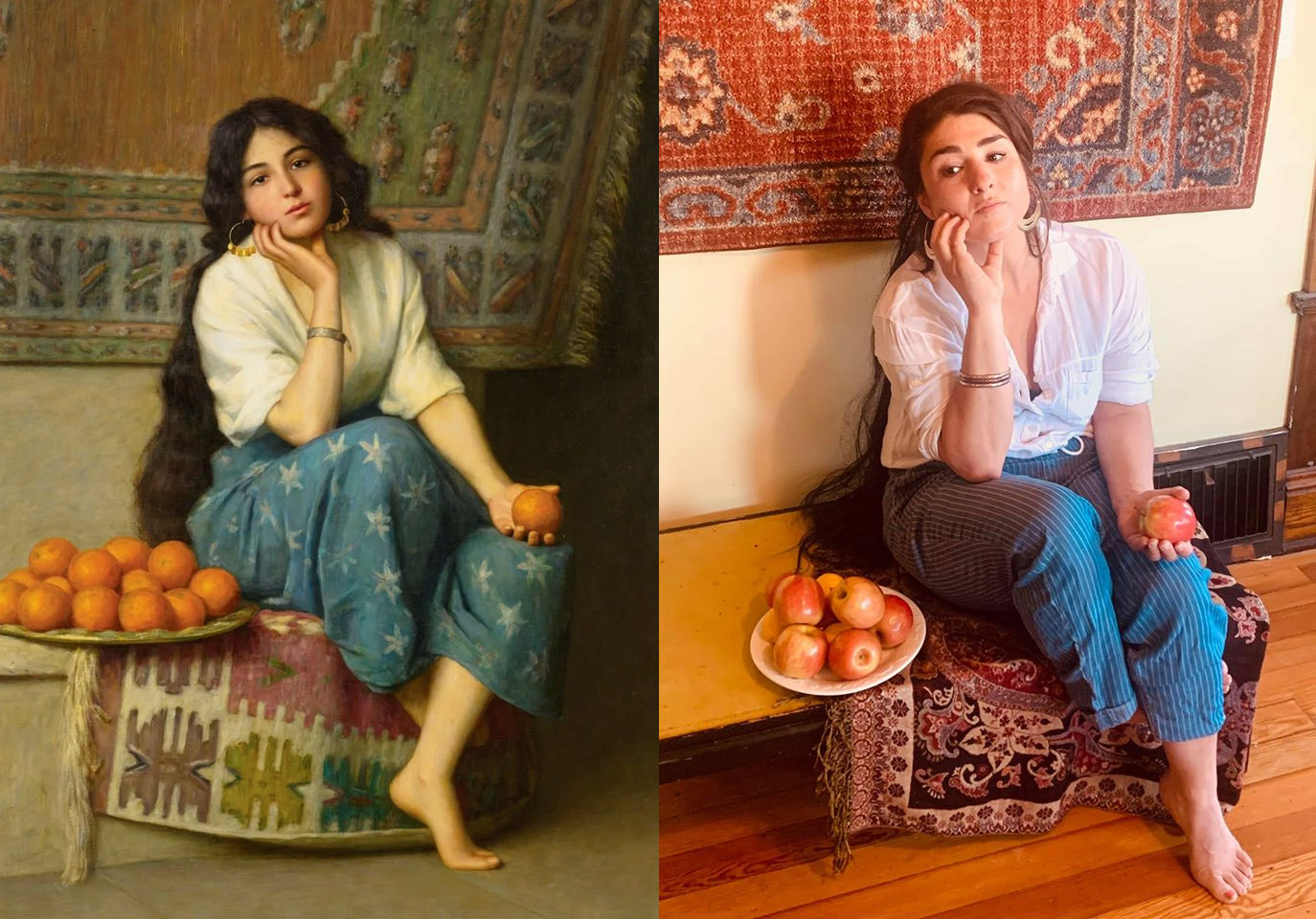 Enrique Serra Auqué's The Orange Seller (1859).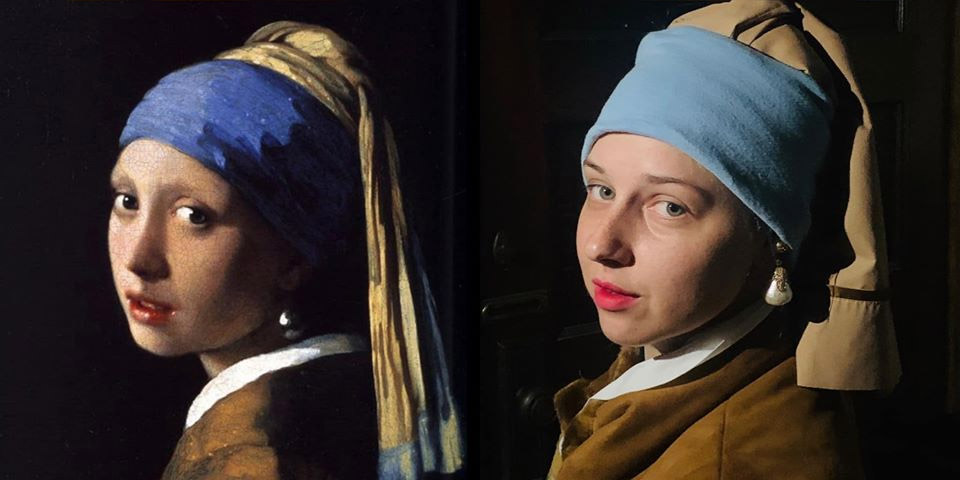 Johannes Vermeer's Girl with a Pearl Earring (1665).
Wegelin explained that the three women were "just looking up old famous paintings and choosing ones we liked or thought would be fun."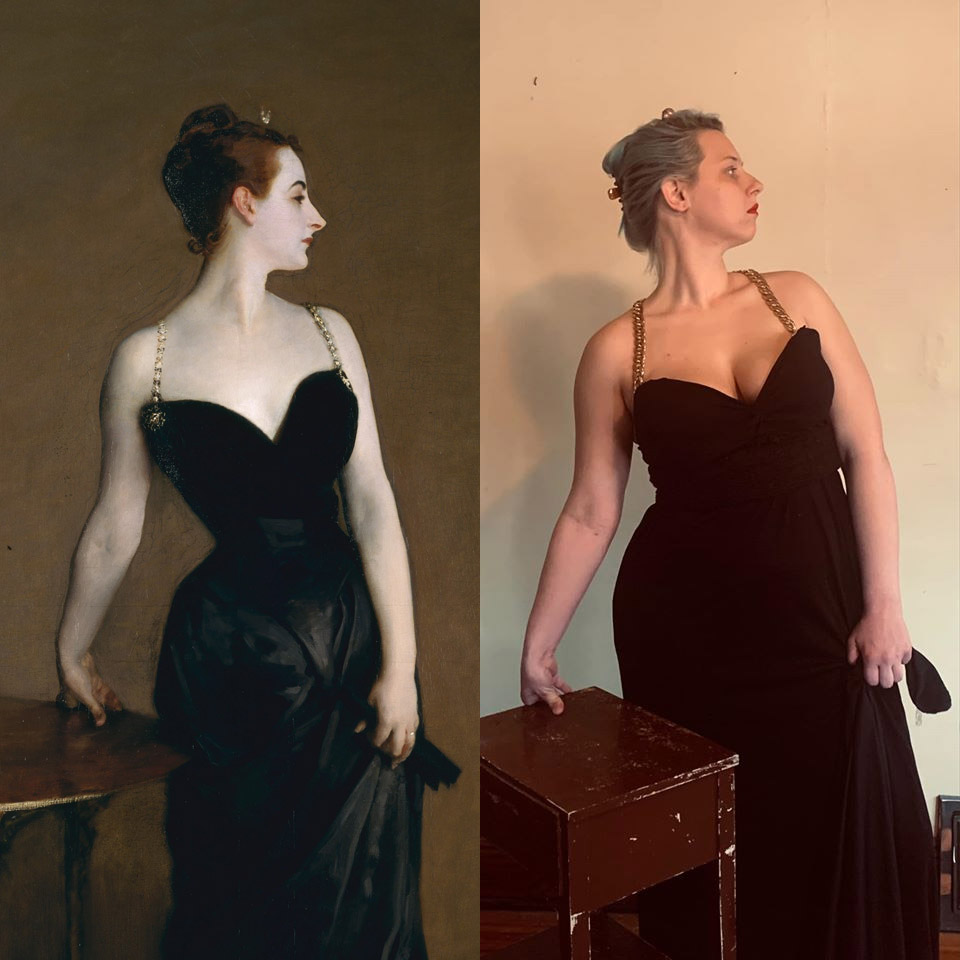 John Singer Sargent's Portrait of Madame X (1884).
John William Waterhouse's The Lady of Shalott (1888).
"We have an alarming arsenal of silly gizmos and gadgets to make these from. Between the three of us we could fill a Halloween store," Konopa enthused.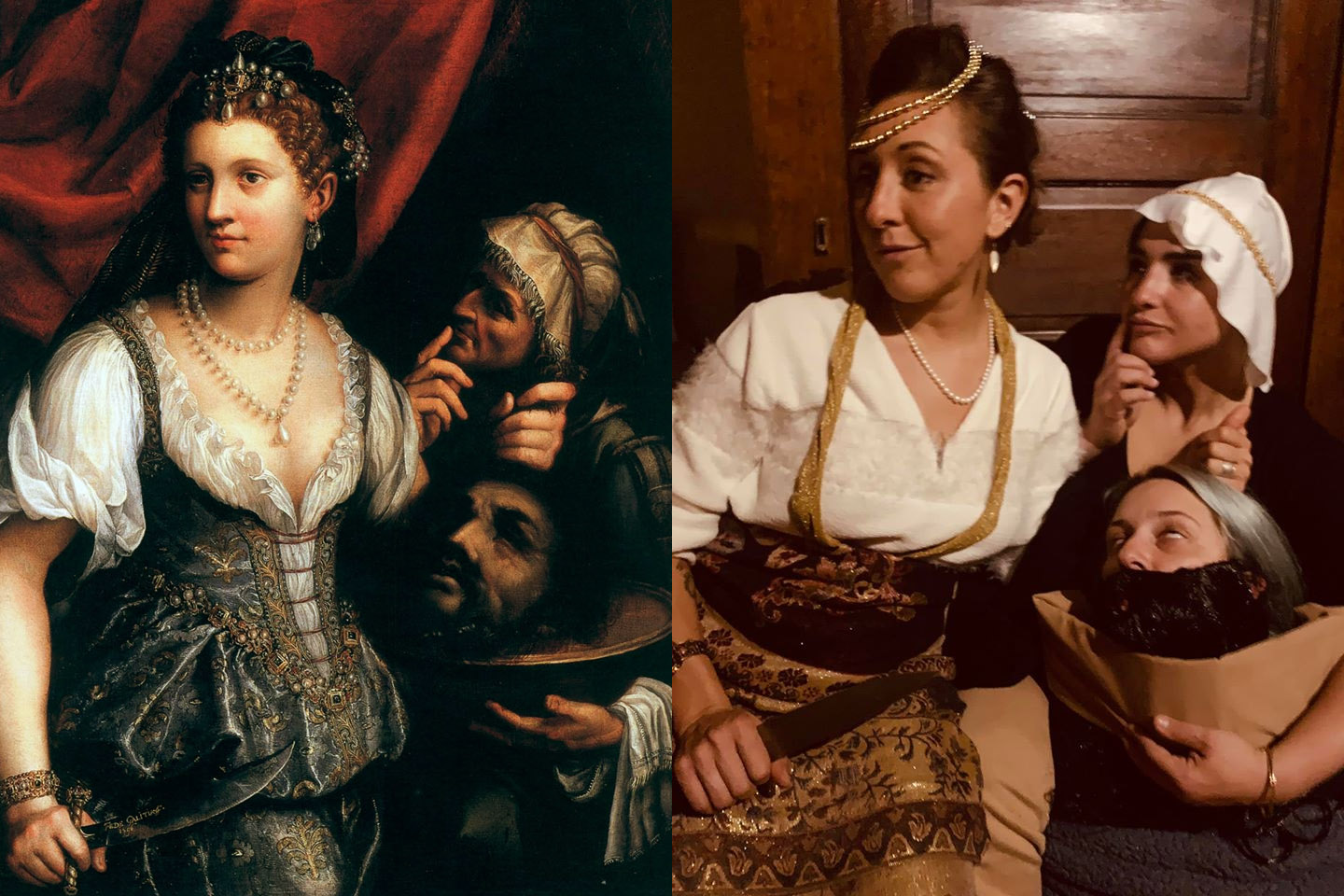 Fede Gallizi's Judith with the head of Holofernes (1596). 
"I mean we are quarantined gotta keep it spicy" Wegelin joked.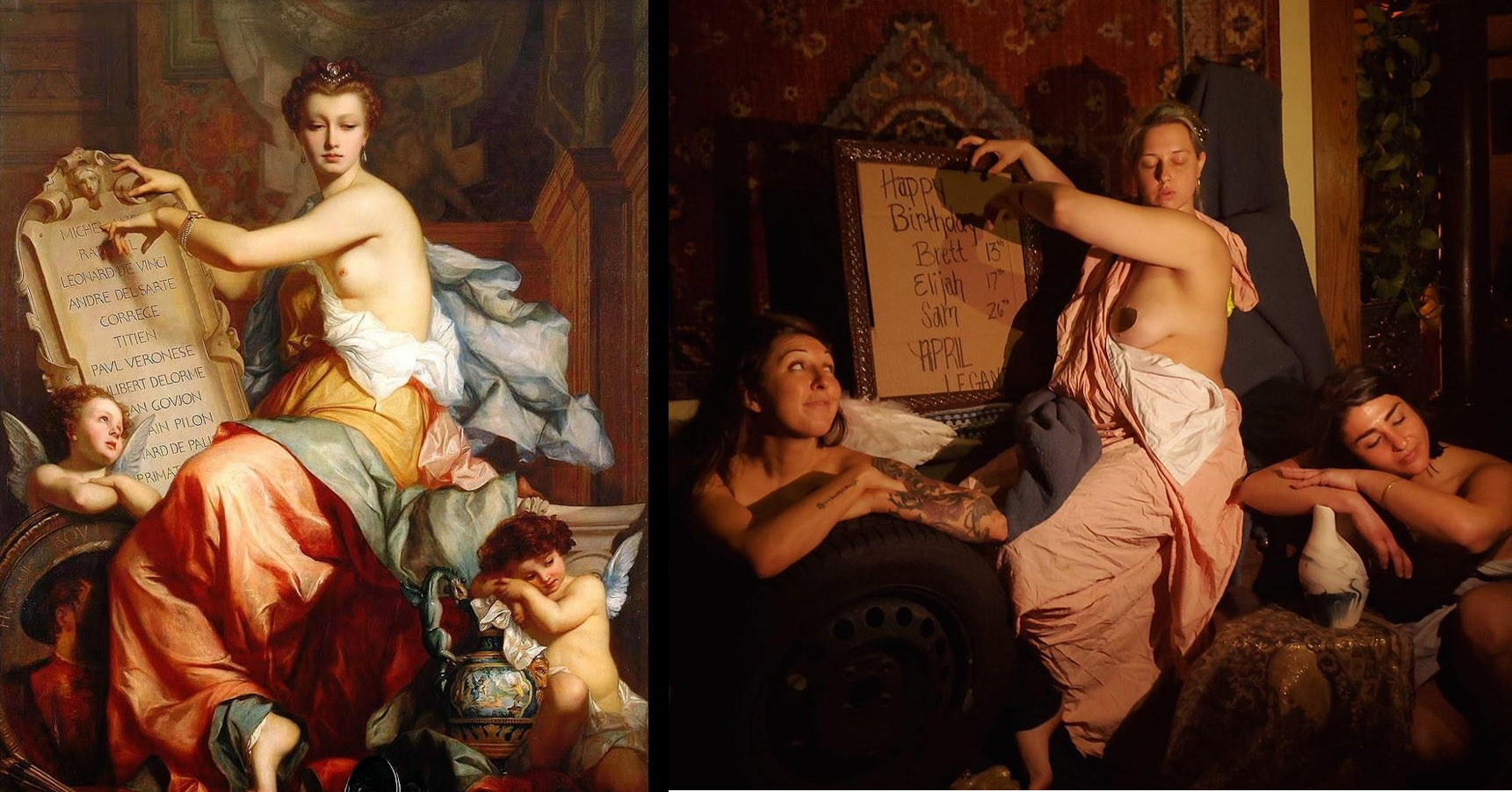 Charles Zacharie Landelle's La Renaissance (1853).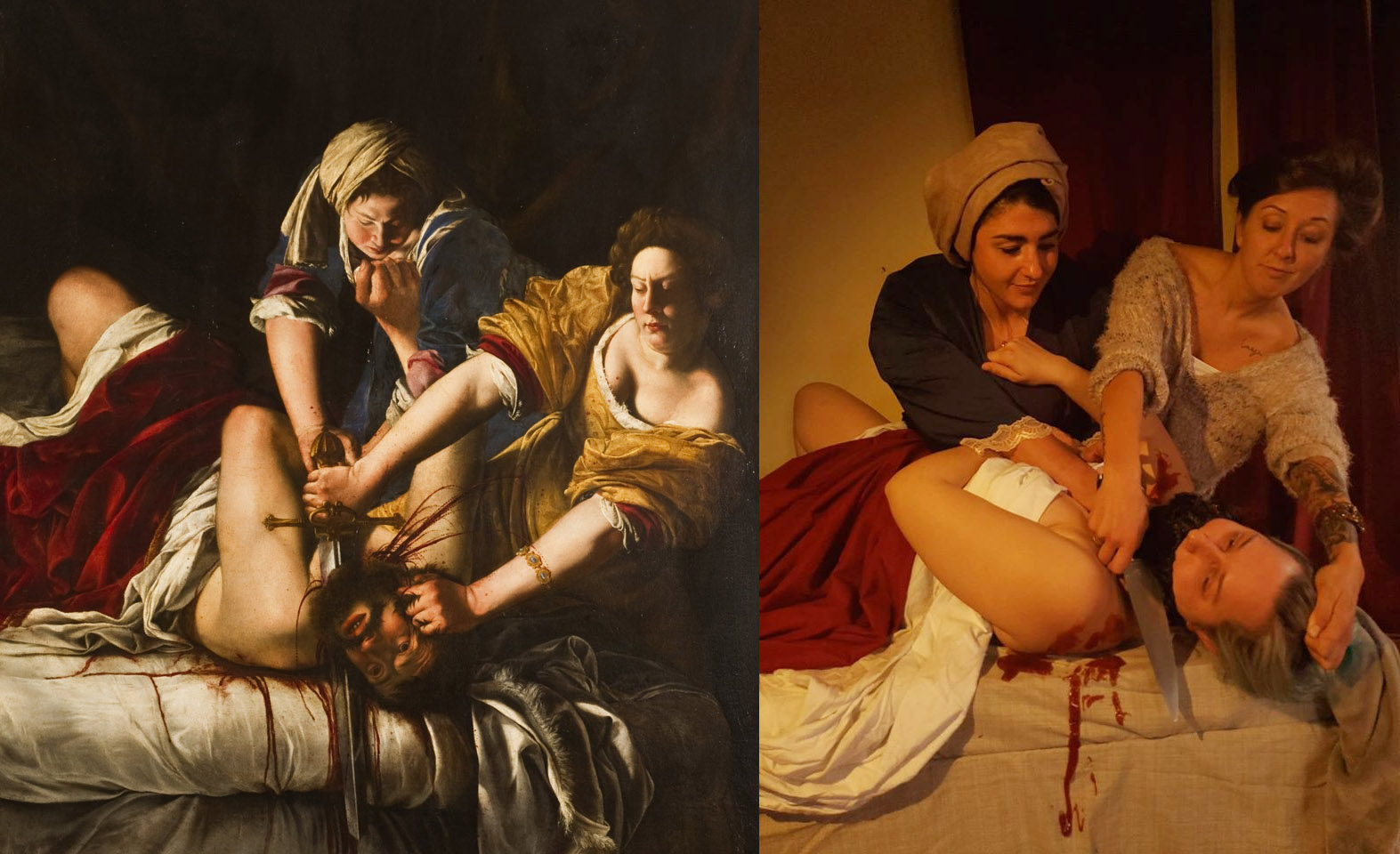 Artemisia Gentileschi's Judith Beheading Holofernes (1612-1613).
"I'm definitely expecting people to laugh and enjoy these as much as I did making them," Konopa admitted. "I really want other people to join in too. I think that's my favorite part."
All three would like to thank Johnny Purvis, Sam DePalma, and Brett Miaczynski for their assistance on this project. 
Photo collages by Allyson Magee and Nick Warren.