A Tiny Paper Family
Staying afloat with Erie's Best New Band
January 15, 2020 at 2:00 PM
Hearing Tiny Paper Boats for the first time was special for me. It wasn't just because I knew the people in the band. It wasn't because I knew some of the songs. It was because they sounded so captivatingly beautiful.
A gracefully ethereal indie rock band, Tiny Paper Boats hit the scene fully formed. Since their debut in the fall of 2018, they've been playing shows around Erie, and fans have started to notice. They were recently named the Best New Band in the 2019 Best of Erie awards.
With a sound reminiscent of early Arcade Fire by way of Mazzy Star and the Velvet Underground, the group is steered by guitarist and singer Jesse Michael Guerrein. The band features Gina Rullo on bass and backing vocals, Sue Martin on vocals, John Johnston (Rullo's husband) on guitar, Michael Milk on keyboard, and Larry Wheaton on percussion.
"We just decided to go with minimal percussion so there is more 'space,' which allows for more textures with the guitars and keys and voices," explained Johnston. "Larry is great at creating dreamy rhythmic textures and Michael creates these ambient webs, add the three-part vocal harmonies with Sue, Gina and Jesse, and it creates something different than any of us have done before," Johnston reasoned.
"Of course there is still the pop element that has always been an important part of my bands. Chaos and melody. Noises and textures."
Johnston's guitar work is expertly crafted, with a fine ear for effects and tone-shaping and a playing style that's both understated and powerful. This is echoed by Milk's keyboard work, also rich in tone and musicality. Guerrein's vocals provide the majority of the melodies, with Martin and Rullo backing him up and sometimes taking the reins. Between the former's raspy growl and soprano coos from the latter two, there's a beguiling blending of timbre. It almost shouldn't work, but it definitely does.
Christening the Launch
Denizens of Erie's indie music scene will be familiar with several members of this group. There's a complicated series of Venn diagrams to be drawn illustrating the numerous connections each member has to one another. After playing guitar in The Midnight Jacks, Guerrein fronted Gone For Six, and has been playing solo sets as Jesse Michael for years. In addition to that, he and Wheaton (a former member of The Go-Go Rays) make up the horn section of This American Song (TAS), on trumpet and trombone respectively. Johnston plays guitar in TAS, and in breaking news, the band recently welcomed Milk as their drummer — having recently served with Aria & the Voiceless. Rullo and Martin are known for their past bands The Killerinas and Planet Claire. Johnston and Rullo are in The Indeterminates; Johnston and Wheaton were members of Johnny James and the Absolutes. Johnston, Rullo, and Wheaton played with the long-running Erie powerpop group The Telefonics.
These aren't even all the bands each member has been involved in, but suffice it to say, they love playing music.
"I have been playing in bands or working with bands since I was a teenager," Wheaton explained. In that time he has come to realize that "everyone has to have a similar vision and work ethic for it to not burn bright and fizzle quickly. I think that in both Tiny Paper Boats and This American Song there is a core group of like-minded musicians who really enjoy creating original music. For most of us playing music is the day job we wish we had and are thankful that we have found kindred spirits on this musical journey."
"It's been seamless coming together as Tiny Paper Boats," Rullo admitted. "Everyone brings their talents and their energy and everyone is solid playing out at shows." Johnston noted that "Michael is the new collaborator in this mix. He's great! We love him and he's fun to hang out with," he gushed. "My philosophy is that I want to like and want to hang out with the people I play music with." Rullo added that "Michael fits in our little boat just great." The band had seen Milk attending TAS shows, and Johnston said "we invited him over to jam and the rest is history. He's a talented multi-instrumentalist, extremely intuitive and a great guy. We hardly talk at all during practice. We communicate through the music."
Though the music is shaped by the band as a whole, the songs are primarily penned by Guerrein, who cites Matt Pryor of the Get Up Kids as one of — if not the — primary influence of his writing. "John's written songs for us also, and everyone writes their parts," Guerrein was quick to note. "On top of that, I wrote all these songs really open, so a great lead or harmony can change where we want to take the song."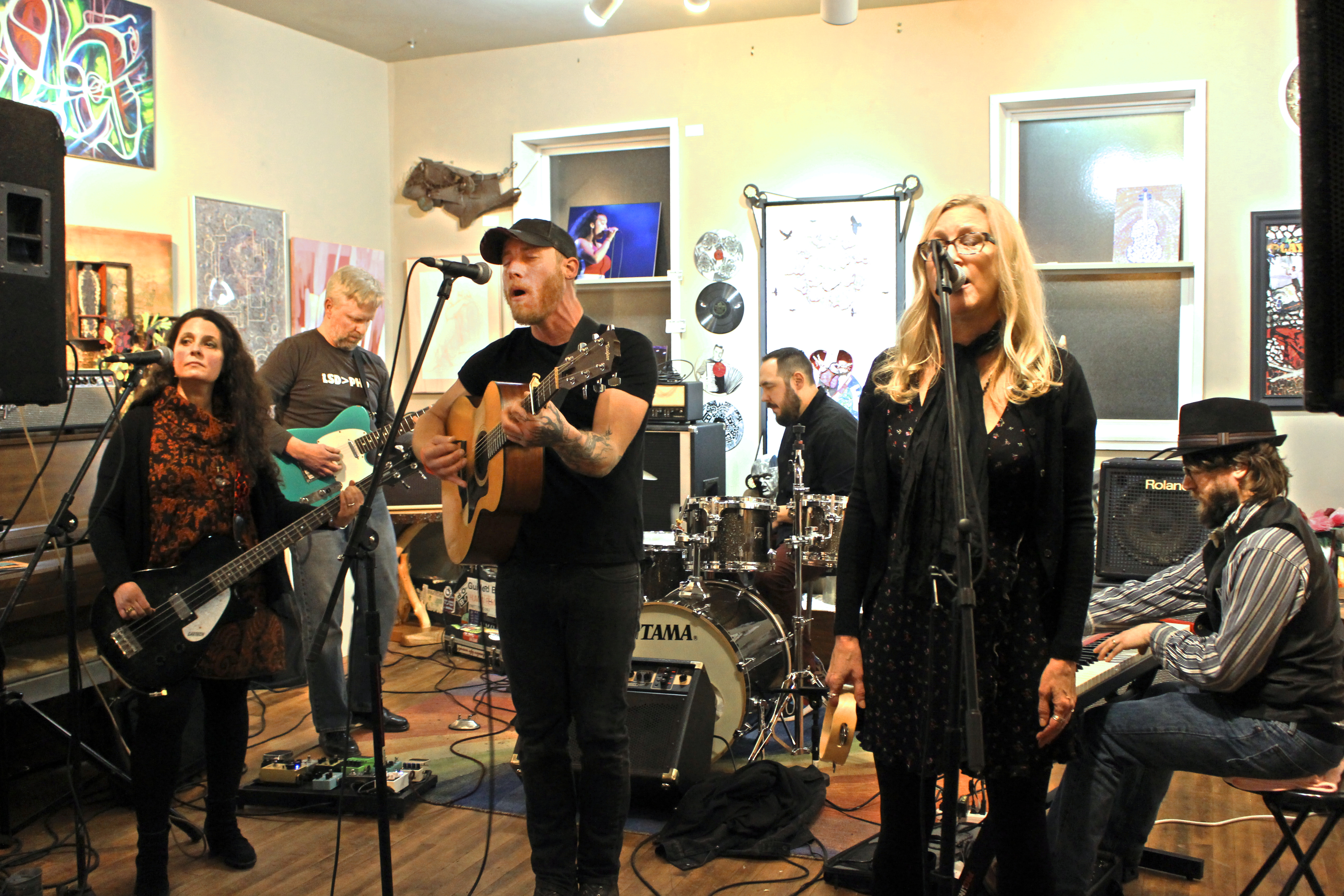 Tiny Paper Boats performs at a recent show at Artlore Studios on Jan. 10. Their three-part vocal harmonies and interweaving melodies create a beautifully multi-textured sound.
While playing solo gigs, Guerrein started to amass a new catalog of original tracks. He made the easy decision to record them with TAS bandmate Johnston in his basement studio.
As you enter the first floor of Rullo and Johnston's home, your eyes are drawn to dozens of paintings by local artists. It's a venerated place down in the basement, though. Walking into the practice space past the studio, the walls are further lined with flyers from the musical ventures of family and friends. If you're lucky, their dog Rosemary might join you to take a nap, as she's literally at home amongst the sounds of band practice.
What's in a Name?
There are a lot of things distinct about Tiny Paper Boats, but one of the most immediate is the band's name itself. Beginning as a backing band for Guerrein, the group joined him for a set at Calamari's in August of 2018. On the day before Thanksgiving of that same year, the band opened a show at Scotty's, billed tongue-in-cheekly as Jesse and the Pilgrims. On stage that night, Martin announced that the band was now known as "Tiny Paper Boats," and even in the smoky room, it was a breath of fresh air.
Band names are hard. Years ago, Guerrein found himself under the gun, needing to come up with a name for his new project. Marty Schwab, owner of the Crooked i, had Guerrein and his guitarist come up to his office until they landed on one. They settled on "Gone For Six" (a Royal Air Force term for "dead"), one that both agreed was shrug-ably okay, and that their bassist Zac Lucas said [via text] was "good enuf."
This one is better than okay, and works on a few levels. "We all came up with the name during practice," explained Rullo. "Jesse works out on the lake [as a commercial diver with Lakeshore Towing] and I recognize the beauty of Lake Erie and also the dangers of a job like his working on the lake. The seriousness of that and the fragility of life, and how the water is always powerful and changing fits with me," she articulated. "Also, there's a playfulness to paper boats and that's part of life and our personalities and our band too. As I get older, I realize more and more how tiny each individual really is in life. Paper only lasts so long in water before it disintegrates."
They leaned into it, of course. For nearly every show, the band brings along their own easy-to-make origami decorations (tiny in boat terms, yet technically regular-sized for an 8.5" x 11" paper) that the audience can play with or take as a souvenir. Their first run of stickers featured a drawing of the vessel in question.
When asked what other kind of boat the band might resemble, the group had some very telling answers. Rullo and Johnston both described a small, rather fragile wooden ship, though Johnston joked that it should perhaps be a hover boat due to Wheaton's fear of water. Guerrein instantly had a boat-nerd answer at the ready: the USS Lawrence. Not to be confused with the more modern Destroyer, the Lawrence was Oliver Hazard Perry's flagship prior to the Brig Niagara. Taking damage during the Battle of Lake Erie, it was sunk in Misery Bay, only to be raised in 1875 and lost to a fire the following year.
Wheaton concluded that "we are like a bow rider boat, because bow riders are the quintessential family boat that typically seats six to 10 people in it. They are meant for recreational use." Talking to the band, and knowing its members, and it's easy to see why that works so well both literally and figuratively. "It makes sense because there are six of us," he said. "It feels like a family band."
Nick Warren fits into the TPB diagram a couple times himself, having played guitar in Gone For Six and Planet Claire. He's eagerly anticipating the band's first recordings, due later this year. He can be reached at nick@eriereader.com